Importance of Recovery is a Key to Training for Gamecocks
Sometimes less is more, and that applies to workouts for South Carolina women's tennis. Over the last two years, the Gamecocks have been using the Firstbeat heart monitoring system which provides the coaching staff with analytics, so they can know when it's time to turn up the intensity in training, and when it's time to back off. The goal is to be more productive in training as well as recovery.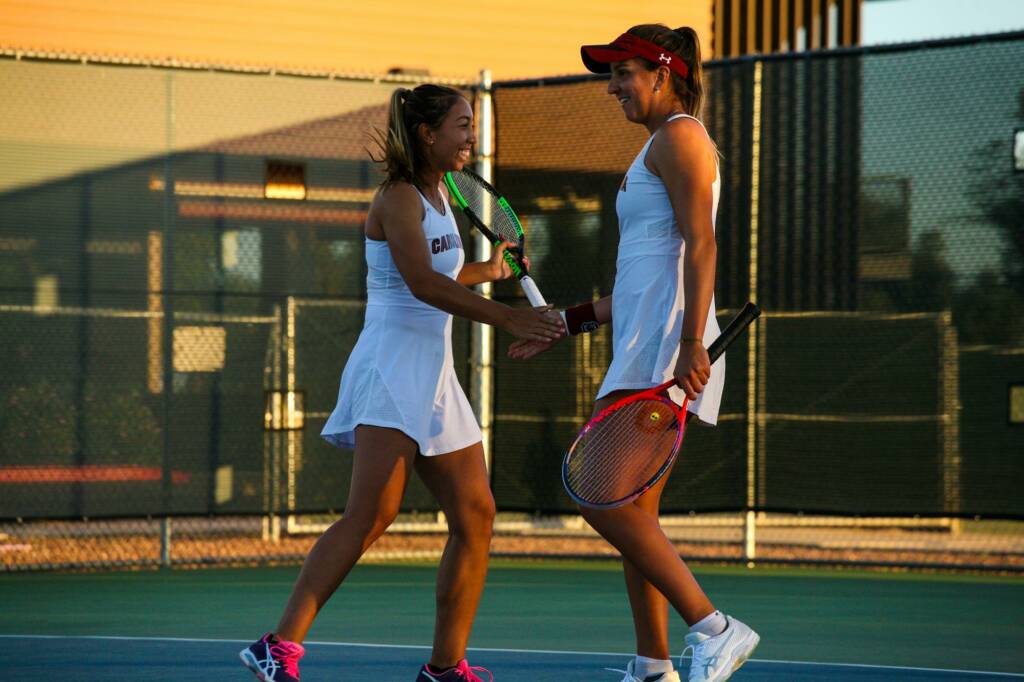 "Having gone through it for a few years, we're learning more about it," head coach Kevin Epley said. "Going through these routines, we've begun to understand better how the rest component of things weighs in to the student-athletes. It's a less, not more, program at this point except that the 20 percent of intensity that we do have is going to be very intense. It's much more intentional."
"Our approach has changed on a number of levels," said associate head coach Jeff Nevolo. "We always prided ourselves on meeting the needs of our players' development from a tennis perspective, but we have now been able to move into the conditioning realm on a much more specific level.  Firstbeat is a critical part of a bigger operation."
The student-athletes wear the monitors strapped around their chest in matches as well as practice and training to measure their individual heart rate and workload in order to know how the individual's body is responding, and whether they can handle more or are in need of rest. That information in relayed daily to a computer, which is read by the coaching staff.          
"We also send our heart rates to the coaches every morning, and it's good indication of how our bodies have recovered from the practice before," said sophomore Megan Davies. "In practice they can monitor what our heart rate is doing in the drills, so they can adjust things if it's getting way to high."
"It doesn't always matter in terms of the quantity of your work, it's the quality," said senior Ingrid Gamarra Martins. "It's really helping us in matches, and we recover faster."
"We have employed Paul Drake of First-Cardio Performance to help educate us about the data we collect and prescribe individualized workouts for our student-athletes," Nevolo explained. "We've partnered with our Exercise Science Department to do VO2 max testing to ensure accuracy of data before we enter anything into the Firstbeat system.  Firstbeat is great at giving us immediate feedback regarding how each player is handling the workout.  There are days where we may have thought it was a more moderate practice but due to a number of variables, the players are responding differently.  The manner in which we condition has completely changed.  With the help of Paul Drake at First-Cardio Performance, we've moved to exclusively heart rate-based training."
This may seem counter-intuitive to the traditional "no pain, no gain" approach, but results show it is working.
"The old-school way of doing things is that we have to work hard at all times," Epley said. "It's more measured now when we have two matches in a week, let's say it's Friday and Sunday. That's pushing it with how hard you're working in a short time. So, the rest of the time, we're pushing hard maybe 20 percent of the time. If it's a two-hour practice, we're squeezing in maybe 20 minutes of intensity, while the other stuff is more mindful work, so their bodies can recover. We do a lot more yoga and a lot more recovery stuff. It keeps us from over-training. We care about their health and safety."
"For example; we had a player this fall whose average heart rate in matches was very high," Nevolo said. "By all measurements, she was very fit and the numbers didn't make sense.  It made us take a closer look, and we realized one of her biggest issues is in-match breathing and the time she takes between points.  It would have been very easy to prescribe more conditioning or claim she hadn't been working hard enough, but ultimately once we got to practice, set up the monitor, and had her look at the screen, she could see that the adjustments to her routine and her breathing were helping lower her heart rate.  She could see it working, and we avoided putting her into a state of over-training. We've pulled players out because the numbers seemed off during practice, and once we sit down and ask a couple questions, we realize they're dehydrated.  Catching that 15 minutes into practice instead of an hour in keeps us from a very serious heat related event." 
Student-athlete welfare is the most important thing and adding a scientific approach to training allows us to keep the health and wellness of our student-athletes at the forefront of the decisions we make.
– Jeff  Nevolo, Associate Head Coach

"The coaches are paying more attention to everyone's individual needs and aspects of their games," said junior Mia Horvit. "It's nice knowing that everyone is recovered for their next match. It is different because they do push us very hard, but at the same time they're watching out for us."
"My freshman year, we were still in that (no pain, no gain) mindset," said senior Paige Cline. "Sometimes that training could be brutal, and we saw the residual effects of that over time, especially by the time you got to the NCAA Tournament. Your body can get run down. That can affect you physically, emotionally and mentally. I think they've done a really good job in using the heart rate system. It tells us where our bodies are and the workload we're capable of each day, so we can get the most out of each practice."
Yoga, weights, and riding stationary bikes are just a few of the other conditioning tools that replace what used to be time dedicated solely to intense work on the court. The results also prove that a one-size fits all approach to training and/or recovery doesn't work. 
"There is definitely more intention in practices now," Cline said. "It's not as hectic. We're focused on getting the most out of each practice. I definitely think it has made me a better player. It's about listening your body more and focusing on the little things you can work on each day to build up on the rest of the year."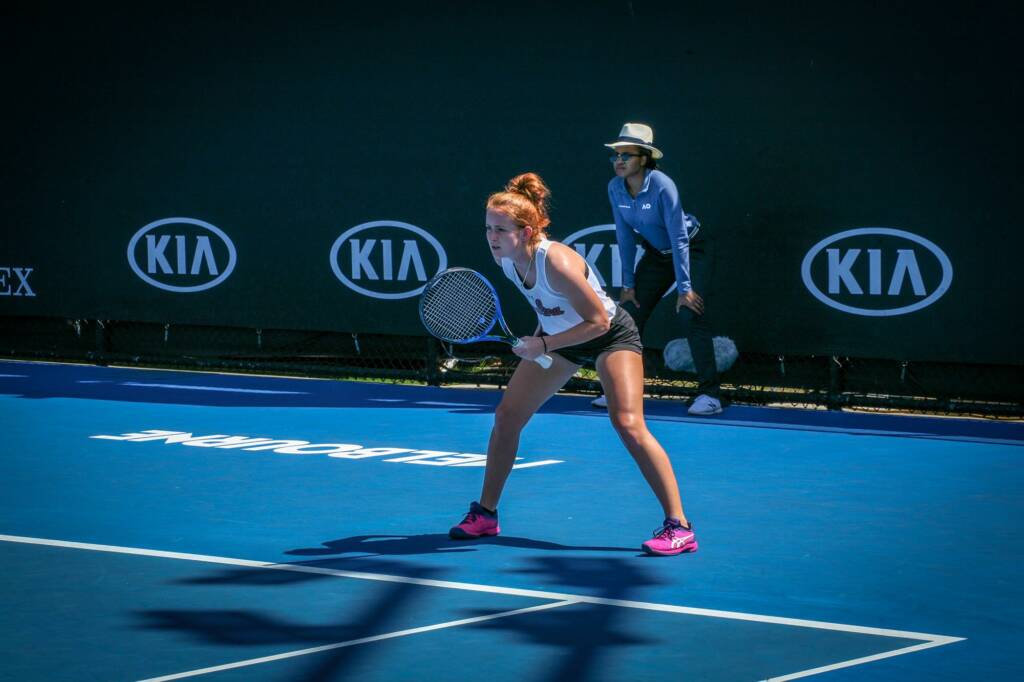 "I feel more comfortable with my own fitness," Davies said. "Our resting heart rates are so much lower, so I feel like we go into matches knowing that we're fit, and we can back ourselves going into a third set."
"I feel quicker on the court, and I think it has definitely improved my game," Horvit said.
Epley admits that the idea of dialing back practice wasn't easy at first, but change is easier to accept when it's backed by science.
"I think it's hard for every coach to pull back because it's not what we grew up in," Epley said. "This is all relatively new. With the interval of intensity in tennis, you need an endurance base and power. Recovery is one those things that you hear more about today.
"A college coach always thinks their players are trying to skate by. So, the only way to alleviate that is to keep pushing, which, mentally, can indeed help players learn how to overcome obstacles. If you start to trust your players and you get to the place where you know they want to perform, then you take that fear away and you're going to get more out of your athletes because they're going to be fresher and stronger."
Nevolo recently presented his experiences and data to an Exercise Science class at the University to recount the program's path in taking a more scientific approach.
"A number of the students in that class will be working with coaches upon graduation, and I don't believe many 'sport' coaches are well-versed in the scientific approach to training athletes," Nevolo said. "We used to do things because that's how we did them or because that's what we perceived had worked in the past, or because we felt we had to do something.  Student-athlete welfare is the most important thing and adding a scientific approach to training allows us to keep the health and wellness of our student-athletes at the forefront of the decisions we make while training them like the elite athletes they are at the same time.  We are still the hardest working program in the nation, we just train more efficiently than ever before."
It takes a lot of work to get to the top, but over-training without proper recovery can do more harm than good. After a record-setting season in 2018, the Gamecocks are striking the right balance by working hard and smart.