Gamecocks Get Lessons on Building Their Personal Brand
South Carolina student-athletes learned lessons on building a personal brand and crafting a professional image beyond athletics. Will Baggett, a highly regarded speaker, author, and founder of Executive Image, met with student-athletes in South Carolina Athletics' Beyond Sports Professional Development and Summer Internship Program on Monday at Williams-Brice Stadium to help them establish their own executive image.
"I want the student-athletes to walk away with strategic, tactical elements to help them in their careers and also to be developed from the inside out," said Baggett, who currently works at the College Football Playoff in Dallas, Texas. "Oftentimes as leaders and professionals, we focus on the hard skills, but we're going to give them some of those training tips that will focus on the soft skills as well. I believe that's what separates the good from the great from the elite, and that's what we want to accomplish with the Executive Image program."
Baggett noted that an individual's executive image is their ability to communicate without speaking and is an outward display of professional conduct that is essential to making a good impression. Baggett discussed ways the student-athletes can control the narrative when it comes to how they are perceived as well as lessons in how to use social media in a way that lifts the individual's professional profile and personal brand with a consistent message along all platforms.
"Increasingly in the social media-driven world, what we're seeing is a lack of communications skills," Baggett said. "We're seeing a lot of communication take place digitally, which is fine because you can communicate your personal brand that way, but it's also important to take it back to the basics and communicate the old school ways, whether it's phone and email, but also your body language, which is how you speak without speaking."
Beyond Sports is a professional development and summer internship program for South Carolina student-athletes that includes weekly educational professional development programming. One of the main goals is to provide student-athletes with a meaningful professional development and work experience, while also helping them to be better prepared for professional life after college.
"It went by so fast, and it was the coolest thing. I really loved the presentation," said rising senior Franky Harrison from the beach volleyball team. "It's cool to have all these tidbits of information that I never would have thought about. They were so applicable to me. These are all things that can give you an edge on your competition when applying for jobs. With life after college, I thought I could breeze by with what I already know but hearing him talk showed me there are a lot of little things I can actively work on as I'm doing my internship now every day."
"It was very motivational."
– Madison  Sellman, Equestrian
Baggett has been a regular part of the Beyond Sports program's presentations each summer for the last three years, offering lessons on how to build a personal brand beyond the scope of athletics. He is now doing this at 35 schools around the country.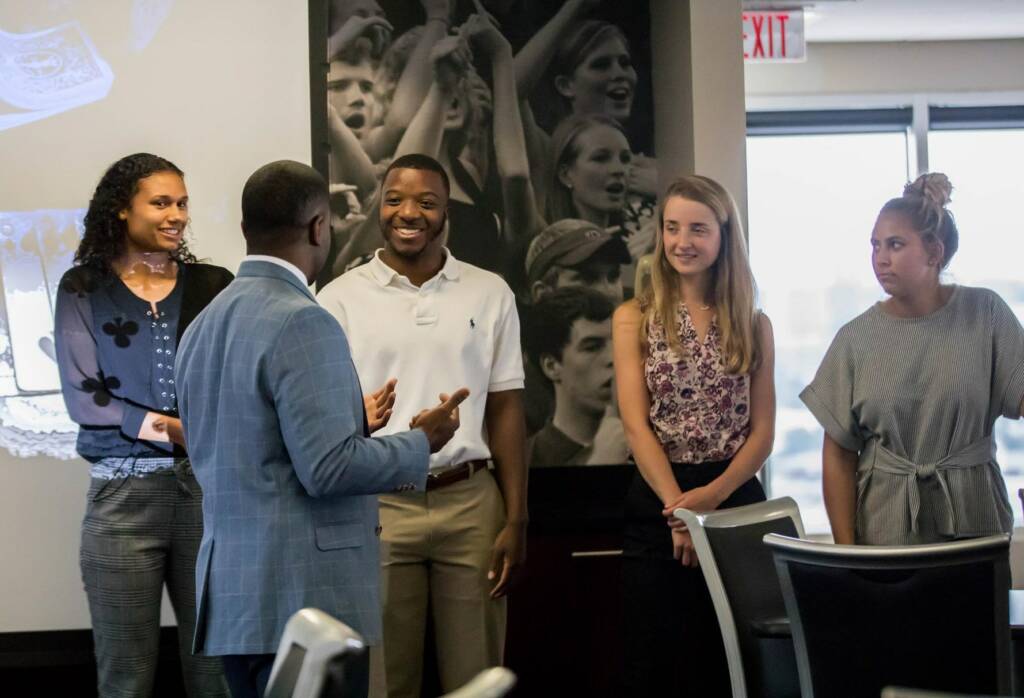 "We were the first FBS Division I institution that Will ever spoke to," said Senior Associate Athletics Director Chris Rogers.  "He now has this speaking circuit that he does across the entire country, and it all started here in this program."
Baggett challenged the student-athletes in different scenarios to help them become self-aware of where they can improve in how they are perceived by potential employers, co-workers and in public. Baggett emphasized the importance of making positive first impressions within the first seven seconds of meeting someone, and that more than half of the impressions made upon others can come from body language. These impressions and perceptions are critical when interviewing for a job.
"We adapted this program from the six-week training executives receive," Baggett said. "Getting an introduction to this now can put them ahead of the curve when they're ready to start their first job. It's important to hit on those things that are not always taught in the classroom or that they might not get from their mentor. Filling the void and making them realize they should always have personal standards that they want to live up to even if the environment doesn't measure up to what they ultimately want to achieve. You can always fall back on those personal standards."
Student-athletes were amused in learning about flaws in how they present themselves daily without even realizing it, including the awareness of filler words, such as "like," "um," and "you know," in everyday conversation. Baggett also demonstrated simple, yet sometimes overlooked, skills such as body language, how to present a business card, the importance of remembering names, and how to email "like a boss."
"It was very motivational," said rising senior equestrian Madison Sellman. "I learned a lot about valuable communications skills, whether it's digital, email, speaking in-person, or speaking to a group of people. I had to do a speech in front of the group, and not saying little things such as 'um' or 'like' was a lot harder than you'd think it would be."
"I loved it," said rising senior football student-athlete Summie Carlay. "I learned a lot of things that I never thought about in terms of body posture and verbal communications. Going up and doing one of the exercises made me realize how bad I was with some of the little things that can make a difference. It's something I need to work on. It's important to know these things, not just when you're interviewing for a job, but when you're communicating with co-workers."
Baggett said that learning good professional habits while still in school is important for the future of the student-athletes because they are skills that they'll need to utilize the rest of their lives, long after their days of athletics competition are over.
"With all the time they have to commit to be a student-athlete, they don't always have the time to dedicate themselves to personal development, learning communication, and being exposed to the work environments," Baggett said. "To give them an inside view of what all that looks like is truly an honor."