My Signature: Faith in His Finish Sparks Quincy Hall to Title
South Carolina junior Quincy Hall won the 400m hurdles title at the 2019 NCAA Outdoor Track & Field Championships. Hall ran a personal best time to earn the program's first NCAA men's event title since 2010. Hall is the second Gamecock to ever win the NCAA crown in the event following in the footsteps of Johnny Dutch, who won it in 2010. Hall got off to a slow start and was in third place heading into the final hurdle before racing ahead for the win with the second-best mark in program history at 48.48.
When I crossed the finish line, it was a big relief.
It wasn't one of best races that I had, but it was a strong finish. The beginning and the middle weren't what I wanted, but it turned out the right way.
As I was getting ready, I just had to let all the nervousness go. I was thinking, 'let's get through this race and finish strong.' I knew the field was deep.
The 400m hurdles is more of a technical race. It can get more nerve-wracking than the 400m. In the 400, if you've got it, you've got it. In the 400 hurdles, it's not always going to be the fastest person that's going to win; it's the one who runs the cleanest.
My coaches here have helped me with my confidence level. They've made it fun for me to stay on top of everything.
 
"Hopefully I'll be a world champion someday."
– Quincy  Hall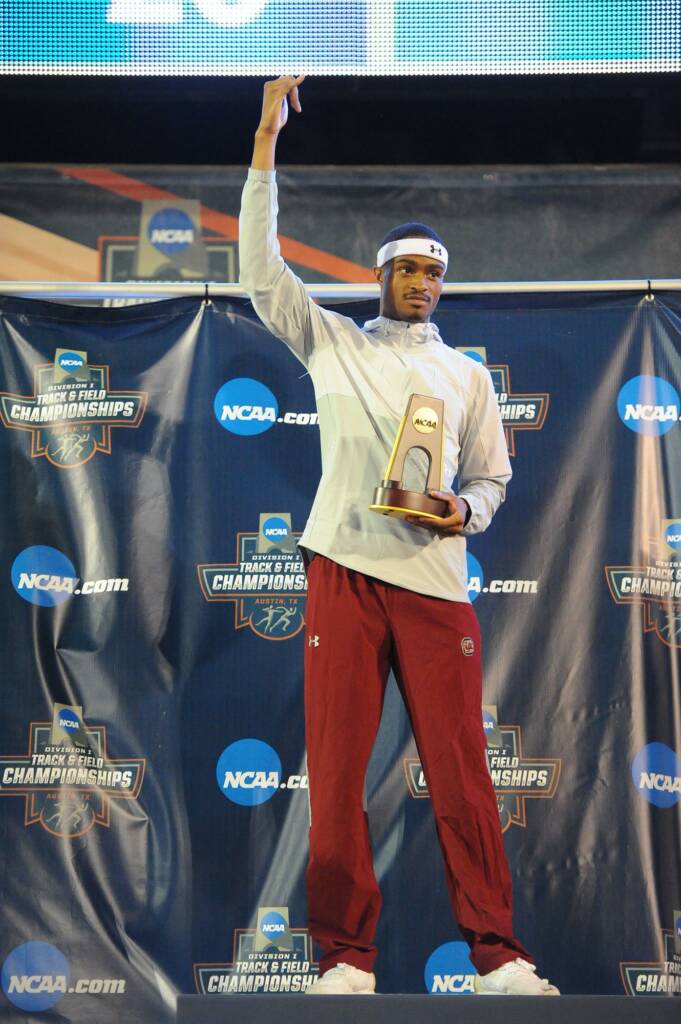 When I first get to the line, my strategy is to get to the first hurdle smoothly. I got there pretty quickly, so I kind of staggered. When I staggered, it kind of messed up my entire race. I was stuttering from hurdle one through hurdle nine.
I was a little worried, because normally, I come off the turn in front. This time, I came off the turn in third or fourth. Maybe I wasn't really worried; I was more shocked! I had to get back on the ground so I could get running! I knew I had more foot speed, but they were better hurdlers.
I thought, 'just get over that last hurdle so you can finish!' It felt like the guy in lane 3 was 10 meters ahead of me. I just had to get back on the ground.
It was a good race, and I pulled ahead.
I've been running since I was five years old, and I started hurdles when I was 13.
It means a lot to be a national champion. Nothing compares to being a division I national champion.
Hopefully I'll be a world champion someday.