Beyond Sports Program Tackles Transition to Professional Life
South Carolina student-athletes learned some lessons in making the transition to professional life outside of athletics during a series of roundtable discussions Monday night at Williams-Brice Stadium. The event was part of South Carolina's Beyond Sports Professional Development and Summer Internship Program for student-athletes. Former student-athletes who are now professionals from the community as well as in the Athletics Department were on hand for the discussions.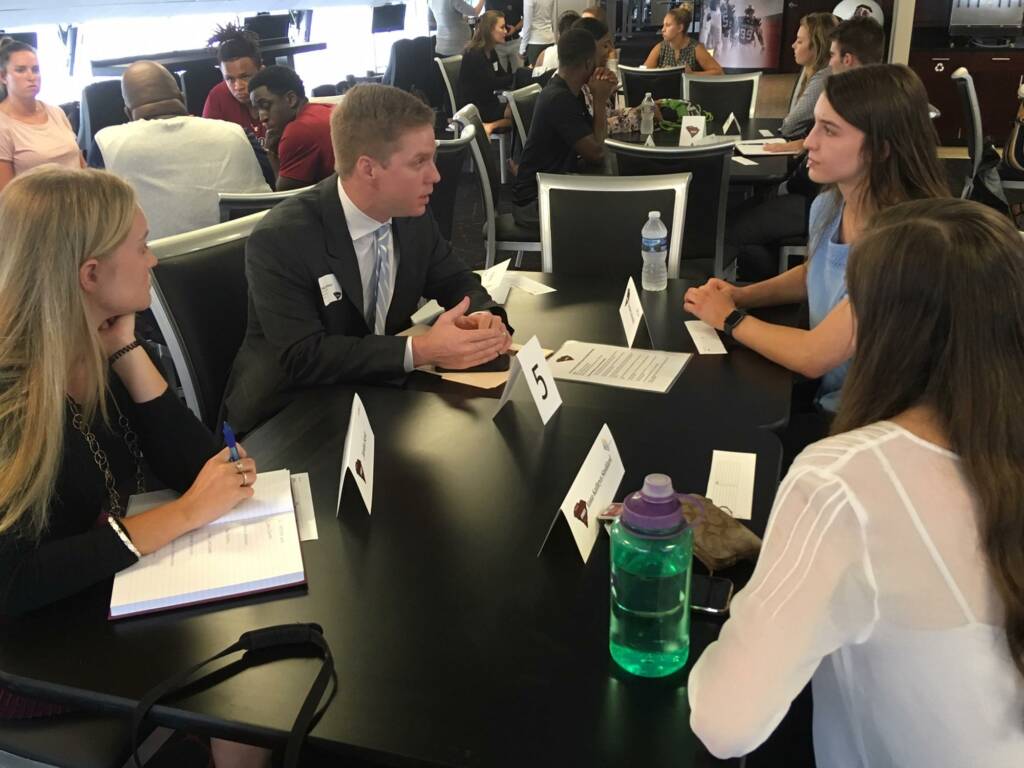 Former football student-athlete Walker  Inabinet
"The goal for the event is to educate our Beyond Sports interns a little bit more on how to lead effectively in their roles within their internship and also talking through their athletics identity and how that transition might shift where they're not identifying solely as someone who is in their sport," said Megan Stoltzfus, Director of Student-Athlete Development.  "We wanted to have a range of professionals who are entry level all the way up through higher levels, including our Athletics Director, Ray Tanner."
Beyond Sports is a professional development and summer internship program that includes weekly educational professional development programming. The program aims to provide student-athletes with a meaningful professional development and work experience, while also helping them to be better prepared for professional life after college.
"They're always life after sports. Between graduation, or from the end of your sport if you go pro, until the day you die, there is a lot of sweet, rich life to be lived, and a lot of it does not involve your sport," said former South Carolina women's soccer student-athlete Claire Studebaker Miller (2013-2016), who is now an orthopedic physician's assistant at USC Orthopedic Center Convenient Care.
"My time here really set me up well to succeed."
– Claire  Studebaker Miller
"Having sat in the same seats they're sitting in, I have an insider's perspective that I'm able to share in making that transition to the next phase of life," said former men's basketball standout Carey Rich (1993-1995), who is currently the Recreation Superintendent for the City of Columbia Parks and Recreation and is also responsible for Mayor Steve Benjamin's youth initiatives. "Being in the position of a student-athlete, you can create value, and that value creates options and opportunities."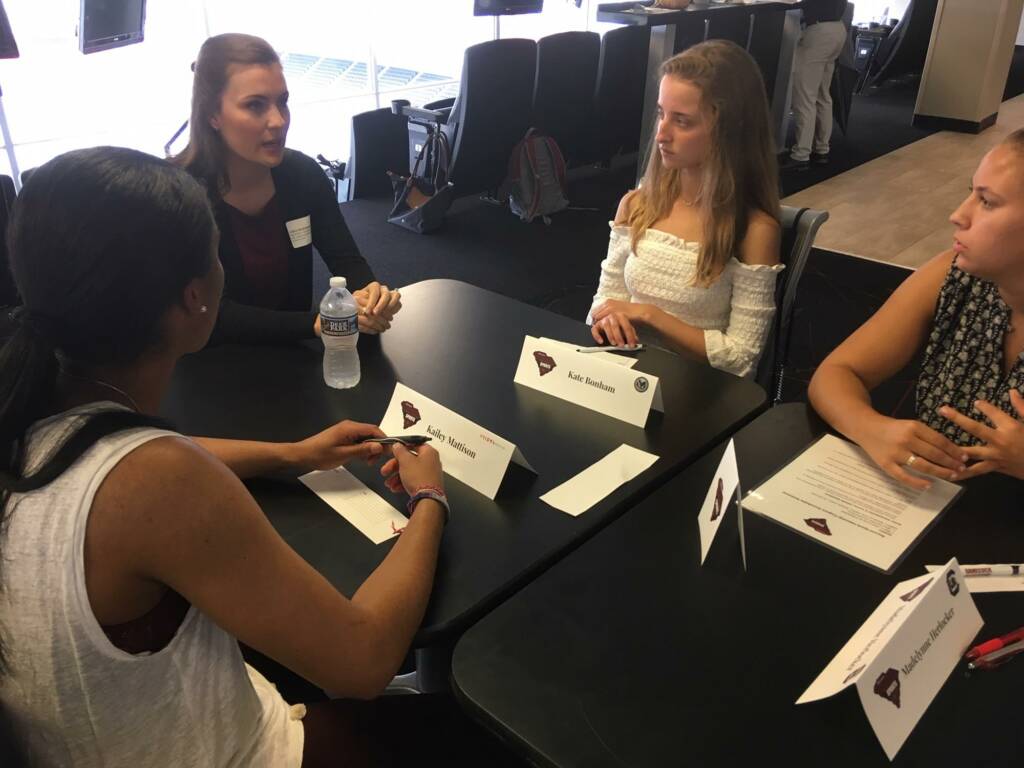 Former soccer student-athlete Claire  Studebaker Miller
For the current student-athletes, learning that they're not alone in the struggles they will have, or may be having now, can help them push through.
"It was good to hear from people who experience what we're experiencing, how their transition was, and how they excelled in their careers," said rising redshirt junior football student-athlete Spencer Eason-Riddle. "It was good to hear what they used from their lives as student-athletes to excel in their professional careers outside of sports. With (Athletics Director) Ray Tanner and (Senior Associate Athletics Director for Academics and Student Development) Maria Hickman here and hearing their process of what they went through was very interesting. With some of the other alumni who were closer in age to us, it was cool to hear about their transition and what they used from their experience as student-athletes to help them."
"It was amazing. I learned a lot of lifelong tips in how to make yourself valuable in hard times and never lose your connections," said track & field rising senior Darrell Singleton, Jr. "One thing that stuck with me was to leave your mark with a potential employer. When you go into an interview, learn about your employer and their background. Find something you may have in common with them that you can talk about. It's important to go in prepared and confident."
Several of the former student-athletes on hand noted they feel obligated to share their experiences to the next generations of Gamecocks.
"One of the hardest transitions can be not having that bright light shining on you anymore and not having fans tell you how good you are," Rich said. "That becomes part of your confidence. When that's gone, you have to figure out where your strength will come from. You have to have balance."
"My time here really set me up well to succeed," said Studebaker Miller. "You have discipline and a schedule, but it was really hard to go from working out every day to sitting in a graduate school classroom from 8 to 5 every day. There are still things you can carry over from being a student-athlete into professional life. I always encourage them to continue to work out and stay active because it will make you feel so much better."