Former Gamecock Caroline Cann is Blazing a Trail in the NFL
As the daughter of a high school football coach, there wasn't much doubt in Caroline Cann's mind that football would be a big part of her life. The former South Carolina volleyball and track & field student-athlete and Landrum, S.C., native is closer to home as she recently began work with her second NFL team as a reporter and producer for the Carolina Panthers.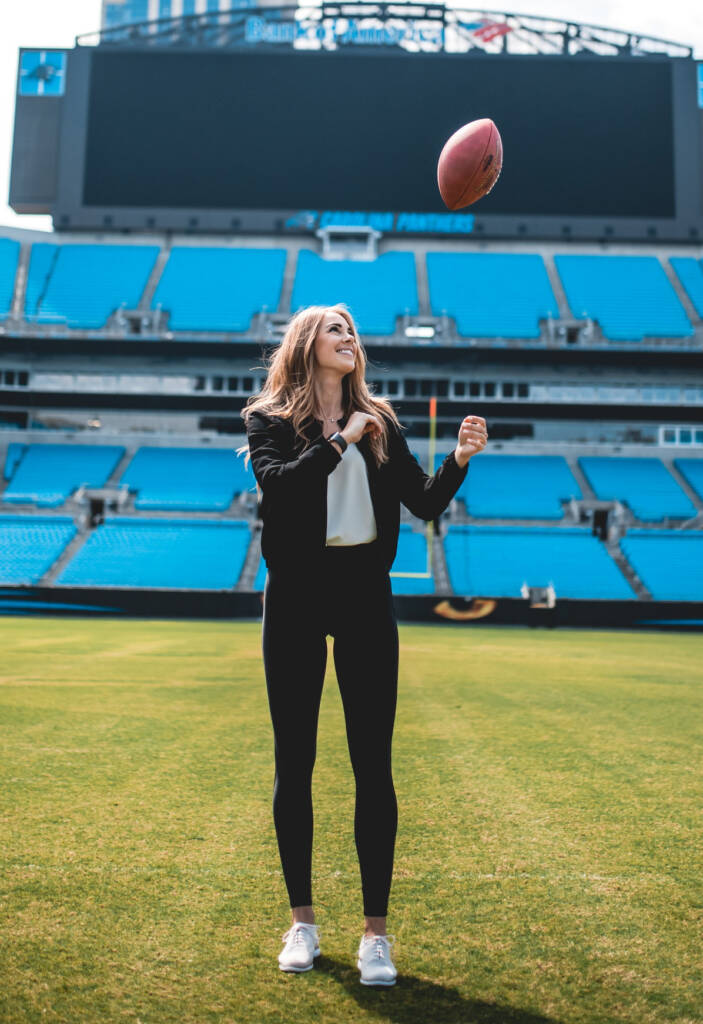 Courtesy of Brandon Todd, Carolina Panthers
"I grew up on the football field," Cann said.  "When my dad was coaching, I was knee-high, running around the practice field with him. Being around football my entire life helped me as an athlete and now with the jobs I've had in understanding the culture of football. We just talked football at home, all the time! It has translated really well for me to have a leg-up, especially since I never played football. I can do some damage talking football with the boys and steering the conversation."
That knowledge has led her to creating content for Panthers.com.
"The Panthers have done a wonderful job in creating their presence on social media and finding their voice," Cann said. "What they're moving toward now is giving fans quick and digestible content at a very fast pace, as it's happening. Now they want to add more interviews, video, and behind the scenes content that takes a little more time to tell the best story possible. That's my focus here. Our social media team has a great thing going. Now we're doing more to add to the story and provide more in-depth content, so fans get to know the players and the organization more."
Cann is not exactly an NFL rookie. She has spent the last three years in a similar position with the Indianapolis Colts as a multi-platform reporter and host, where she took fans inside the organization on a daily basis and provided content to an ever-growing online audience. As a somewhat new concept for each NFL team, Cann increasingly became a media personality over many platforms.
"It changed so much while I was there," Cann said. "I was first hired by the Colts as their reporter and host. My responsibilities were to host a television show that ran once a week, all year. I was also doing daily updates and producing some content for Colts.com. When my time ended with the Colts, I was doing a little of everything, which was great."
These positions are becoming more of trend for NFL teams to take control over content, messaging, and branding.
"In the NFL, the idea of each team having its own media and production company was somewhat new when I started," Cann said. "It wasn't like the local news model. By the time I was done, I was hosting our home in-game show. So, I was the live in-game voice that you would see and hear. For away games, I was the radio sideline reporter. I was also creating content for Colts.com in more of a producer-role. We did a lot of radio and podcasts as well.
"I was really able to grow in a lot of areas and figure out what my voice was going to be as a broadcaster."
"It's fun seeing the landscape of football change."
– Caroline  Cann
At 26 years old, Cann may be a role model for females who want to work in various capacities in what was previously a male-dominated sport.
"When I grew up and was watching football, the only females I saw were sideline reporters and cheerleaders, and sideline reporters were very new," Cann said. "As I got older, I started seeing women breaking some barriers in different roles. They were athletic trainers. They were on the operations side of things. They were doing play-by-play and hosting. Now you see them involved in scouting, coaching and different things like that. I'm thankful that more women are getting the chance to do those things because some wonderful women ahead of us have done it and absolutely crushed it!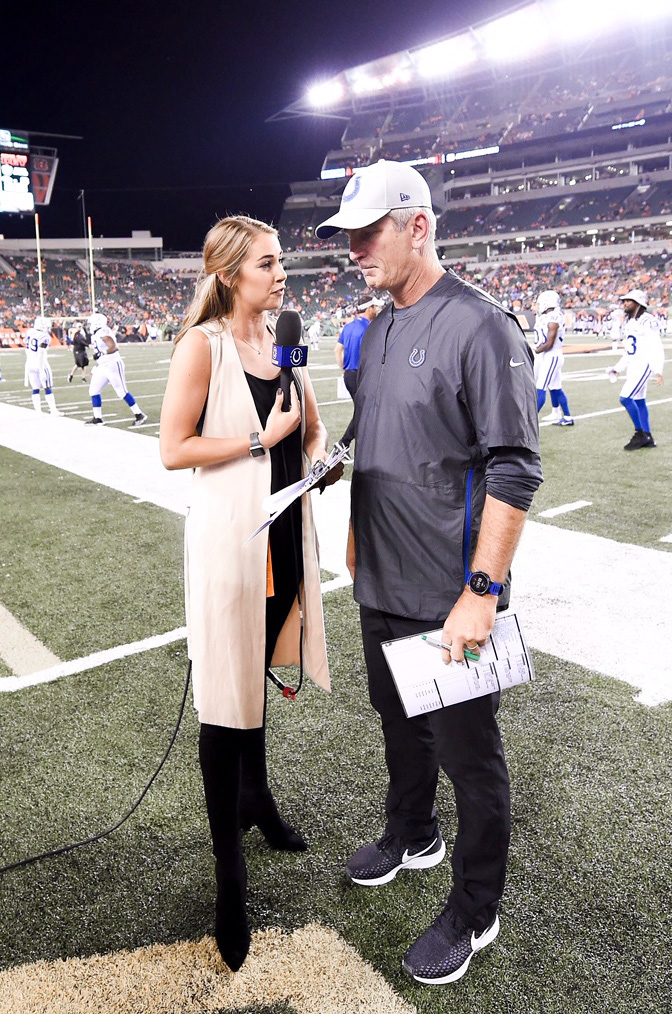 Courtesy of Matt Bowen, Colts Photographer
"It's a really different dynamic when a female can sit down at the table and talk football with the boys. One thing I've learned is, don't act like you know everything, because you don't. Ask lots of questions.  It's fun seeing the landscape of football change. It will be fun to see where it grows from here."
In addition to being a student-athlete, Cann developed her on-camera persona by first working as a student with Gamecock Productions, which promotes South Carolina Athletics through high quality video productions. After graduating in December 2015, she got her foot in the door with South Carolina's Live Operations Department, which produces all the SEC Network+ broadcasts for the network's online platform in addition to many of the network's broadcasts of Gamecock sports on the linear (regular television) channel. Cann's knowledge of many sports gave her the opportunity to serve as a sideline reporter for SEC Network+ broadcasts of South Carolina athletics events and co-hosted South Carolina's 2016 NFL Pro Day as well.
"I really stumbled into some good luck," Cann said. "The timing of everything was really just the favor of the Lord, saying 'Don't worry, I've given you certain passions and work ethic for a reason.' To make that switch from student-athlete to broadcaster was nerve-wracking at first, but it did feel very natural.
"I would not have been able to get my job with the Colts if I hadn't had the opportunity to be so ingrained at a professional level while I was finishing up at South Carolina. (Director of Live Productions) David Cockfield and (Assistant Director of Live Productions) Justin Stoll opened so many doors for me because they saw just a little bit of potential in me. I was always in the control room there. I wanted to run cables or whatever. They wanted to help me.  Getting those reps helped me to make the jump to a new sport.  If I hadn't had all that support from them and from the coaches and everyone else at South Carolina, there is no chance I would be where I am now."
Having already started her new job, Cann is not only excited to be working with the Panthers, but to also be close enough to home to spend time with family, including her two young nieces.
"I'm excited for them to see what I do," Cann said. "I've had to miss a lot in their young lives. I want them to see what I do and to realize I love what I do. I was thankful to have a mom who works in education and loves working with kids. As women, we can have super-powers to love what we do at work and come home to family. I want to be a role model for my nieces. I'm really excited about having them come to training camp in Spartanburg!"
Cann's career has taken off quickly, and while she doesn't know where the sports industry will take her, she's excited about the future.
"People ask me all the time, what is my dream job and what are my end goals? I tell them, I don't have any idea," Cann said. "When I was in school at South Carolina, my current role didn't even exist yet. The Carolina Panthers had a need for team reporter, taking fans where they want to go. The Colts were similar. Teams want something in-house. It's all so new. It gives me so much flexibility to try new ideas because it's never been done before.  That's why I love it."