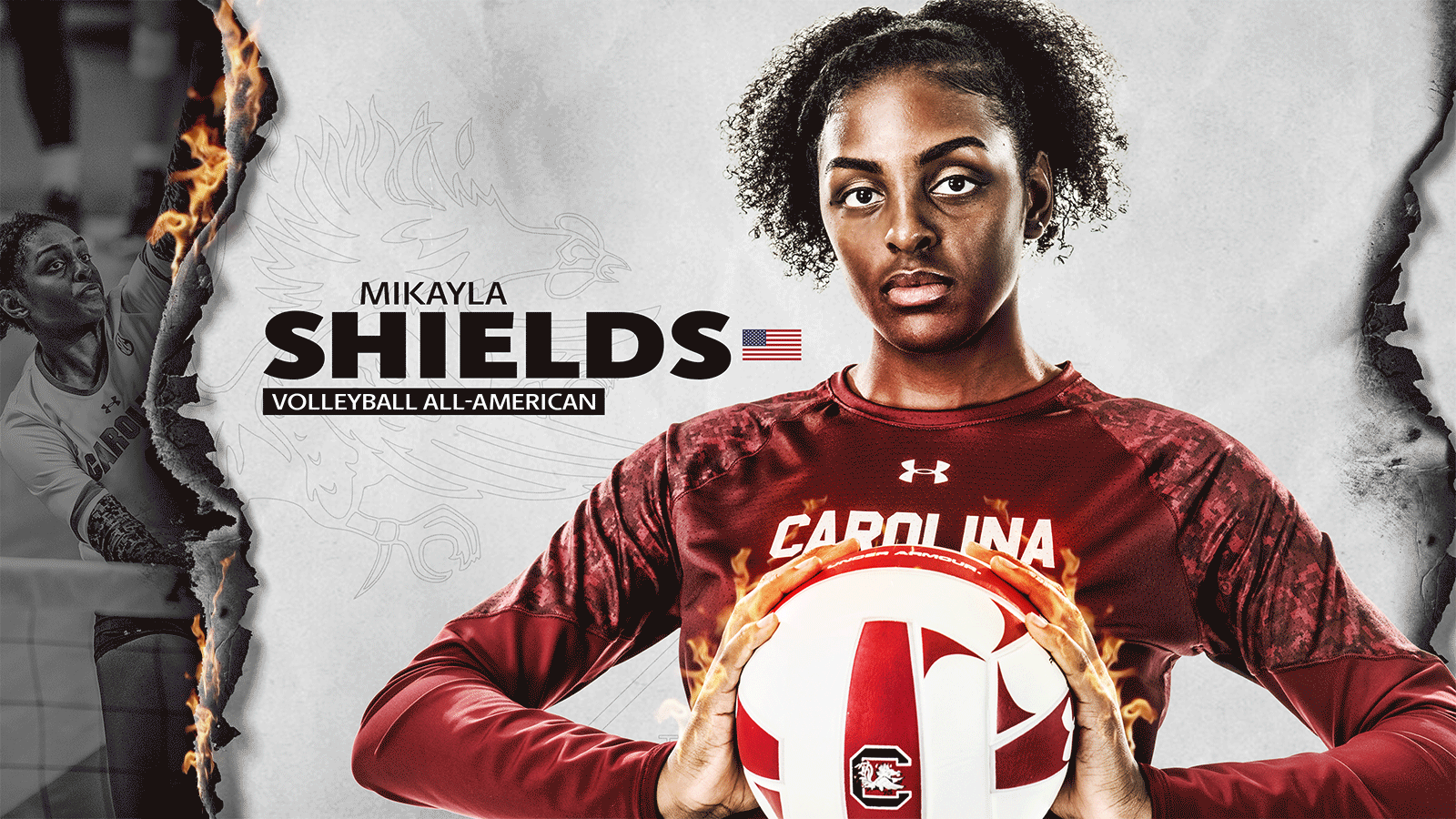 Mikayla Shields Earns Volleyball Program's First All-America Honor
The senior made the AVCA's Division I Third Team, after earning Honorable Mention in 2017 and 2018
COLUMBIA, S.C. – Senior Mikayla Shields made program history for volleyball on Wednesday, as she earned a spot on the American Volleyball Coaches Association's Division I All-America third team. The Orlando, Fla. native is the first Gamecock in the program's 47 seasons to make one of the three All-America teams, after being on the Honorable Mention list in 2017 and 2018.
"Mikayla Shields has been a driving force in turning South Carolina from the 12th place team in the SEC to back-to-back NCAA tournament second rounds," head coach Tom Mendoza said. "She's a player that every opponent tries to game plan how to stop, and she consistently produces at a remarkable level. She's a big reason why the team was successful on a national stage and this honor is a deserved recognition of that."
Shields is the only pin hitter in the SEC who ranked in the top ten for both hitting percentage (.317) and kills per set (3.55); in fact, among the 10 SEC student-athletes who are ranked in the top 10 currently for hitting percentage, Shields has 122 more total kills than anyone else on the list. She also ranked third in the SEC for service aces, seventh for points and 11th for double-doubles. Despite attempting 234 more attacks than any other player on the South Carolina roster this season, her .317 hitting percentage is the sixth highest for any member of the program in the rally-scoring era (since 2001) and higher than any other Gamecock pin hitter in the era.
Shields' 405 kills this season rank sixth-most for a single season in the rally-scoring era for the Gamecocks, and the senior stepped up her game in conference play, averaging 3.75 kills, 2.44 digs, 0.41 aces and 0.72 blocks per set to help the team finish sixth in the final standings. In the program's all-time history, Shields ranks in the top 10 in kills, attacks, hitting percentage and points, and cracked the 1,500 career kills milestone.
"I still haven't wrapped my head around this, it is an incredible feeling to be able to bring this back to South Carolina," Shields said. "I see this as a culmination of my entire team's hard work and effort, and have this moment as a way to say 'this is where our program is heading'. Not every team gets to celebrate All-Americans, and I think that even though I might be the name on the award, it's a representation of all the greater things still to come for Gamecock volleyball."
The All-America awards will be presented December 14th in Pittsburgh, Pa. at the AVCA All-America/Players of the Year Banquet, held in conjunction with the coaches convention and national semifinals.
"When I'm up on that stage, I don't think I'll be able to think of anything else besides my teammates and especially my senior class, knowing that everyone who was here with me along the way will be a part of that moment," Shields said.
Shields is one of three individuals from the program to be recognized nationally on postseason teams. Shonda Cole Wallace (2006) and Juliette Thévenin (2013) earned honorable mention All-America honors, and Shields also made the honorable mention list in both 2017 and 2018. Wallace, now in her fifth season as a member of the South Carolina coaching staff, will be joining Shields at Friday's All-America ceremony. It will be a special moment for the entire staff to share, but for Shields, having Wallace at her side for a groundbreaking moment for the program is a fitting end to her time in the Garnet and Black.
"Shonda is one of the greats to ever played in our gym. She was such an impact on me as a person and a player, going all the way back to my high school days," Shields recalled. "Now being able to look back on my career and see my growth alongside her growth as a coach through countless hours of practices and off-the-court moments, it's hard to put into words how so special this is to me. Shonda embodies everything great about being a Gamecock, so taking the stage with her Friday night will be an honor."
South Carolina finished its season with a 20-12 overall record and another trip to the second round of the NCAA tournament in year two with Mendoza. The Gamecocks upset No. 10 Colorado State in the first round of the tournament to mark the first back-to-back 20 win seasons since 2001-02, but this season marked the first time in 47 seasons that the team posted NCAA tournament wins in back-to-back seasons. For updates on the team heading into 2020, follow @GamecockVolley on Twitter.