Annual Lettermen's Association Golf Tournament Brings Alumni Together
Nearly 100 former South Carolina student-athletes took to the links on Friday to play in the 38th Annual University of South Carolina Lettermen's Association Golf Tournament at The Woodlands Golf Club in Columbia.
"This is one of our biggest fundraisers for the Lettermen's Association," said Association President Walker Inabinet (football, 2009-12). "We normally pair up our events with Athletics Department events, but with the pandemic this year, we didn't have some of those events. This year we had quite a few lettermen step up with some donations in what has been a difficult year. We always want our lettermen to be able to come back and feel welcomed.
"It's great to create more awareness for the Lettermen's Association and just get everyone back together when we can. It's fun for everyone to reminisce. This year we're celebrating the 50th anniversary of the 1970 ACC Championship for the men's basketball team, as well as ten year anniversaries coming up for the baseball team winning the national championship, men's soccer winning Conference USA, and football winning the SEC East. We have quite a few things to celebrate, which is great."
Many sports were represented from several generations of Gamecocks, including former football standouts Jeff Grantz (1973-75), Tommy Suggs (1968-70), Ryan Brewer (1999-2002), Harold Green (1986-89), Sterling Sharpe (1983, 1985-87), Perry Orth (2015-16), Bo Davies (1969-71), and Mason Zandi (2013-16); baseball alumni Grayson Greiner (2012-14), Mike Cromer (1974-75), Steve Cook (1975-76), Joey Pankake (2012-14), Max Schrock (2013-15), Garris Gonce (2001-02), and Kip Bouknight (1998-01); along with former women's golfers Meredith Taylor (2004-09) and Tiffany Catafygiotu (2001-05).
"The competitiveness doesn't stop when you graduate."
– Meredith Taylor
The former Gamecocks come back to support their alma mater for different reasons.
"We want to try to get more of a younger crowd and encourage people my age to be a part of the association," said former quarterback Perry Orth, who also serves on the Lettermen's Association Board. "We're a fraternity, basically. We're a family. It's important for us to stick together and stay together. It's great that you can come out here and play with people who were on the golf team in the 1970s or played baseball, and I played here in the mid-2010s. We want that diversity, and it's very inclusive."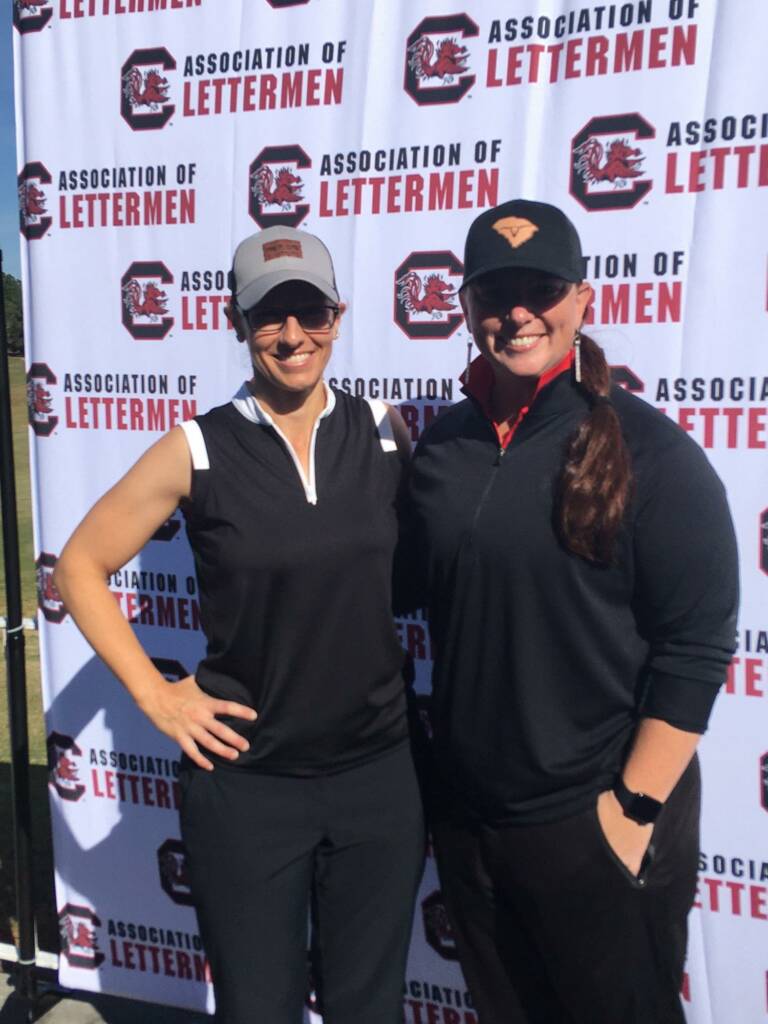 Tiffany Catafygiotu & Meredith Taylor
"This golf tournament is extremely unique because you don't get this many lettermen together from different sports anywhere else," said golf alumna Meredith Taylor. "Reuniting with my teammates is my favorite part. It's the only tournament where you can see all the different sports together. That's what makes it so unique and special. I'm proud that we could still hold this event this year. The competitiveness doesn't stop when you graduate, that's for sure. So, there's some trash talking out here."
"It's like I told my wife, I get to go out with my play group today," said former safety Bo Davies. "That's what it's like when you get back with everybody. It's like being six years old and getting to go back with your play group with your buddies. It's just so enjoyable. I hope we can take some of the newer alums and make them feel like part of the family."
"Just to get out and play some golf is what I was looking forward to," said former golfer Tiffany Catafygiotu. "Everybody has been stuck inside with the pandemic and going crazy. Golf is a great sport, and I took up tennis this summer because it's a socially distant sport, too. I haven't played golf in a long time, but we're going to have fun."
The tournament is usually scheduled around a home football weekend and because the revamped schedule was released later this year due to the pandemic, it gave alumni less notice to make plans. For those that were able to make it, reliving their days on campus is always part of the experience.
"We had the chance to go to so many cool places to play golf," Catafygiotu said. "We went to Japan, Puerto Rico, and California. The travel and the bonding together and just goofing around with teammates is what I'll always remember. You have teammates and friends for life."
"Just being with the guys is what I remember the most and the biggest thing that I miss," Orth said.
"There are so many memories," Taylor said. "I was a walk-on, turned scholarship athlete. That was special in itself; but getting to play the places that I had a chance to play was great and the friendships that I built, too. I still try to get together with my teammates every year, even though we're spread out around the country. Those friendships are very special."