Senhaji Makes the Most of Opportunity with National Team
Ranya Senhaji got a nice jump on the traditional "what did you do on your summer vacation" question. The rising sophomore on South Carolina's women's soccer team had a chance to play in a pair of games for Morocco's senior national team, and she made a huge impact by scoring two goals in her first start against Mali in an international friendly recently.
"I grew up thinking, oh my gosh, I want to play for a national team!" said Senhaji, who is studying sports management. "I didn't know if it would actually happen. Knowing that I followed my dream and did it, made me so happy.
"I went in in the 60th minute in the first game, and I was just excited to get into the game. I don't usually get emotional about things, but my stomach was churning. Just stepping on the field for the first time was the most exhilarating feeling. Then getting to start, it was the most amazing feeling in the world."
Of course, it only felt better when she was able to find the back of the net.
"We were playing really well," Senhaji said. "We had scored early and then Mali came back and scored. For the first goal, the girl took the ball down the side, and I just found myself open inside the 18. She passed me the ball, and I saw that the goalie was on the near post, so the whole back post was open, and I knew if I hit it close, it would go in. I was so happy. It was one of the best feelings I've had in my entire life! Everyone was so happy for me, which also made me feel good.
"The second goal was probably one of the best goals I've ever scored in my life. I didn't even think about it. One girl chested the ball down, and I just took two touches. I didn't even look at the goal. I was just hoping that something good would happen. I watched it again afterwards, and I realized it was a nice goal. Scoring two goals in fifteen minutes for a national team is just insane!"
Hailing from Tinton Falls, N.J., Senhaji enjoys dual citizenship in the U.S. and Morocco as her father, Driss, played college soccer in Morocco.
"I think having different experiences over there and playing with different people will help make me a better player."
"I got dual citizenship a couple of months ago. My dad was born there," Senhaji said. "I was there (Morocco) last March (2020) but before that, I believe they saw videos and watched my games. I went over there and played with the U-20 team last March, and then this summer I got a chance to play for the actual national team.
"I was confused when they first called me because I don't speak the language, and I hadn't been there for a year. My dad had to speak to them. I was surprised and very excited!"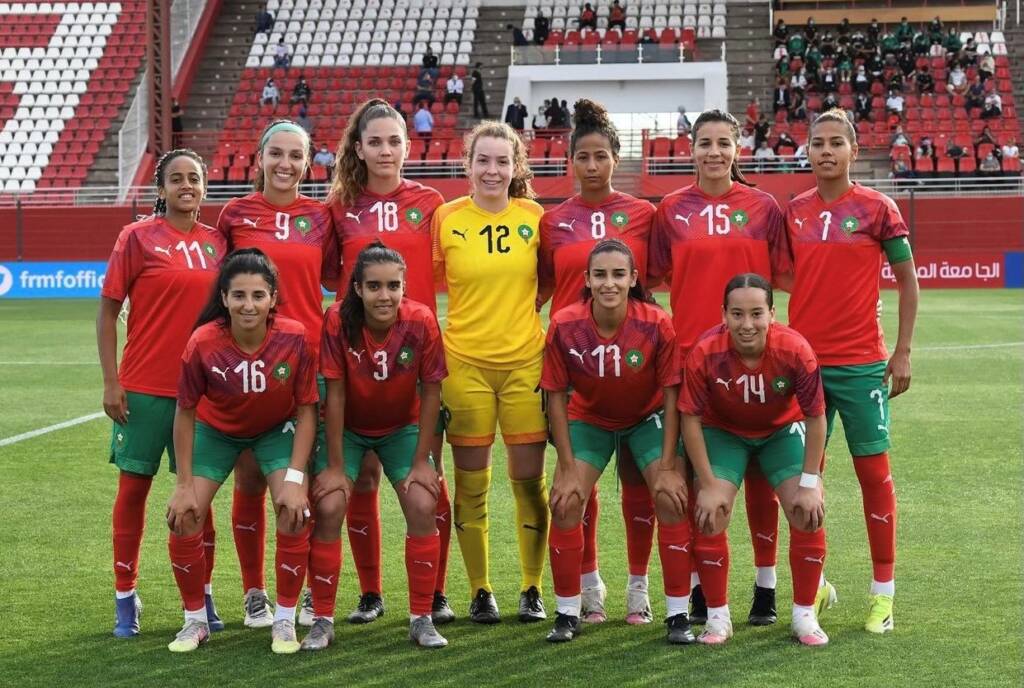 Senhaji (#9) in Morocco
Morocco is located in the northwest corner of Africa, and the 19-year-old Senhaji had a lot of adjustments to make.
"When I went last year, I was nervous only because I don't speak the language," Senhaji said. "They speak mainly Arabic and French. Everyone is nice and supportive, and they try to help you. I wasn't as scared this time, but it is a little scary playing with people who are a lot older than you. My whole experience was great. The people there are amazing.
"The head coach only speaks French, but the strength coach over there translates to English. My roommate that I had there was from Amsterdam, and she spoke English. There were a few others that did, too. Sometimes it was difficult, but I guess when they're screaming at you to do something, it takes you a second to react and figure out what they're talking about, but it wasn't as hard as people may think it is. The hardest thing was that some of the players were 10 or 15 years older than me."
Senhaji's college career got off to a good start last year, playing in 14 of 16 matches for the Gamecocks as a freshman and notching a pair of goals. She hopes the international experience will help in her future with the Garnet and Black.
"I think having different experiences over there and playing with different people will help make me a better player," Senhaji said. "I think being able to play with older people over there will help me strength-wise and knowledge-wise to play in college.
"I think with the new freshmen coming in with the team that we had last year, we'll do well next year."
Senhaji hopes to play with Morocco's National Team next year in the African Cup. In the meantime, she may add some language courses to help her before she goes overseas again.
"Because my coach over there speaks French, and most of the other people also speak French, I think I'll end up taking a French class," Senhaji said. "I'm also going to start talking to my dad a lot more in French because it should help me a lot."