10 Years Ago, the Gamecocks Won Their Second Straight College World Series
Ten years ago, South Carolina won its second consecutive College World Series Championship as the Gamecocks defeated Florida 5-2 to complete the two-game sweep in the best of three series. The Gamecocks earned the distinction of being the last team to win the College World Series at Rosenblatt Stadium in 2010 and then the first to win the title at the new home of the College World Series, TD Ameritrade Park in Omaha, Neb.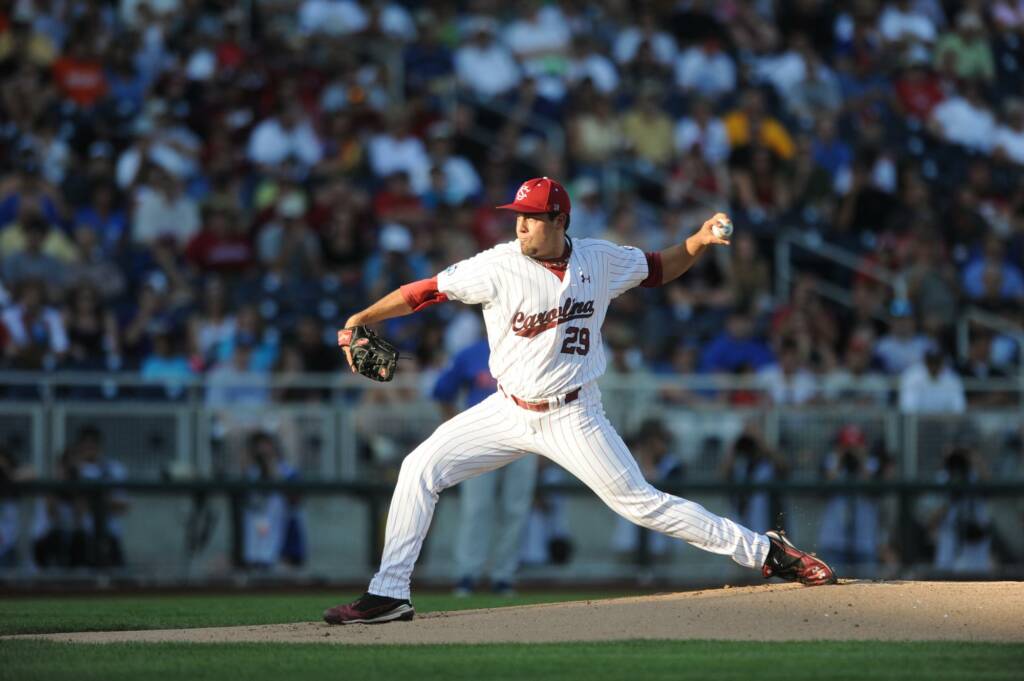 Michael Roth
"We did something that only a dozen or so people can say they did," said former catcher Robert Beary, who works with the Richland County Sheriff's Department.  "With the new style bat, a different team, and the odds against us with a bullseye on our back, we did it. We were a team that was always happy for each and everyone's success."
"When I think about (2011), I think about all the adversity we overcame and all the injuries we overcame," said former third baseman Adrian Morales, who is now the head coach at Miami Dade College. "I know Jackie (Bradley, Jr.) went down, Brady (Thomas) went down, (Christian) Walker had that broken bone in his hand toward the end, and he toughed it out. I think about all the guys that picked us up. Steven Neff was a pitcher who became a hitter and went off for us for about a month! DeSean Anderson stepped in when Jackie went out. Jake Williams and so many others don't get mentioned a lot, but it truly was a team win. I think about all those guys who kept picking us up."
"It was a different tournament than the year before, but we had been in those situations before," said former pitcher Michael Roth, who lives in Greenville, S.C., where he sells commercial real estate. "We were confident as a team."
"I just think about the toughness of those guys," said former second baseman Scott Wingo, who's now an assistant coach at Notre Dame.
After winning the national championship in 2010, the returning players knew expectations would be at an all-time high in 2011.
"I don't think we felt any pressure at all," Morales said. "Coach (Ray) Tanner did a great job of keeping us humble and making us consistently feel like the underdogs, even when we weren't. We never felt like there was pressure on us to win. The second year (2011) almost felt like we had a mental edge on the competition because we had already done it before, and we had so many people coming back. It felt like a business trip when we went back to Omaha. It felt like we were in control of every game, no matter what the situation was."
"I think we were really good at deflecting any pressure," Roth said. "We were the defending champs, but some of the media didn't treat us like we were the favorites. We knew we were a good team. We felt confident about our ability to play."
"We were just so confident," Wingo said. "It's the confidence you have when you know you're prepared. We felt like we were more prepared than anyone."
"We never thought about the pressure of it," Beary said. "We were a bunch of guys that knew how to compete. We were a mature team. By the second year (2011), most of us had been there, done that. We had that swagger behind us."
"I was expecting it and put a good swing on it, and it went."
– Robert Beary

PICKING UP WHERE THEY LEFT OFF
South Carolina opened the 2011 season by winning nine of its first 10 games, which included taking two of three from rival Clemson.
The Gamecocks dominated SEC play, losing only one series all year. They started by taking two out of three from Georgia and Florida before sweeping Kentucky and Tennessee. After taking series victories over Vanderbilt and Mississippi State, the Gamecocks swept Auburn. Despite dropping two out of three at Ole Miss, the Gamecocks rallied to win their final two series against Alabama and Arkansas, sharing the SEC regular season title with Florida and Vanderbilt.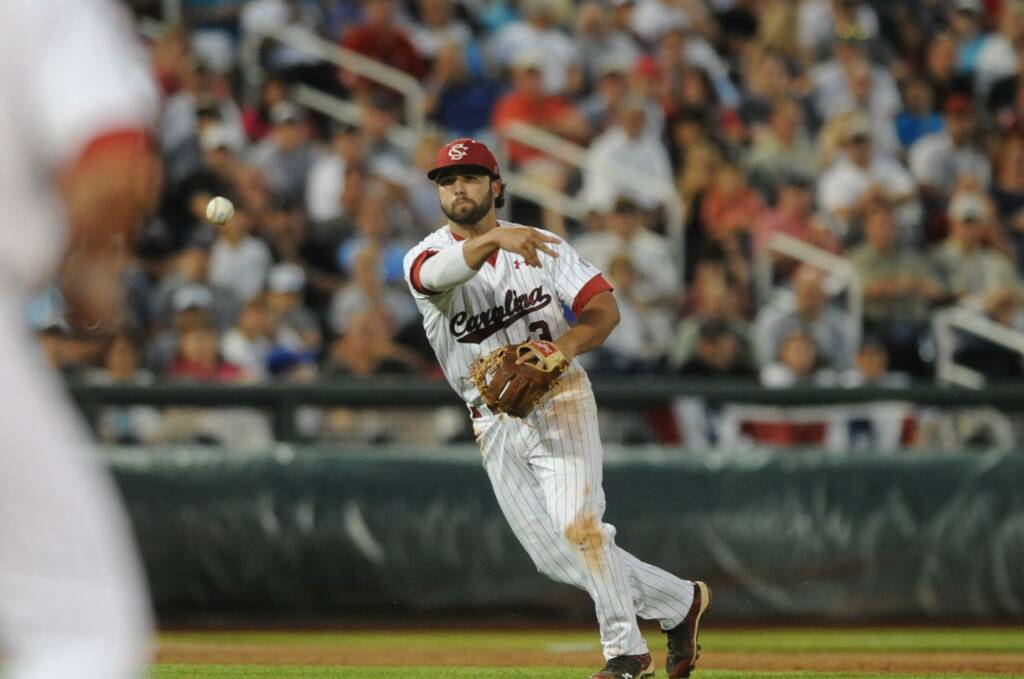 Adrian Morales
Coach Ray Tanner's team earned the right to host the NCAA Regional and held off Georgia Southern 2-1 in game 1, thanks to outstanding pitching and Adrian Morales' RBI single in the sixth inning to break a 1-1 tie. Michael Roth allowed one unearned on just two hits in seven innings of work, while Matt Price helped close the door on the Eagles with three strikeouts in the final 1.2 innings. South Carolina blew past Stetson 11-5, thanks in part to a grand slam from Beary, who would be named MVP of the regional, and then rolled past the Hatters again with an 8-2 victory to advance to the NCAA Super Regional.
"We had the bases loaded, and Tanner said, 'Beary' and pointed to the bleachers," Beary said. "The rest is history. The guy threw me about an 88 mile per hour fastball, belt high, outer third of the plate – where any hitter would want it. I was expecting it and put a good swing on it, and it went. I remember running to first base, and I'm not one to celebrate much, but I looked at my dugout, pointing to my guys! Walker later told me, 'When you pointed at the dugout, I was so jacked-up, I wanted to throw a brick through a wall. I was so happy.'
"I had a really good tournament. That was a confidence booster for me. The year before, I had a different job to be a team guy; maybe get called upon late in the game to get an at bat or be a defensive player. Those were fun games because Stetson is only about 45 minutes from my hometown. Nothing against Stetson and the coaching staff there, but I wasn't even on their blueprint for recruiting in high school. Their first baseman at the time was a kid a I grew up with and played baseball and football with. We were really close."
"One of the things that made us so good is that everybody picked up each other."
– Michael Roth

SUPERMEN
The Gamecocks hosted UConn in the best of three Super Regional, and the Garnet and Black took the first game 5-1, thanks to another great effort from Roth, who allowed one unearned run on six hits in 8.1 innings. South Carolina punched its ticket to Omaha with an 8-2 victory in game 2 with Beary, Jake Williams, and Peter Mooney driving in two runs apiece.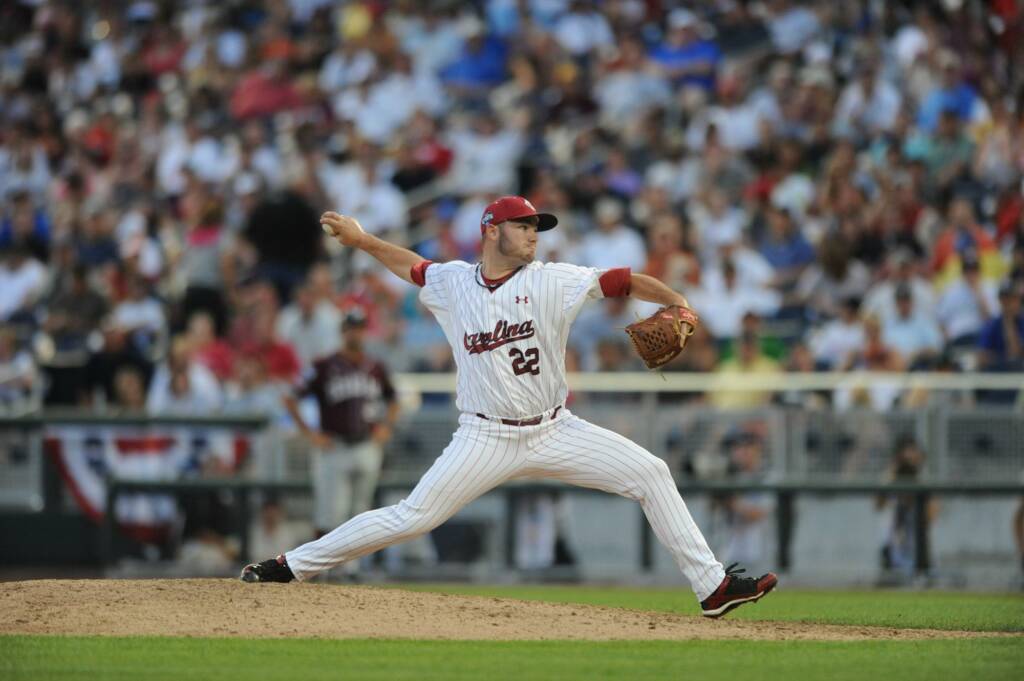 Matt Price
"One of the things that made us so good is that everybody picked up each other," Roth said. "When I was on the mound, I knew that Scott Wingo and Peter Mooney up the middle could field anything that was hit on the ground anywhere near them. As a pitcher that allows you to go after the hitters and let the defense make the plays. In the outfield, we had Jackie (Bradley, Jr.) and Evan Marzilli and those two guys were so quick. Jake Williams was really good out there as well. That took some of the pressure off me because I knew I didn't have to make a great pitch, and because the fielders were getting a lot of action, that kept them locked into the game."
"I thought game one against UConn was a game that could have gone either way for both teams," Morales said. "We made some defensive plays when it could have been blown open. I remember (UConn centerfielder George) Springer hit one down the third base line, and I dove and threw a guy out at second. That kind of stopped their momentum that inning. Then Mike (Roth) ended up cruising for us."
"They were a really good team," Beary said. "They had two first-rounders. They had some studs on that team. That second game was a tight game (tied 2-2 going into the eighth inning) when Walker came to bat. I was standing next to him when Coach Tanner came up to him and told him flat out, 'this is what he's going to do. He's going to throw you a fastball and throw you that change up.' Walker went up there, and he threw him that change up and Walker put it over the left field fence. That kind of solidified that you may have those 'big money' guys, but we still have our grinders, our JUCO bandits, and our guys who know how to compete and have good at bats.
"We knew if we could go deep into counts and get that pitch count up, we could get into the bullpen and tack on runs. With the new bats, the whole idea of a bloop and blast weren't there anymore. In prior years, you could hit it off the end of the bat and still get it out of the ballpark. Now, you had to really hit it and be a solid hitter during that time frame."
"We were a bunch of tough kids who loved to compete."
– Adrian Morales

BACK TO OMAHA
As the No. 4 national seed, the Gamecocks found the new stadium for the College World Series much to their liking as they stayed in the winner's bracket throughout the tournament, but it wasn't easy. In the opening game against Texas A&M, both teams plated four runs in the first inning, with each team being helped by a costly error.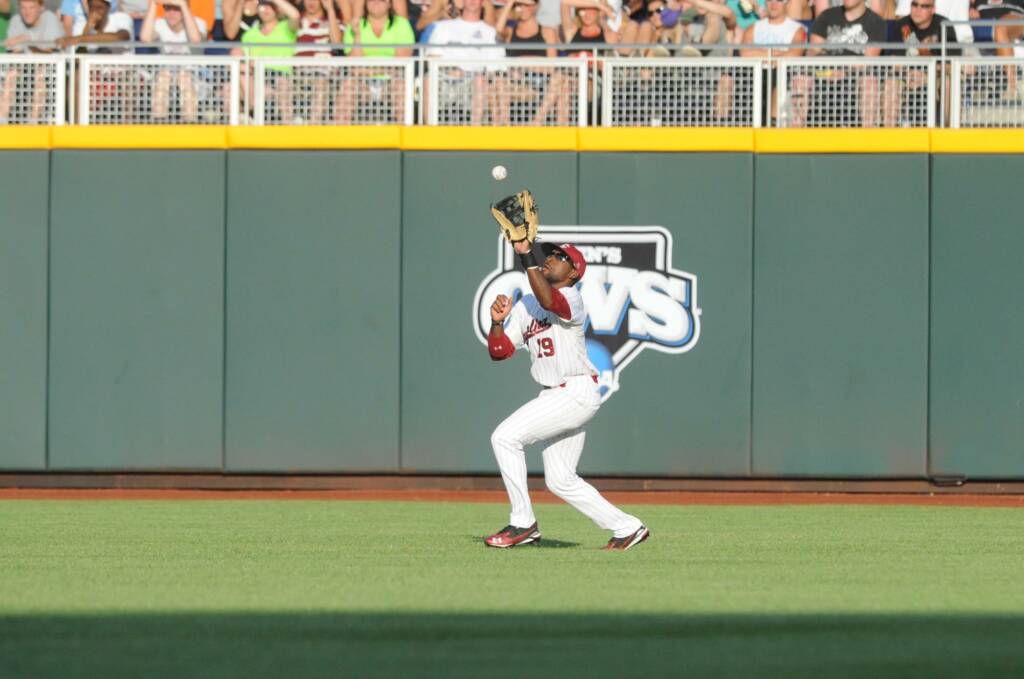 Jackie Bradley, Jr.
"It was a really weird first inning," Roth said. "That wasn't us as a team. You have to give our hitters credit because they came back and scored four runs right away to answer. I remember after we tied it up, Adrian Morales said, 'back to 0-0. Let's go!'"
It would become a pitcher's duel the rest of the way as Roth would not allow another run in his 7.1 innings of work. John Taylor retired all three batters he faced and gave way to Price to record the final two outs in the top of the ninth, setting up a chance for a walk-off victory. Scott Wingo provided the game-winner with a bases loaded single to right to plate Beary as the Gamecocks won 5-4.
"Coach Tanner told me to patient, and I remember telling him that if the first pitch was in there, I'm going to bust it!" Wingo recalled. "In the back of mind, I knew that Coach Tanner told me to be patient, so I was taking that first pitch. It was funny because it was right down the middle. The next pitch was a pretty good pitch that I fouled off. (Later) He threw a fastball that was up and in, and I got the barrel to it. It was definitely one of my greatest memories of that World Series, for sure, just because it was on Father's Day, and it helped us win game 1."
"We had such a good bullpen," Roth said. "We had guys like Tyler Webb, who didn't have to throw that much for us, and here he is playing in the Major League's this year. We had a stacked team. When you have guys like John Taylor and Matt Price to come in and close the door, it gave me a lot of confidence as a pitcher leaving the game."
The Gamecocks dominated top-ranked Virginia in their second game, winning 7-1. Colby Holmes struck out seven Cavaliers and allowed one run in 4.1 innings, while Taylor allowed one hit in 4.1 scoreless innings of relief and Price recording the final out.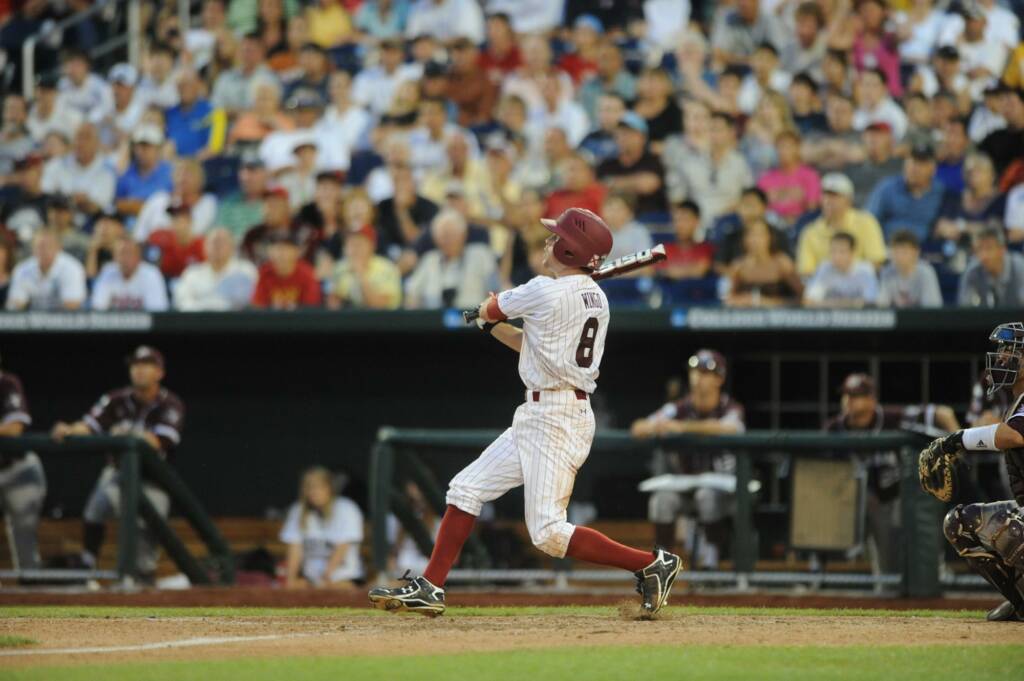 Scott Wingo
The Cavaliers would come out of the loser's bracket looking for revenge. Brady Thomas put South Carolina up 2-1 with a two-run double in the fourth, but Virginia took advantage of a Gamecock error in the eighth to tie the game. The game would go to extras and wouldn't be settled until the bottom of the 13th when a throwing error following Robert Beary's sacrifice bunt allowed Adam Matthews to score for the 3-2 win. Price did more than his usual closing role, tossing the final 5.2 innings.
"It's the little things like that make a difference," Beary said. "Matthews was really fast. I knew I just had to put down a good bunt and make it difficult for the defense. It all fell in our favor."
With the victory, South Carolina set a NCAA Tournament record with its 14th consecutive postseason victory, dating back to 2010. 
That set up an all-SEC national championship series as No. 2 Florida came out of the other side of the bracket. South Carolina had won two out of three against the Gators in Gainesville in late March.
"On paper, maybe they should have beaten us just because of the number of drafted guys they had, but we were confident in who we were at the time," Roth said.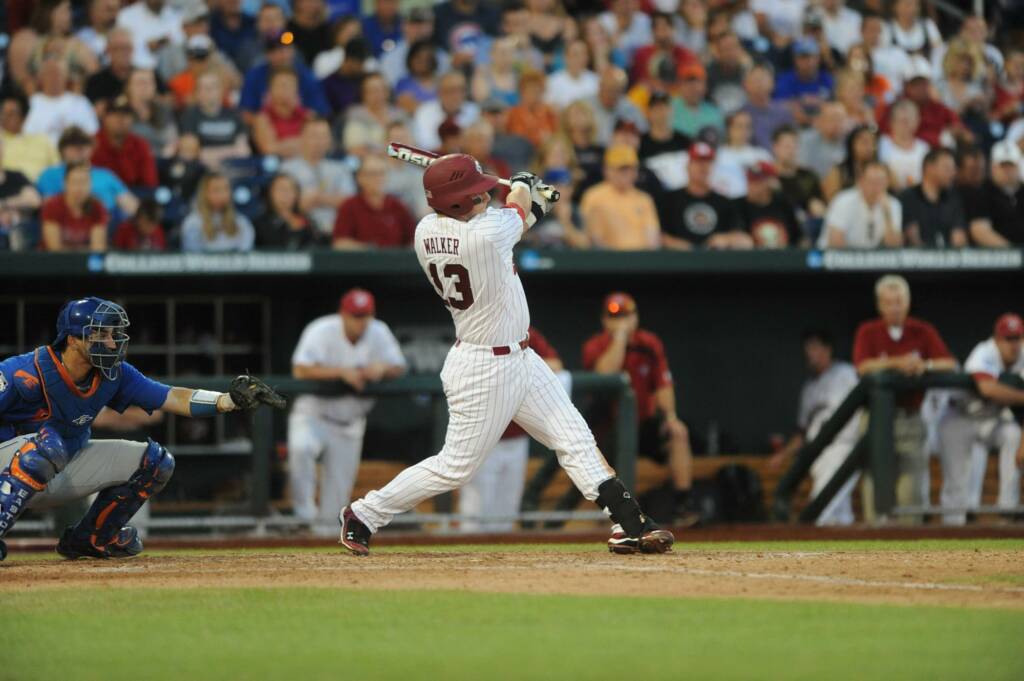 Christian Walker
"We knew going into that series it was going to be a straight up fight because they were loaded," Wingo said. "We took the mindset of we got them once this year, so we're going to go ahead and do it again. We weren't scared. We just had guys who could stay in the moment. That can be the hardest sometimes; being able to calm the mind down, produce, and execute during the highest moments in the game. Our (pitchers) arms would just make pitches after pitches in big situations like nobody else."
As it was earlier in the tournament, nine innings wouldn't be enough against the Gators. Trailing 1-0 in the eighth inning, Scott Wingo delivered a clutch two-out RBI single to score Peter Mooney and tie the game.
Florida had a chance to win it in the bottom of the ninth as they loaded the bases with nobody out. Wingo stepped up again, this time with great plays in the field. He threw home on a ground ball to record the first out, and shortly after he made an outstanding play to throw home again and help turn the inning-ending and game-saving 4-2-3 double play.
 "When they got the bases loaded, I went up to John Taylor, and I would always say something random to him, whatever I said, it had nothing to do with the game," Wingo chuckled. "So, I ran back to second and I remember taking a step towards the middle of the field before that batter came up. It was a tough little chopper, and I remember when I got up, I realized how quickly I had to get rid of the ball. Luckily, it missed Robert Beary's mask! He made a backhand pick with a catcher's mitt. That's hard to do!"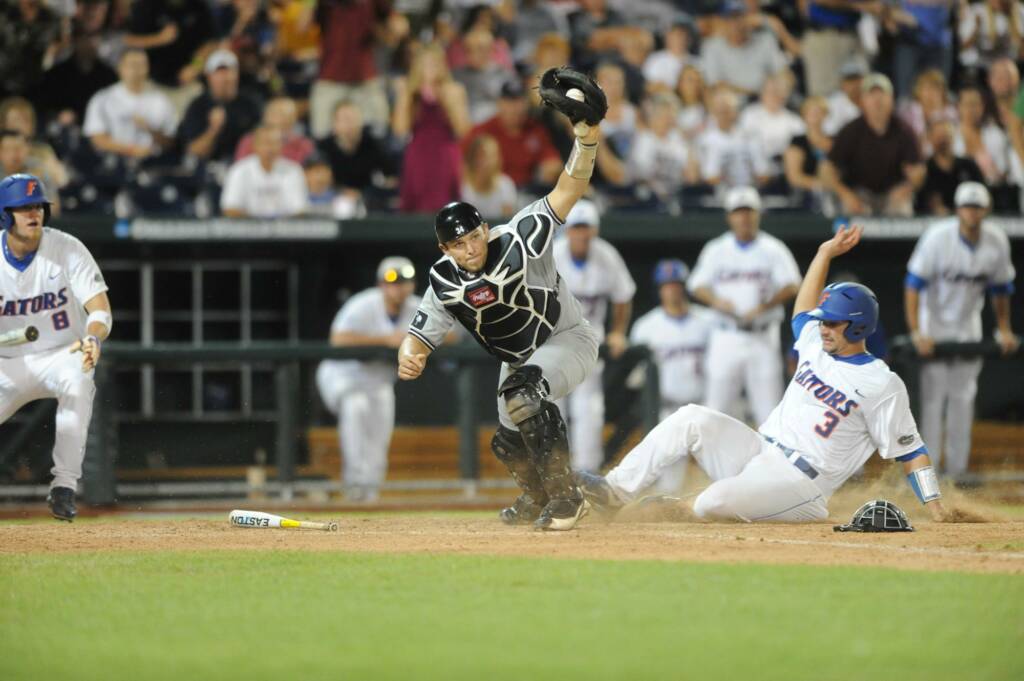 Robert Beary
"I felt like we almost lost that game three times," Roth said. "Jake Williams made that really good throw home in the bottom of the 10th to nail Cody Dent, and Wingo made those two exceptional plays in a row in the ninth. You can't forget Robert Beary's pick on the last play because it almost hit his mask. When you're having success, you have to have some of those bounces go your way. When you prepare the right way, you get some of those bounces."
Those types of plays were synonymous with the makeup of the team and were what they came to expect from each other.
"We were a bunch of tough kids who loved to compete and loved the game of baseball," Morales said. "It came from Coach Tanner's attention to detail, and (pitching) Coach (Jerry) Meyers, and (former pitching coach Mark) Calvi's attention to the pitching and defensive aspect of the game. They always told us we've got to win it with pitching and defense, and that we have to be the better team from the sixth through the ninth inning. We were a scrappy, tough bunch, and we needed to be sure we were taking care of our pitching staff."
The game remained tied until the 11th. After singling up the middle, Christian Walker, who was playing with a fractured hamate bone in his wrist, tried to steal second and a pair of throwing errors on the same play brought him home for the go ahead run. Price again closed the door in the ninth as the Gamecocks held on for the 2-1 win in a dominant performance for South Carolina's pitching staff. Forrest Koumas allowed one run on three hits in 5.2 innings, while Tyler Webb and John Taylor combined to keep the Gators scoreless for the next 4.1 to set up Price.
South Carolina was one win away from its second straight College World Series title.
"You kind of felt it. We had so many tough situations in that first game, and we got out of it," Wingo said. "We smelled it."
The Gamecocks scored three runs in the third inning to take an early lead. After Florida got a run back in the fourth inning, Peter Mooney homered to right in the sixth inning and Wingo added another clutch RBI in the eighth as South Carolina led 5-2 heading into the final frame. Once again, the Gamecocks received a magnificent start from Roth, who fanned six batters while allowing two runs in 7.2 innings and Price slammed the door, retiring all four batters he faced to close it out and the Gamecocks once again dogpiled in Omaha!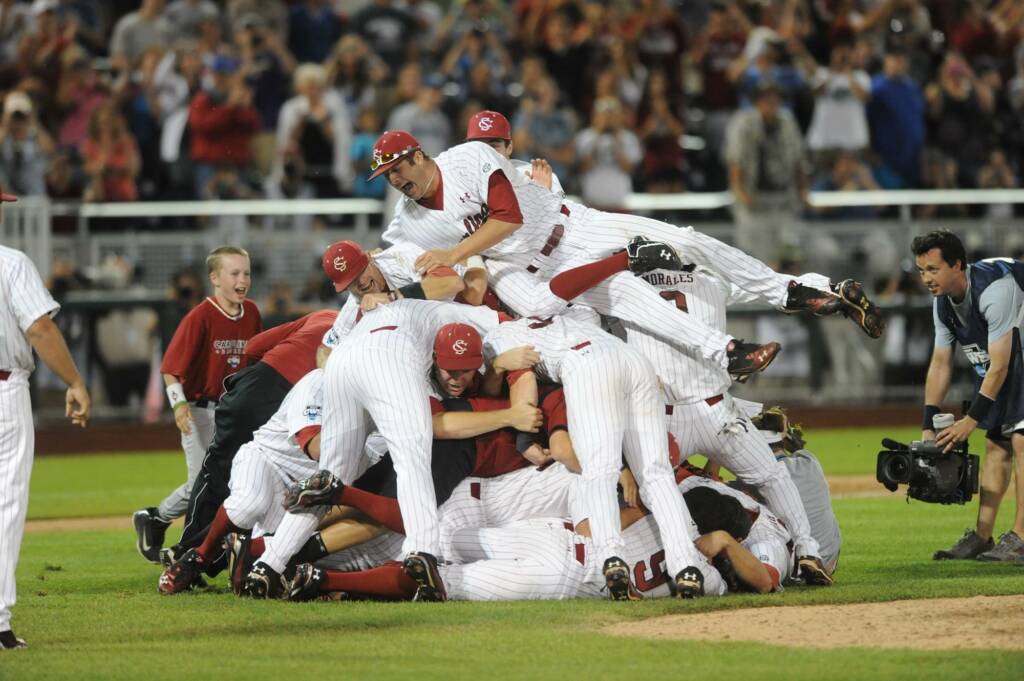 "We were elated in winning our last game," Roth said. "That's a goal we always had as a team. It's a ton of fun to celebrate with a group of guys that you put in a ton of work with. It was a great experience. I can't be thankful enough for my time at Carolina."
"It was an unbelievable feeling," Wingo said. "Guys are jumping on top of you, and you don't feel any of it. It's incredible. I think about it a good bit. I don't talk about my playing career a lot, but I do bring up our teams with some of our players (at Notre Dame). I bring up some of my past successes or failures or what I did at the plate, so they'll know why were so tough."
"Price and I learned from the Connecticut dogpile to turn our sides so we wouldn't get hurt," Beary recalled. "Once I tackled Price, I was telling him, 'Turn on your side! Turn on your side!' When the bodies start jumping on you, it gets heavy really quick. I just remember that excitement that we did it. The season's over and we're on top! For most of us, including myself, that was the last baseball game we played that really meant anything. You can never forget those days and the memories that we made."
Catcher Robert Beary, first baseman Christian Walker, shortstop Peter Mooney, designated hitter Brady Thomas and pitchers Michael Roth and Matt Price were named to the College World Series All-Tournament Team, along with second baseman Scott Wingo, who was named Most Outstanding Player as well.