Growing Up with NBA Father was a Blessing for Devin Carter
Devin Carter grew up around basketball. The South Carolina freshman is the son of Anthony Carter, who spent 13 seasons in the NBA, playing with the Miami Heat, San Antonio Spurs, Minnesota Timberwolves, Denver Nuggets, New York Knicks, and Toronto Raptors and is currently the Player Development Coach for the Miami Heat. As a youngster growing up around professional athletes, Devin never felt starstruck.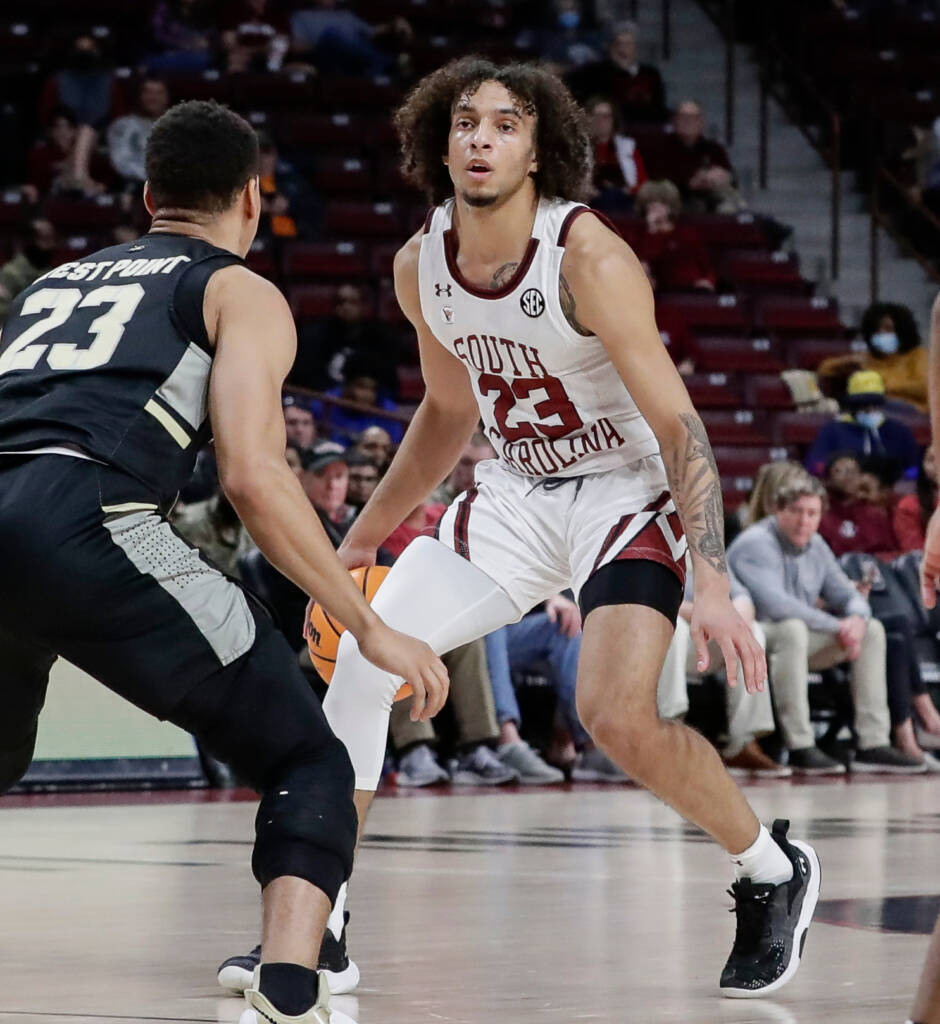 "It was just normal," said Carter, who is studying criminal justice. "People asked me if I ever met someone, and it just wasn't a big deal because I would see them every day. I didn't think of them as a celebrity. I just thought of them as a normal person.
"I do see it as a blessing because not everybody gets to experience something like that. I take a lot of pride in having a 'pops' who played in the NBA."
Other than his father, Carter's favorite player was James Johnson.
"I used to just go over to his house and kick it with him," Carter said. "He sort of treated me like a little brother."
Although he grew up around the game, Carter never felt pressured to play or to be a star as his father helped keep things in perspective.
"He always told me, don't play basketball because I played it," Carter said. "He was always there for me to teach me or work me out, but it was never forced on me. I played football, baseball, and soccer, too. He told me, if you do something, make sure you love it because you have to give it your all if you want to make it.
"Being around all the NBA players, I just watched how they played and being around that environment gave me a sense of what to do. I never thought about what my life would be without sports. I had been around it 24/7, so that was my peace place."
"He was known as a defensive player, so I always tried to take pride in my defense."
That's not to say that fans at opposing high schools wouldn't try to make him feel the pressure.
"Every school had to say something, like 'over-rated' or 'daddy's shadow' or something like that, but it never affected me because I'd still score 30 and we'd win the game," Carter said with a smile.
Of course, with Anthony traveling a lot as a player and a coach, Devin said that the two still spend plenty of time together, on and off the court.
"It wasn't that difficult. I tried to spend as much time with him as I could when he was there," Carter said. "When I was younger, we used to play a lot at Lifetime Fitness in Colorado. Back then, he'd win. Now, it's me. I'm kind of older now, and he's gotten older, too. I think I'd still win in a game of h-o-r-s-e, but we haven't played that in a long time. I'd just dunk the ball now because he can't dunk anymore!"
That being said, the younger Carter learned a lot from watching his dad when he'd go to games while growing up in Colorado.
"He was known as a defensive player, so I always tried to take pride in my defense," Carter said.
A regular contributor for the Gamecocks this season, Carter is averaging 8.9 points per game, including a season high 22 against Army, where he also had three steals. He recently made his first start at Arkansas and led the Gamecocks with 20 points. While he has plenty of time to develop his game, Carter would certainly love to be alongside his dad on the basketball floor if he had the opportunity to play in the NBA.
"That's every kid's dream," Carter said. "He helped coach me in AAU ball in the fifth grade.
"We probably call each other a couple of times a week. He's traveling a lot, and we're traveling, too. He goes back and watches my games. He talks to me as a dad and as a coach. He tries to tell me what he sees from a coaching standpoint, so it helps."