Men's Tennis is Aiming Higher in 2022
South Carolina men's tennis coach Josh Goffi has a lot to be excited about this spring. The Gamecocks reached the NCAA Tournament for the seventh time in his previous 11 seasons and advanced to the Sweet Sixteen of the NCAA Tournament for the first time in his tenure. Armed with seven returning student-athletes and a pair of talented newcomers, the Gamecocks are looking to make another step forward in 2022 and have already started the season with four straight wins.
Taste of Success
After eight wins against Top 25 teams last year, and a tightly contested 4-3 loss to No. 4 Texas in the NCAA Tournament's third round, Goffi is counting on that high level experience to help drive the team this year.
"It feels like the first time in a long time that we have an experienced team," said Goffi, whose roster consists of four juniors, four sophomores, and one freshman. "They're a mature team. They know what's expected of them. They know what to expect across the net and what the journey of a successful season looks like.
"We're coming off a good finish last year in the (NCAA) Sweet Sixteen, which is a big step for our program. It's not where we want to stop, but it definitely showed the guys that that's where we want to be.  That's going to end up being the floor for our program. That's the goal this year, to elevate the program into that next level.
"The goal used to be getting into the top 25, now it's getting into the top 15 and then make that next push into a title.  You realistically have to take it on a year-to-year basis, but the guys have bought into the journey. It's a pretty exciting year for us right now."
Top of the Lineup Returns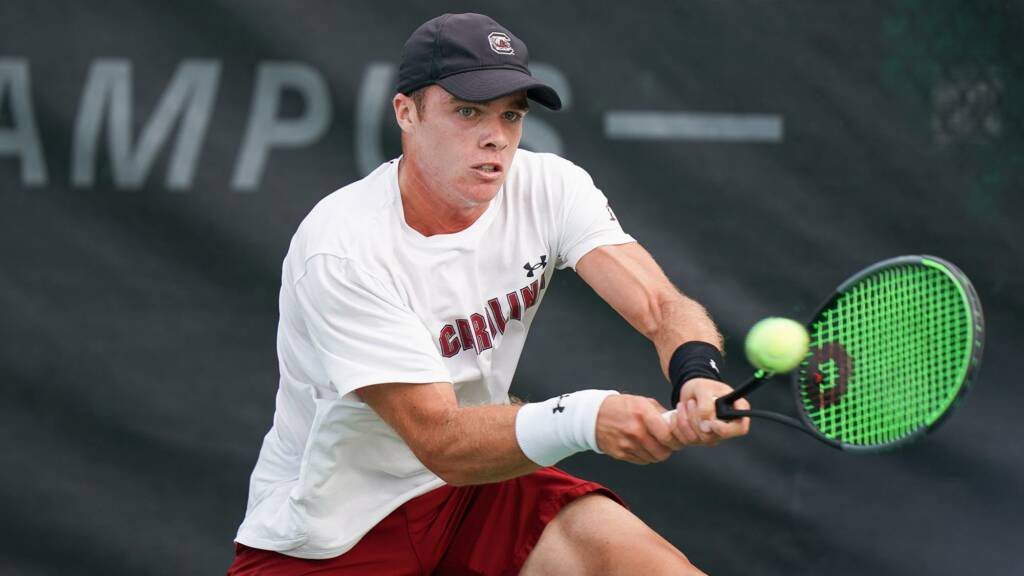 Daniel Rodrigues
The Gamecocks not only return an experienced lineup, but a talented one, headlined by two-time First Team All-SEC and 2021 ITA All-American junior Daniel Rodrigues, who was the runner-up at the NCAA Singles Championship last spring.
"He embodies what we preach," Goffi said. "He bought into the journey of self-development, on and off the court. He's a great example for the rest of the crew. It's not rocket science to become great. Everybody on the team has the ability to do that. Having him back and having that experience up top is invaluable. 
"Everyday he comes to practice, he's battling his own progression and developments and the issues that go on with having such a breakout year.  Now there's the pressure to back all of that up, but that's all part of his progression. It's great for the guys on the team to see the success that he's had, but also that he's vulnerable in front of them, telling them stuff he's going through and that it's OK to struggle.
"Danny is going to have a good year in the sense that he is going to give everything he has for the team. He wants to do well for the team. That's his primary goal. He got the individual accolades last year, but he's ready to rock and roll for the team this year. It's going to be a fun year with him leading at the helm there."
Competition In Top Half of Lineup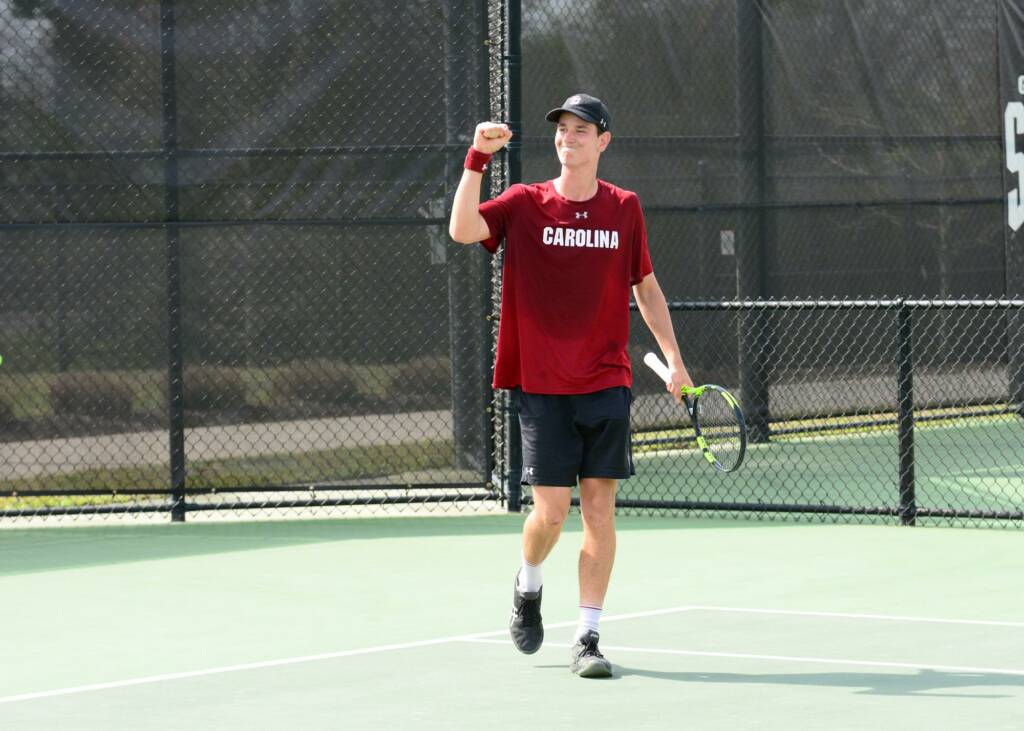 Raphael Lambling
In order to succeed in team tennis, you need top of the line student-athletes throughout your lineup, and the Gamecocks have the good problem of several good players vying for some of those top spots. That includes sophomore Connor Thomson, who earned First Team All-SEC honors last year, sophomore Toby Samuel, a Second Team All-SEC selection last year, and junior Raphael Lambling, among others.
"Connor Thomson had a good year last year," Goffi said. "We needed someone to lock in that No. 2 spot last year. I would have loved to have seen him play in the three or four spot for an entire year, but he wasn't given that option and he did a heck of a job. It's great to see his progression. He has a huge game. He can take the racket out of anybody's hands in the country. He beat the NCAA champ last year. He also beat Georgia's No. 1 and No. 2. He can play with anybody.
"We have three guys vying for those No. 2, No. 3 and No. 4 spots that are legitimately equal and go at it every day in practice and have every right to be in there at the top of the lineup and be very successful there. That's Toby Samuel, Connor Thompson, and Raphael Lambling. Raph has played in the No. 2 spot before and is a very good player. He struggled with injuries last year, but he's put the work in and is fully committed. A lot of really good things are happening for him."
The Gamecocks also return juniors Jake Beasley and Beau Pelletier and sophomore Carter Morgan.
Newcomers in the Mix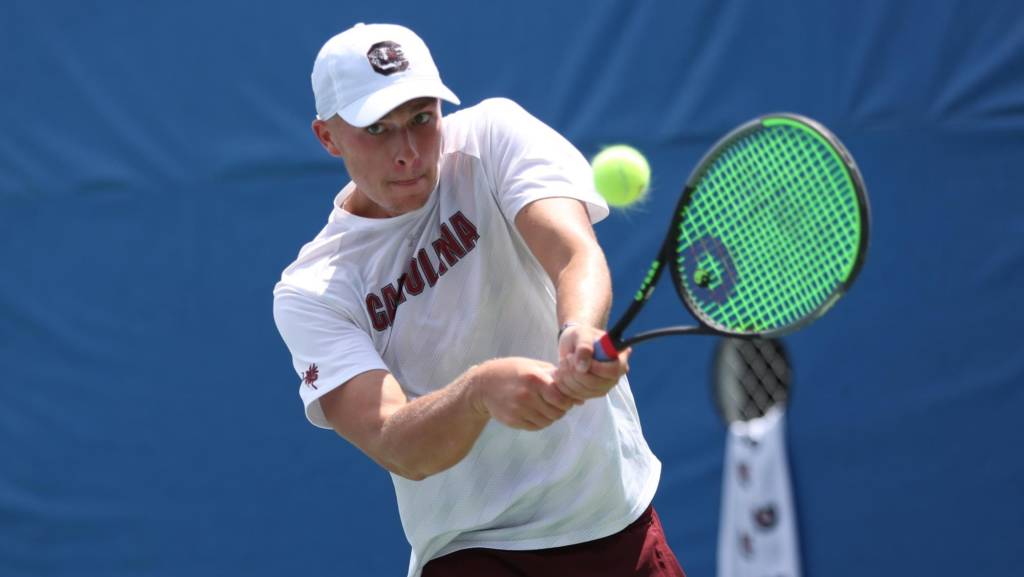 James Story
Competition for a spot in the lineup will also be found from a pair of newcomers, including sophomore James Story, who transferred from Memphis where he played in the top three spots in the lineup and earned All-American Athletic Conference honors in singles last year.
"James Story, he's definitely in our lineup," Goffi said. "I see him as a mainstay in singles, and he's a very good doubles player."
The Gamecocks also had a late addition to the roster as freshman Casey Hoole from Australia was brought on to campus this month, and while he has a lot on his plate trying to get acclimated, Goffi is excited to have him.
"He's a very accomplished player and top 100 ITF player," Goffi said. "He can play. It will be a slow and easy path since he just got here, but hopefully he'll get some playing time in the coming weeks. He's still trying to see what college and college tennis are all about because it is a different animal. We're going to take it slow and see how he progresses."
After a breakout season in 2021, Goffi can't wait to see how the Gamecocks can build on that success in 2022.
"That maturity of the team that we're really looking for is starting to take hold, and they're buying into the long journey and trying to play our best tennis in May," Goffi said. "It's going to be an interesting year to see how this team progresses. They have a pretty good perspective on what matters during the year. One loss isn't going to be the end of the world, and if we get a great win, it's not going to be the highest peak. I'm just looking forward to seeing how the guys are handling the outlook of the season right now."