Team Chemistry a Key Element for Women's Golf Success
With six student-athletes from five countries, the Gamecocks are quite the melting pot.
Talent can take you a long way, but there are other intangibles that have helped the South Carolina women's golf team earn a top five national ranking and its 23rd consecutive NCAA Tournament berth. Coach Kalen Anderson's roster of six student-athletes from five different countries this year boasts four newcomers, including two freshmen, and the harmony and team chemistry that has been built is another key ingredient to the team's success.


"It is important," said Anderson, who has her team ranked No. 3 nationally heading into next week's NCAA Regional in Tallahassee, Fla. "It's the culture we have. Everybody has the same goals. We all come from a lot of different places and have different backgrounds, but everybody has the same goals, and values, and principles. Everybody wants to work hard, get after it, and win championships. We all learn from each other and the way we do things differently. We have a great time.
"We want to work hard and get after it, but at the same time, we have fun competing, and that's been a really important part of this year. That started off at the very first one at the Annika (Intercollegiate Tournament) that we won. We have a great time competing. We have a good time at practice. We try to keep that element of enjoying the game and having fun."
With graduate student Tai Anudit (Thailand), junior Mathilde Claisse (France), freshman Hannah Darling (Scotland), junior Justine Fournand (France), sophomore Paula Kirner (Germany), and freshman Louise Rydqvist (Sweden), the Gamecocks have created quite the melting pot.
"We're all from a different part of the world, and we're all coming here, learning a new culture as well as learning each other's culture," Claisse said. "It's a pretty good mix, and we've created our own culture and identity as a team. We definitely have a lot of fun here. We're all different. Some of us have more energy than others. It gives us a good balance."
"We couldn't be any stronger with how well we've bonded," Darling said. "It's funny how six individuals can come together and have such good chemistry. We have a lot of fun together. We're always laughing and making jokes. When we're on the road, you can really see how well bonded we are. When we're on the course, we're waving at each other and trying to hype our teammates up."
"It's been fun, and we hang out a lot," Anudit said. "We've done a lot of team bonding, having dinner or lunch at the Dodie (Academic Enrichment Center). We've been talking a lot. On the golf course, you can tell if your teammates are playing well by their body language. We try to lift each other up by our body language. At the end the of the green, we'll wave and try to give each other energy to keep fighting. The coaches have helped a lot, especially mentally.
"I've learned a lot from my teammates, especially in match play. They're all from Europe, and they play a lot of match play in Europe. I'm from Thailand in Asia, and we play a lot of stroke play. The mentality is different. The way you act on the golf course is different. I've learned a lot of useful tricks from them."
"We are a family. The coaches have not only helped me on the golf course, but they make me grow as a human being. That's something I'm very thankful for."
– Mathilde  Claisse
After being ranked No. 1 nationally for a large portion of last season, Anderson's Gamecocks graduated three seniors last year and also saw All-American sophomore Pauline Roussin-Bouchard turn pro early which resulted in her making the LPGA Tour. While it would have been easy to call this season a rebuilding year, these Gamecocks meshed well, on and off the course, and won a school-record five tournaments along the way.
"There was a lot of unknown with two transfers and two freshmen," Anderson said. "Obviously, we knew we had some fire power, but they've done a good job of integrating. It's a very coachable team. I love the culture and dynamics of this team.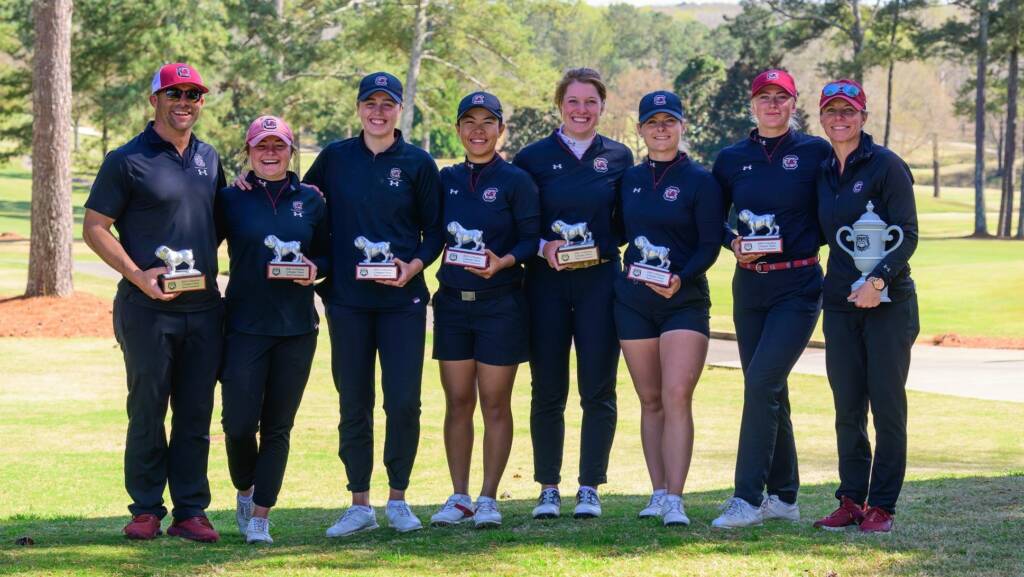 "I'm really proud of the way the freshmen have stepped up. Towards the end, they've really been our two low stroke averages. Tilly (Claisse) has provided solid leadership for us, and Tai (Anudit) and Juju (Fournand) have been excellent for us. Top to bottom, we've been really deep."
Finding success on and off the golf course isn't always easy, and there are challenges and advantages of having such a diverse team because they do share a lot in common, regardless of where they're from.
"Being away from my family is a challenge, but the chemistry here is so good and helps each of us with that part of it," Claisse said. "We are a family. The coaches have not only helped me on the golf course, but they make me grow as a human being. That's something I'm very thankful for."
"Coach Kalen has really helped us a lot," Darling said. "(Assistant coach) Mike (Roters) has been great as well. They work really well together. With my teammates, we've just had a lot of fun together. When we go out, we never really talk about our goals with golf. It's always our goal to have fun and stay with the process. I always want to be as a good of a teammate as possible to any of them and try to help them when I can."
"They're far from home," Anderson said. "I love all the cultures and bringing them together. There is a lot to learn from different people and different places in the world. You have religions and different foods. You're meshing a lot of people from different backgrounds. That's been an interesting dynamic to coach. It's hard to find food that they like when they first get here, but they figure it out and integrate. They're all sensitive to that. I think it's great that they're all from different places because they understand each other that way. They understand what each other is going through, so that's been helpful."
Speaking of food, that's one thing that can bring the team together.
"We actually love to cook," Claisse said. "Once in a while, we'll cook for the others, and we'll cook a specialty from our own countries. I'll do crepes and any type of cakes because French pastries are pretty nice! Tai made some curry, and it was very spicy. Paula made strudel. It's all about sharing."
"Tilly made curry, and it was so good!" Anudit said. "Hannah made a chocolate cake. It was fun. I made dumplings."
"I really enjoy cooking, but I wouldn't say it's typical Scottish food," Darling said. "I made a spaghetti Bolognese. I haven't made haggis. It's a type of food where you can't just make it. You kind of just have to get it. I don't see a lot of haggis over here."
Under Anderson, the Gamecocks have won five NCAA Regional titles (2010, 2012, 2015, 2016, 2017) and have advanced to the NCAA Championships nine times in the last 11 seasons.
South Carolina women's golf always has high expectations, and the 2022 Gamecocks are no different.
"We just want to have fun and enjoy the experience," Darling said. "If we play like every other tournament, we'll be fine."