Mental Health Awareness Month: Standing Up for Opening Up
Soccer's Samantha Chang would like to see more conversations about mental health on a regular basis.
Getting mental or emotional help used to be an uncomfortable topic for some. For South Carolina student-athletes, it can and should be just as easy as visiting with the athletic trainer or team physician. Samantha Chang, a senior on the Gamecocks' women's soccer team, says mental health conversations should be a regular part of a student-athlete's schedule.
"I've seen where others felt like it should be kept on the 'downlow,' which is not how it should be," said Chang, who has already earned a bachelor's degree in social work and is currently taking graduate level courses. "I know a lot of girls who feel like they have to be perfect, and they have to get good grades and be good leaders in the community. We have all these things that we're juggling. So, we need to be OK with talking to somebody and be proud about that.
"As student-athletes, we need to talk more about it as a team and build it into our schedule more. I want to build in more meetings with the team or in small groups and work it more into our regular schedule. If you don't, people will tend to push it to the side. We've done things that are voluntary, but I'd like to see it become mandatory. I think we need to make it more of a priority. It may take an hour away from training or weightlifting, but it can be just as, or even more important."
South Carolina Athletics provides its student-athletes access to a wide variety of mental health providers with expertise ranging from mental performance to mental health services, covering all of their psychological, psychiatric, and emotional needs. The Gamecocks have six mental health professionals on staff with licensed clinical psychologists Dr. Mike McCall and Dr. Rhea Merck, sports psychologist Dr. Jan Veinot, Sarah Noll, South Carolina's Director of Operations for Mental Performance, psychiatrist and Director of Athletics Mental Health Dr. Timothy Malone, and Director of Sport Leadership and Mental Performance, Dr. Raylene Ross.
"We just need to put it more into our schedule now and normalize it, so they know it's OK to not be OK. It's OK to be going through stuff because we all go through stuff."
Chang came to South Carolina from Canada and suffered a torn ACL at the outset of her collegiate career. Being that far from home and then temporarily losing her ability to compete was a lot to handle all at once, and she sought out the available resources.
"That freshman fall was pretty hard for me, mentally and emotionally," Chang said. "I was a long way away from everybody that I knew, and I wasn't able to play soccer. So, it upset my life in a lot of ways. That's when I started using the resources. It was more about psychological and emotional therapy. My experience was really good. It was really helpful to have someone to talk to who wasn't someone like your mom or your friend. It was nice to talk with someone who was nonjudgmental about what was going on and someone who was solely there to help you get through it."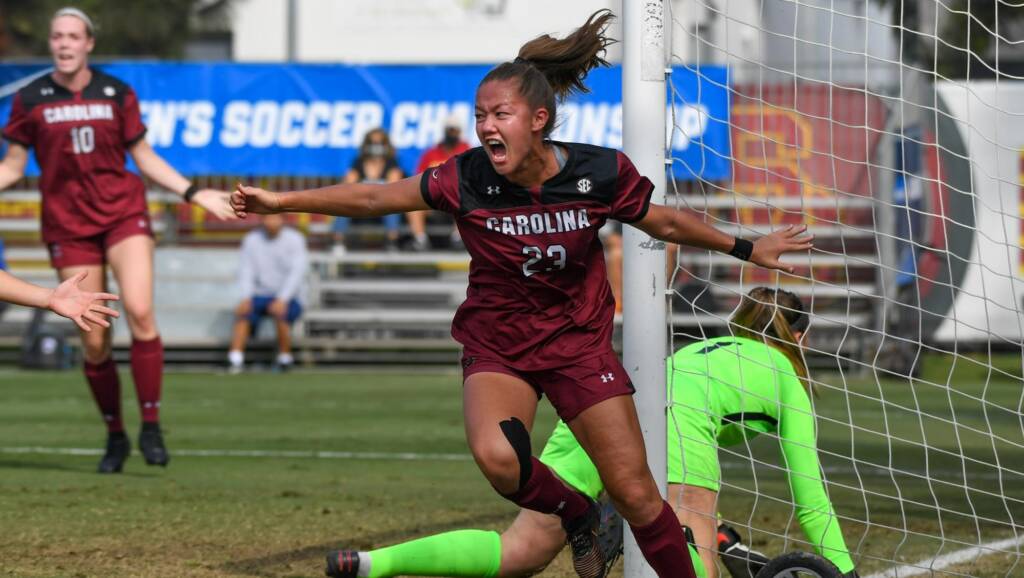 Whether it's for personal mental, psychological, or emotional issues or for sport performance issues, the key is recognizing the need for help and taking away any stigma that used to be associated with doing so in the past.
"It was strange at first, and I was feeling some depression in being away from my family," Chang said. "I didn't know that was really the word for it. When I was going through it, I took some little quizzes and things like that, and it turns out I had mild depression. I was caught off guard because I didn't think it was me who could go through something like that. A lot of people are afraid to get help because they are afraid of the stigma behind it and what people are going to think. That's what holds a lot of people back. That's something that needs to change.
"I learned that it was normal for people going through depression to have certain feelings, but a regular person who wasn't going through depression wouldn't have those feelings, so you have to talk about it."
As she developed in her career with the Gamecocks, Chang felt comfortable in seeking assistance as it related to her performance on the field.
"As I've gotten older, I've gotten into the more sport-specific resources that are available here," Chang said. "I worked with Dr. Jan (Veinot) a lot. She really helps me put into perspective a lot of the goals that I had. I had a lot of outcome goals, which aren't always the best thing for an athlete to have because if you don't reach that outcome, you feel like you've failed or haven't accomplished a lot. So, we set more progress goals. She helped put things in perspective for me. As athletes, we can feel like we have to be perfect all the time. With female athletes, I feel like that's how a lot of us are. She has helped me understand that we don't have to be perfect.
"As student-athletes, we get busy all the time. With that, we can neglect that side of our life because we're so focused on school and performing that we forget about the mental health side. If we haven't spoken in a while, she'll reach out to me to say, hey, we haven't talked in a bit. That's helpful. I really love working with her."
As she has progressed in her collegiate career, in the classroom and on the pitch, Chang is thankful she took advantage of the resources made available.
"I don't think I'd be where I am now if I hadn't used these resources," Chang said. "The sport-specific stuff has been very important for me. I've always struggled with confidence in my career, and confidence is everything in sports. Talking with somebody and having them reframe progress goals versus outcome goals has been huge for me. I made the SEC All-Freshman team my first year, but I haven't been named to an All-SEC team since. That's been a goal of mine, and every time I don't make one of those teams, it was heartbreaking for me in the past, but because of the way I've been working with Dr. Jan, it has reframed the way that I see those goals and understand them. Just because you don't win, it doesn't mean that your season means nothing or that you played bad.
"It has helped me over the last few years get to where I am today. The confidence that I have today is definitely attributed to the work that I've done with the services that we have."
Chang is now a big advocate for fellow student-athletes to take advantage of the mental health resources and hopes it will play a larger role intercollegiate athletics in the future.
"I try to talk about it a lot and normalize it because it is such normal thing. Everyone can go to therapy and grow. I encourage my teammates to go. It's OK to be that way. It's OK to struggle.
"I'm so grateful for our coaches because they do prioritize relationships with us. That's important to know that the coach sees me as a person and not just as a player on this team who can score a goal. The friendships between teammates are important too because if you're close to someone, you can ask them if there is anything going on. We just need to put it more into our schedule now and normalize it, so they know it's OK to not be OK. It's OK to be going through stuff because we all go through stuff."