After Medically Retiring, Owens Advocates for Concussion Awareness
Living with after effects of multiple concussions, Owens plans to go to medical school.
Madison Owens understands the seriousness of concussions, and the senior infielder/outfielder on South Carolina's softball team, who had to medically retire last year after lasting effects of concussions, wants others to understand it as well.


"It's so important that we keep promoting concussion awareness," said Owens, who is studying exercise science and hopes to attend medical school in the future. "I'm not the only athlete who has had to medically retire as the result of concussions. I have a friend at another school who is now facing prolonged concussion symptoms and is being withdrawn from softball because of them. We speak on a regular basis about the seriousness of on-going concussion symptoms despite the ability to play and study through them right now. You have to look at this from the perspective of your career and life as a whole, rather than focusing on losing one season of your sport. Brain injuries are not equal to that of other injuries, and we need to treat them that way.
"Nearly every time I tell someone I have been medically retired due to concussions, they remark on the fact that they don't understand how that happened in softball as they would only expect that from a football player. This stigma that concussions are only prevalent to a serious extent in football players may cause athletes of other sports to not take their own concussions seriously, causing further damage."
Owens suffers from vestibular migraines which resulted from multiple concussions during her athletics career. To keep her symptoms under control, Owens must avoid anything that can trigger an episode, which includes following a strict diet, taking frequent breaks during schoolwork, and has to avoid one of the things she loved to do the most – exercise.
"I have the tendency to start doing schoolwork or physical activity and then get lost in it," Owens said. "I'll suddenly look up at realize that I can't see straight, and I am losing my motor control. I typically first notice the onset of migraine symptoms when my handwriting becomes sloppy, or I start to lose my balance. I have to be vigilant about scheduling breaks and taking the time to pay attention to my body, so I catch the precursor symptoms earlier.
"At this point, I still cannot do any exercise other than walking. This has been the case for about two years, including bouts where we attempted to incorporate exercising into my daily schedule, but my brain proved to not be ready for it.
"It's a lot to grapple with. One component is losing my sport, which has become a large part of my identity. Then another component of losing my team and the ability to be with them every day. Also, the anxiety associated with having bizarre symptoms that do not follow the typical progression of a concussion. My condition still is not fully understood as I continue to undergo testing and treatment adjustments. I just hope that I see prolonged progression rather than shifting right back to where we started, a few years ago."
Every concussion is unique and different people could experience the same injury but experience different symptoms at varying magnitude, and varying recovery times. Therefore, treatment may not be the same, with some able to successfully go through a return-to-play protocol, while others need therapy with specialists.
"There needs to be specialized support and guidance early on in a concussion so that the athlete and caretakers have all of the options and potential interventions," Owens said.
"My vision was completely blurry. I couldn't control my legs to try to stop them."

Promising Career on the Diamond
Owens grew up in the small town in Dillon, S.C., and starred at Latta High School. The 22-year-old jokes about visiting nearby South of the Border for fun when growing up. She got her Gamecock career off to a promising start as a freshman in 2019, hitting .317 with thirteen runs batted in and was hitting .340 during the COVID-shortened 2020 season, but a pair of concussions during her second year would keep her off the field and cause greater problems.


"I got my first bad concussion in the fall of my sophomore year," Owens recalled. "It was a foul ball that came up under the facemask of my helmet and hit my chin. We were in the cages taking batting practice. It took me about three months to get over. I had to go to vestibular theraphy with a concussion specialist.  I finally got cleared to play that spring, and then in that last week of the season when it got cancelled (due to COVID-19 pandemic), I was concussed again at our last team-practice. This was just something as simple as my diving for a ball, and my chest stuck on the ground a little bit, which created a similar whiplash motion as when the ball hit me in the chin. That was my second concussion."
Two unlucky breaks, and while those incidents are not terribly uncommon, the severity of the two was more than expected.
"I was playing through them, not realizing that the tiredness and mental-fog were the results of concussions rather than just overworking between school and softball," Owens said. "The first time, when I got hit with the foul ball, I kept practicing after the trainer checked me out and everything seemed OK. I was playing first base, and I reached out to catch a ball that Kenzie (Maguire) had thrown to me, and I missed it by like three feet. Some of my teammates expressed their concern. I thought I was fine, but in my class immediately after practice, lights started bothering me, my head began to hurt, and my vision became blurry."
When in-person instruction halted due to the pandemic, Owens went to online-classes like most other students. She took what she had learned from vestibular therapy to be able to resume exercising, and once again, she felt like things were going fine. When classes and practice resumed in the fall, she started getting migraine symptoms again and was pulled out of softball activities. Further testing was done, including MRIs and other neurological tests, which resulted in her eventually being cleared to play several weeks later.
"My first day back, I was running and just collapsed to the ground," Owens said. "I was pulled for the rest of the fall and went back to do vestibular therapy the rest of the semester and through the Christmas break. I was cleared again in January of 2021, and on my second day back, we were doing live hitting off our pitchers. I hit a ball off the wall, and I was going for a triple. I was halfway to third base and was totally disoriented. My vision was completely blurry. I couldn't control my legs to try to stop them."
"There are different levels of fear."

Decision Time
Owens was taken out of softball with the idea that she would redshirt. Over the next couple of days, she was unable to get any relief from her migraine symptoms. She later had more severe episodes where she couldn't walk. There was one instance where she was brought to Student-Health Services on campus and had to be brought to the hospital in an ambulance.


"There are different levels of fear," Owens said. "A lot of my fears were just not being able to play softball again, but then you go on to physicians calling an ambulance, and I wasn't really sure what was going on around me. I only remember bits and pieces of that day. It's just these weird episodes where they're really not sure what's going on and they're trying to figure out what's wrong with me neurologically at that point. It's a little unsettling."
She went to a neurologist who told her that she shouldn't play softball anymore and should withdraw from classes for the semester.
"I was taken out of school and softball, so that was a real identity crisis," Owens said. "It was strange because I would make it to a point at which I could pass all the return-to-play protocol tests and then at practice or at weights these symptoms would all of sudden drastically increase."
Last summer, her medical team recommended that she permanently withdraw from softball.
"It doesn't feel real," Owens said. "When it first happened, I thought I would get cleared, and then I would be able to come back. It's weird how it progressed."
For Owens, the last couple of years have been a heavy weight to carry physically, psychologically, and emotionally. While she has plan for where she wants to be professionally, Owens is still struggling with how to work through her symptoms in order to get there and find peace.
"It's still hard to watch softball and watch the people I was supposed to graduate with," Owens said. "Watching the game from the stands is weird for me. I'm at all the home games. It's awesome to be able to see Jordan (Fabian), who's my roommate now being team captain because we were 'Dumb and Dumber' when we were freshmen. I'm just trying to work with it. I'm working with a lot of physicians, and they're trying to take care of me."
"It is easy for teammates, coaches, professors, or family members to be excited about your recovery since you are acting normal, even though there is a large internal struggle that they are not able to see."

Still in Recovery
As the result of her injuries, Owens has used the resources available to her through the Gamecock Sports Science Department to try to help her heal psychologically and emotionally.


"I've worked with our mental health director here for a while and ended up transitioning to a medical clinical psychologist who is a certified brain injury specialist, and she is also certified in neuro-psych testing," Owens said. "She was able to conduct neuropsychological testing, in which we found cognitive deficits that we needed to target treatments and accommodations for. I need extra time on exams as well as for assignments and this needs to be clearly documented for my professors. I don't have a lot of warning when there's a problem. I may feel confident in my brain's ability to complete all assignments and exams, and then, all of a sudden, I start to experience severe symptoms and may need an entire day off or more, causing me to need to request last minute extensions. I am very punctual and have a hard time asking for extensions. It's been a steep learning curve for me to pay attention to my health and ask for help when I need it without feeling guilty. I have developed good relationships with my professors to ensure they understand my extenuating circumstances, as well as to make sure I am getting the most out of my education."
Owens noted that academic supports are essential in managing a concussion while getting an education.
"You shouldn't have to give up your academic career because of your health issues," Owens said. "Quickly getting access to the academic supports you need with flexibility based on symptoms progression is critical. I would not have been able to be successful otherwise."
Beyond the physical challenges, one of the biggest obstacles for Owens is coming to grips with her own identity.
"A lot of it is losing your team," Owens said. "With me needing to take frequent breaks and having migraines and these visual symptoms, which can include light sensitivity and just the extra stimulus of tracking balls or thinking softball, it's tough. I can only go to classes right now, and I have to make sure my classes are spread out. I'm not able to be at practice. That's the most difficult part, other than not being able to exercise. It's very sad because I love my team very much and I want to be a part of their everyday lives. I also love exercising and everything active. So, it has been a huge transition to not be in the gym and having to limit my physical exertion.
Concussions don't require you to wear a cast or use crutches, so it is easy to appear that you are healthy because "you look fine."
"It is easy for teammates, coaches, professors, or family members to be excited about your recovery since you are acting normal, even though there is a large internal struggle that they are not able to see, causing dismissal of the person's symptoms and feelings," Owens said.
Owens' days are no longer typical, and bad days are frustrating and exhausting.
"I have headaches pretty often," Owens said. "With the migraines, when I'm in class, I'll start getting really confused on the material. At first, I wasn't sure if it was just physics or if this was signifying a bigger issue. My hands and feet typically start to get very cold, then numbness spreads through those areas, and then my handwriting becomes illegible. My vision is also becoming blurry, and I am unable to support my own body weight. I have frequently required some of my peers to carry me out of the classroom to someone else's car who came to pick me up. I then just need to be retired to my bed for the rest of the day to recover."
"I've learned a lot about the process in what it's like to be a patient on the other side of where I want to be."

Looking Ahead
Owens is hopeful that more study from her doctors will provide a positive prognosis in the near future, but for now, she takes it one day at a time.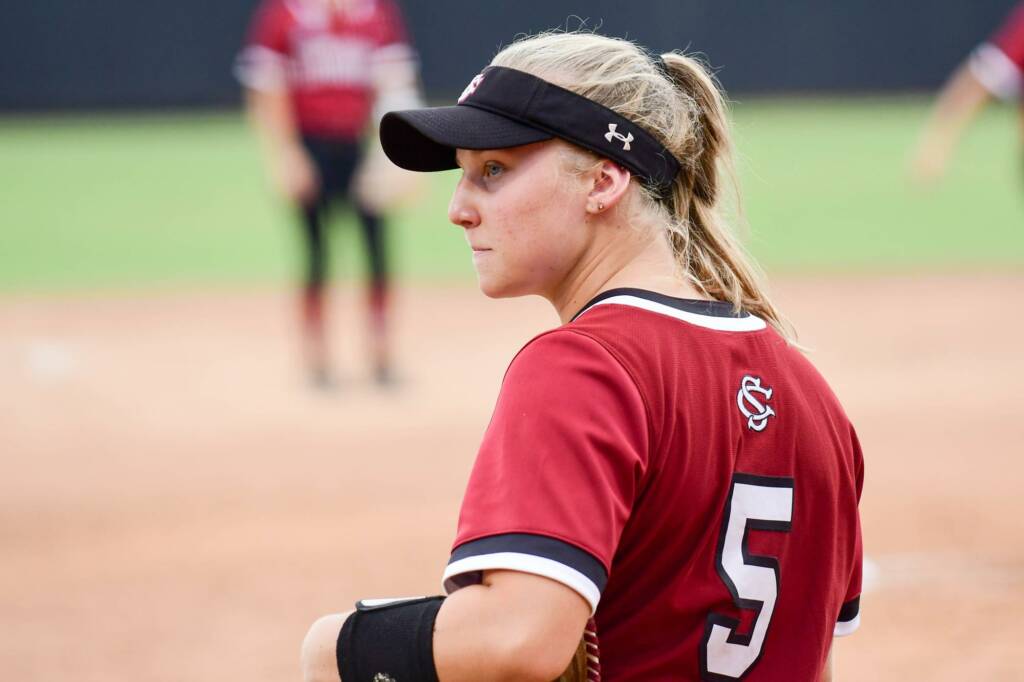 "The vestibular migraine diagnosis, these are very complex migraines," Owens said. "It can tend to take one or two years to figure out how to manage, but it's likely something I'll have to manage for the rest of my life. Once you figure out a routine, the right medication, the right balance between work and exercise and everything else in life, you start to get a good hold on it.
"It is a concern of mine that I won't get much better. I plan to pursue a career as a physician, so I need my brain to be capable of handling the vigor of medical school, residency, and so on. I have explicitly asked my neurologist if he thought it was going to be plausible for me to attend medical school, and he is absolutely confident that we will figure out a way to do it."
Owens continues to battle. She will graduate in December and then go to a one-year master's program at MUSC in Charleston before attending medical school.
"I've learned a lot about the process in what it's like to be a patient on the other side of where I want to be," Owens said. "Hopefully this has prepared me to interact with patients especially when there are complex circumstances, like my own.
"I'm taking the MCAT in September and I'm applying to a one-year Master of Science in Medical Sciences program in Charleston with the idea that it prepares you for a career in medicine. This summer I have an internship with Prisma Health Orthopedics. I'm excited!"