Several decades after retiring from professional tennis, former South Carolina All-American Laura Bernstein Kassirer (1981-83) hasn't exactly hung up the racquet and is making a huge impact in the lives of children with the sport she loves. Kassirer, who will be the first women's tennis player inducted into the University of South Carolina Athletics Hall of Fame during the weekend of October 28-30, is the president and founder of Youth League Tennis, a non-profit public benefit charitable 501(c)3 organization for kids ages 5-14.
"For the past twenty-five years, I've been providing afterschool tennis enrichment programs at schools, and for the past twenty years, I've also been running a non-profit tennis league called Youth League Tennis," said Kassirer, who lives in Los Angeles. "We run this all over California and Texas. I've made hundreds of thousands of new junior tennis players. For the after-school enrichment, we're actually doing soccer, basketball, track, volleyball, ultimate frisbee, and pickleball. We're involved in a lot of sports that kids can be passionate about getting involved with and hopefully play at least through high school."
She initially started the afterschool enrichment program when her oldest daughter, Rachel, was in kindergarten.
"There were no little kid-friendly tennis programs," Kassirer said. "If they wanted to learn how to play tennis, they had to play on a full-size court. They didn't have the youth programs that we have today. I called Wilson and asked if they would send me fifty rackets and five hundred balls so I could start teaching tennis to kids in schools."
It turned out that the president of Wilson was someone that Kassirer had known from her days on the professional tour, and the company agreed to help her out. She went to various schools where she lived in California and started teaching youngsters, and it took off.
"It was unbelievable how we were spreading the love of the game."
Laura Bernstein Kassirer
"It was unbelievable how we were spreading the love of the game, so then I started hiring other coaches," Kassirer said. "I wanted to get them to start playing on the courts in local clubs and begin competing. We give unlimited scholarships for kids to participate. The full-paying students basically subsidize the scholarship kids. Our philosophy is that we don't turn any kids away. There are around eight thousand kids in the two programs per year."
One of the many success stories can be found with Katrina Scott, who got her start with the Youth League Tennis program when she was six years old and few years later was the top rated amateur in the nation and turned pro at age 16 and later won her first-round match at the U.S. Open.
"We've seen a lot of kids go on to get college scholarships as well," Kassirer said. "Sam Querrey is one of the top tennis players in the world now, and he took my program around 25 years ago. I think he's been in the top 15 in the world.
"For me, the focus isn't really on creating pros. It's more about helping each child play to their potential, have fun, and find a sport they can play throughout their life."
A native of Hollywood, Florida, Kassirer played at South Carolina for two years under coach Jeff Kefalos (pictured below) and posted a two-year singles record of 41-11 and a doubles mark of 42-5 on her way to becoming the first All-American in program history after advancing to the NCAA Singles Championship round of 16 in 1983. She led her team to a 50-8 mark over that two-year period, the most combined wins in consecutive years in school history, and was ranked 15th in the country after her second season when she decided to leave school to turn pro.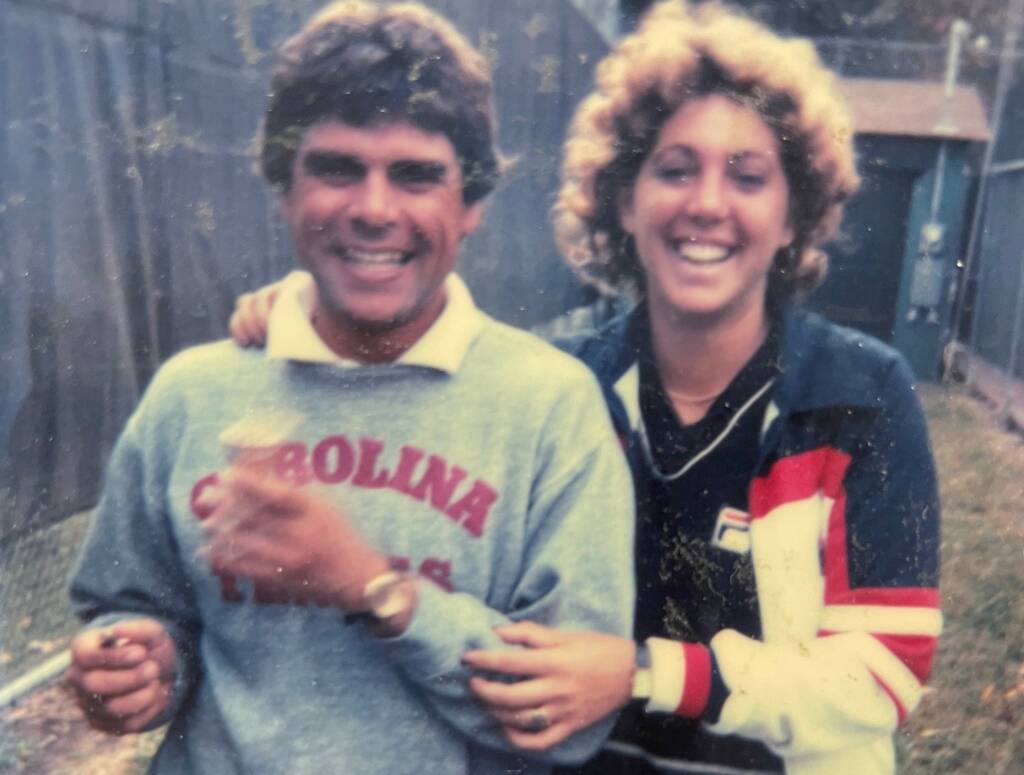 "I almost left after my freshman year," Kassirer said. "I qualified for the U.S. Open, but I didn't want to turn pro because I loved South Carolina so much. After the second year, I realized that if I wanted to try the pro circuit, I needed to go. As a female tennis player, a lot of it has to do with age, and you're better off doing it when you're younger.
"I loved being at South Carolina. Being part of a team was very special. That's something that most tennis players are never a part of. I made a lot of amazing friendships there, too."
Kassirer enjoyed success as a professional, travelling the world for nearly six years.
"I loved playing the Grand Slams," Kassirer said. "I loved playing Centre Court at the French Open. I lost to the Billie Jean King at the Australian Open, but it was on grass. She was amazing on grass. I beat Mary Joe Fernandez. That was one the better wins I had, as she was one of the top players in the world at the time."
Kassirer looks forward to having her daughters, Rachel (30), Samantha (28), and her husband of 34 years, Allan, at the Hall of Fame ceremonies in Columbia, and she said that getting the call was a great surprise.
"I was very flattered and surprised," Kassirer said. "It had been forty years, so I didn't think it was going to happen. It's an amazing honor, especially being the first female tennis player. I'm excited to take my family to South Carolina. I'm appreciative and humbled.
"I really don't think about my (playing) career very much anymore. I'm more interested in growing the game of tennis and reaching out to kids, so this has brought back a lot of great memories."
For more information about Kassirer's current endeavors, visit youthleaguetennis.org and Kassirersports.com.