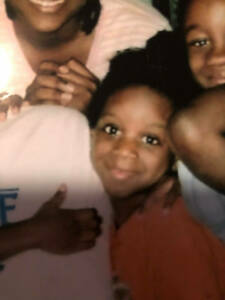 Racine was born in North Augusta and later lived in Mauldin. She and her two brothers went into foster care when she was eight years old. Life was tough from the start.
"I never met my father," Racine said. "He was Haitian. My mom and dad met in New York. My mom was a single mother. She was on drugs and alcohol and was not able to take care of us. I ended up staying with my auntie and my grandfather. I called him my Pop-Pop. I was with them a lot when my mom was on the streets or in jail. Then I went into foster care.
"A big reason we entered foster care is because I was molested as a child by her boyfriend, and she was in jail at the time. I told her, and she didn't believe me. That mentally changed me as a child. I got angry with her. Why would you not believe your own child over this man? Why aren't you doing the things you need to do to get us back? Month after month, year after year, I'm thinking that she is supposed to be passing these drug tests and doing the things you're supposed to do to try to get us back, and she didn't have any drive or desire to do that. It made me feel like she was a selfish woman who didn't care about her kids."
Foster care was a difficult transition, and she had so many questions.
"It was very traumatizing," Racine said. "I had a lot of people telling me what I could and couldn't do. I could only go on visits with my biological mom if she completed some tests, and she had to get permission. We would just meet in a little room for about an hour, then we'd have to go back to the group home."
Her younger brother was soon adopted. She and her older brother bounced around to various group and individual foster care homes around South Carolina.
"Growing up in foster care, there are so many kids in the same situation as you or even worse than you," Racine said. "Being around that makes you angry and frustrated as a child, not knowing what was going to happen in life. Not knowing why you're here. Not knowing when you're going to go back home. Not knowing if you're going to get separated from the rest of your family. It was pretty tough.
"My mom actually lives in Columbia now, but I never visit her. I haven't talked to her since 2020 when my older brother passed away. He was 23. My younger brother was adopted when we were all younger. I didn't have a lot of opportunities to talk to him growing up once he was adopted. His adopted family didn't want him to have connections with his siblings because I think they were afraid he would backslide."