Team Roster
Graceyn Brown
Carly Comalander
Annie Conway
Meredith Covert
Makayla Davis
Olivia DeSantis
Isabelle Dittrick
Abby Harmon
Gabbie Helm
Megan Heyde
Mallory Hobday
Savannah Jones
Jackie LiBrizzi
Sophia Mazzola
Brinley Mineroldi
Lauryn Mulder
Bree OutmanHannah Rivers
Morgan Rominski
Ella Samellas
Olivia Sammartino
Paige Spencer
Emme Staton
Katelyn Stephens
Ally Vazquez
Sydney Winn
Ambria Woolever
Maddy Wright
Coaching Staff

Program Overview
The Carolina Girls Dance Team was established in the fall of 2007 under the direction of South Carolina Athletics and head coach, Lindsay Sprague. The Carolina Girls perform at all South Carolina home football games and basketball games, and also competes nationally at the National Dance Alliance's Collegiate Championship each spring. The Carolina Girls have placed in the top five every year since 2010 and most recently won back-to-back national championships in Division 1A Team Performance in 2021 and 2022.
The Carolina Girls Dance Team is open to all full-time students in good academic standing at the University of South Carolina. Auditions are held each year at the end of the spring semester, at which dancers are required to perform various technical sequences, as well as three routines in the styles of jazz, pom, and hip-hop. Auditions for the 2023-2024 team will be by invitation only. More information on that process may be found here.
Being a Carolina Girl is a significant commitment and following academic studies, it should be a top priority for every team member. Carolina Girls are representatives of the University and are expected to uphold its values and standards accordingly. The team trains 4-5 times per week beginning in early August through the completion of nationals in April.
For more information on the Carolina Girls or to request an appearance, please contact head coach, Lindsay Sprague at sprague@sc.edu.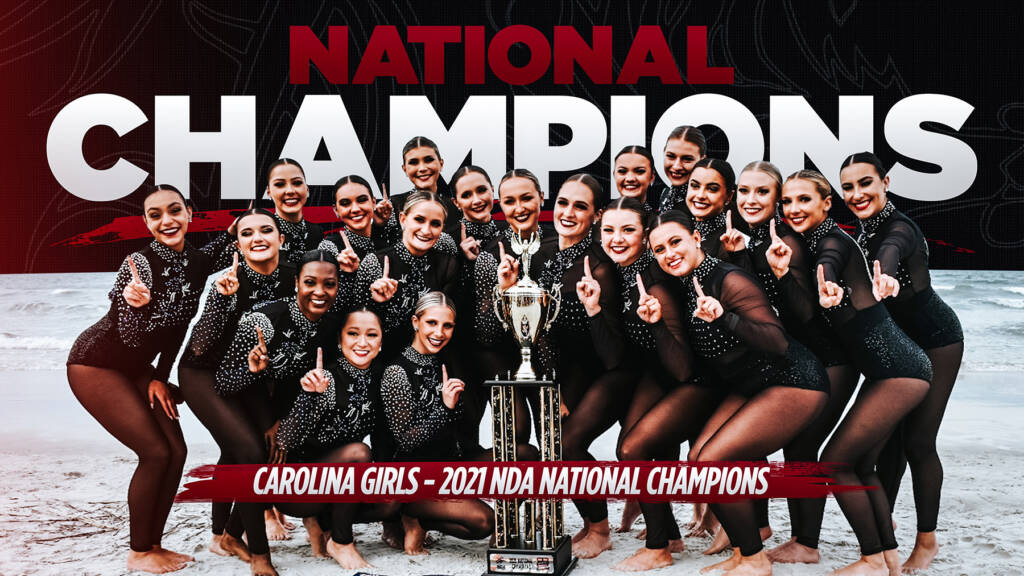 Clinics
Prospect Clinics

Ages: 14+

2022-2023 CLINICS

November 12, 2022
January 28, 2023
February 25, 2023

Junior Carolina Girls Clinic

Ages: 5-13

The Junior Carolina Girls Clinic is open to ages 5-13; no previous dance experience is required.
Participants will learn a fun routine and have the opportunity to perform it with the Carolina Girls at a
Gamecock men's basketball game following the clinic.

The 2023 clinic is set for Saturday, February 4 and will begin at 9 a.m. at the Jerri and Steve Spurrier Indoor Practice Facility. Participants will have the perform their routine at the men's basketball game vs. Auburn that afternoon at 3:30 p.m. at Colonial Life Arena.
Audition Information
2023-2024 Carolina Girls Audition

2023-2024 Carolina Girls Audition
April 14-16, 2023 | Columbia, SC

The 2023-2024 Carolina Girls Audition will be by invitation only. Dancers may receive an invite in one of
two ways:

1) Clinics: Multiple audition invitations will be given to dancers at each clinic throughout the season. One
clinic will be held in the fall and two more in the spring semester. The coaching staff will be looking for
well-rounded dancers who meet the team's standards of technique, athleticism and performance
quality. CLICK HERE for more information on clinic opportunities.

2) Qualifying Videos: Dancers who do not receive an invitation at or are unable to attend any of the
clinics may submit a qualifying video. Simply complete the audition application online in February and
the required material will be emailed to applicants on March 4; videos will be due by March 10.
Dancers who wish to attend the 2023-24 will be asked to submit the following:

Audition Application (available in February 2023)
Copy of UofSC letter of acceptance (incoming freshmen) OR a copy of an unofficial transcript from current institution (transfer students); bridge program students are also eligible
Headshot or current photo of yourself

Tentative Audition Schedule:

FRIDAY
3:00 – 4:00pm: Check-in
4:00 – 8:00pm: Audition Choreography Session

SATURDAY
9:00am – 1pm: Jazz & Technique Evaluations
*break – semi-finalists announced via email*
2:30pm – 5pm: Fight Song & Hip-Hop Evaluations
*finalists announced via email*

SUNDAY
9:00am – 1:00pm: Finalist Interviews
*break*
2:00pm – 4:00pm: Solos and Final Evaluations
*team will be announced via email*

Audition Attire:
Performance Half-top
Dance shorts
Jazz shoes
Hair down
Full makeup
No jewelry (post earrings are acceptable)
Sneakers for hip-hop (dancers may also change into leggings or sweats for this section only)