Faculty Athletics Rep. Dr. Zach Kelehear Finds a New Home
May 25, 2015
After spending five years as South Carolina's faculty athletics representative, and ten years overall at the university, Dr. Zach Kelehear is moving on to Georgia Regents University in Augusta where he will be the Dean of the College of Education. While serving as an important link between athletics and academics departments, Kelehear has been well-respected and admired by administrators and student-athletes.
"I've had the unique benefit of working with high quality people, who have a high standard of ethical behavior, and those people exist in both the academic and athletics world," Kelehear said. "So I will miss the individuals with whom I have come into contact while trying to deal with difficult matters or decisions."
"Dr. Kelehear did a tremendous job as our faculty athletics representative," Athletics Director Ray Tanner said. "He immersed himself in the lives of our student-athletes and guided our department in the SEC and the NCAA. He attended as many athletics events as possible and provided a thoughtful perspective that assisted our administration, coaches and student-athletes."
Dr. Valinda Littlefield, associate professor of history and African American studies, was recently appointed as the new faculty athletics representative.
"We are thrilled with President Pastides' appointment of Dr. Littlefield to the key position of Faculty Athletics Representative," Senior Associate Athletics Director Judy Van Horn said. "Her scholarship, leadership and communication expertise make her the ideal choice for connecting with students who participate in varsity sports, faculty and administrators regarding athletics and academic matters. In addition, Dr. Littlefield will do a fabulous job representing the University of South Carolina with the SEC and NCAA."
Kelehear is well known in the local community as he often walked to work from his home approximately one mile from campus. He kept bees in his back yard to make organic honey and beeswax products. He had fresh eggs from the chickens he kept on his property as well. He was probably best loved by the children in his neighborhood for the elaborate transformation of his house and front yard with elaborate Halloween decorations every October.
"I enjoy the power of community and being connected," Kelehear said. "My wife (Karen) and I started playing around when our children were younger with Halloween decorations. That was good for one year, but the second year, children started showing up around our house asking when we were going to decorate again. So I succumbed to childhood peer pressure as a grown up. For ten years we decorated our home in a very tacky way. I had at least 18 boxes and crates filled with various things. Most of what we did was homemade."
Kelehear came to South Carolina in 2005 as an associate professor and later became the Associate Dean of the College of Education. He was appointed by university president Harris Pastides as the faculty athletics representative in 2010.
I enjoy sports passively, but I don't spend a lot of time obsessing over it. I lived it and benefited from the dual role where I was involved. There's no way I won't miss it though.

Dr. Zach Kelehear
"Zach has been the epitome of an athletics faculty rep," president Harris Pastides said. "He understands the unique challenges faced by our 500 plus student-athletes and has been a guardian of academic integrity."
"The faculty athletics representative is a key position," Van Horn said. "It represents the academics areas of the university to the athletics department, and it represents the athletics department to the academics side. We all have unique perspectives, and he has helped bring the two together from a communications perspective as well as in addressing any types of mutual issues that we might have."
Those issues can range anywhere from making sure student-athletes miss as little class time as possible with participation in their respective sports to being involved in conversations regarding NCAA governance for pending or proposed legislation.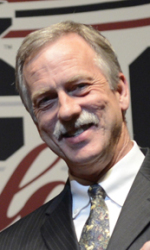 "It's a fascinating duality dealing with issues, challenges and successes," Kelehear said. "My role is advocacy for the student-athletes so that their participation in athletics does not interrupt their academic performance. In that way, I needed to be comfortable in working with faculty and coaches equally. That's the challenge."
"Zach is unique," Van Horn said. "Not only can he have these high level conversations, talk about the issues and be a voice, but he's also very involved in the details. He connects with the student-athletes. He went to the student-athlete advisory committee (SAAC) meetings. So the leaders among these students who play sports knew him and respected him. They shared their views and voice with him, and he listened. It's been a tremendous benefit for everybody. If there is any sort of question concerning eligibility, he was always in the middle of that. He is high integrity and he has been a great partner in any process in the athletics world and also on the university side in communicating with the president's office, the provost's office or any key entity that is part of a particular situation."
As his relationships with coaches and student-athletes developed, Kelehear tried to make time to attend at least one or two sporting events per year for all 21 varsity sports.
"SAAC had one or two representatives from each sport, and they meet twice per month, so you got used to knowing them," Kelehear said. "As time went on, some of them would write me. That's when I knew something was working. I enjoy when I'm at graduation. I sit in the front row when I can, and as the student-athletes come by, we make eye contact and shake hands. I see them when they come in as freshmen when I welcome them, and then to see them at the tail end, that's special."
Even though he played football at Furman, graduating in 1981, he's not what most would define as a sports junkie by any means.
"I am not a good fan," Kelehear said. "I enjoy sports passively, but I don't spend a lot of time obsessing over it. I lived it and benefited from the dual role where I was involved. There's no way I won't miss it though. It's time for a new perspective. I appreciate the leadership on the athletics and academic sides for allowing me to have my little space there."
Kelehear's ability to listen and communicate were key ingredients to solving any issues that arose.
"The athletics department is staffed with caring, thoughtful and ethical folks," Kelehear said. "I have met faculty reps from other schools who spend a lot of time policing behavior of adults. That's not a gig I would want any part of. I can also go up to a faculty member, and they can see me as an advocate for the student-athlete in the academic context. The athletics department is very keen on keeping coaches from having direct contact with the faculty, and that's rightly so. I would like to think that one of the skills I have is the ability to speak just as easily to any coach as I can to any faculty member."
As he leaves South Carolina with plenty of good memories, Kelehear is proud to say he always wanted to put the well-being of the students first.
"I've been surprisingly free of any great drama or animosities," Kelehear said. "Maybe I've been lucky, but a lot of that comes from the leadership at the top, both at the university and in the athletics department. I know them well, so if there is ever an issue, I would just call them and we'd figure it out."