Salters Transitions from Block and Spike to Serve and Protect
Dec. 16, 2015
Belita Salters made an impression on the volleyball court for South Carolina from 2005-2008, and now the former first team All-Southeastern Conference middle blocker is making an impact in her hometown as a patrolman with the Lake City (S.C.) Police Department.
"People don't always see all the good things that police officers do on a daily basis," Salters said. "Every day is a learning process. You are always learning. Every call is different. You might get the same type of call each day, but sometimes you have to take a different approach in how you have to speak to an individual person. You just try not to get overwhelmed by all that gets thrown at you. Some days you might have one call. Some days you might have 10 calls back-to-back. You just have to take one call at a time."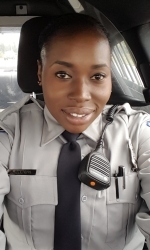 Salters finished her career ranked in South Carolina's career top ten in five statistical categories, including blocks and hitting percentage, and now the 30 year-old enjoys being a role model for her five year-old son, My'saun.
"He always wants to play with my sirens," Salters said. "He said he wants to be a firefighter when he grows up. He loves it."
Salters said there were two things that motivated her to get into law enforcement. The first came from family.
"My sister was one of my main motivations because she is in the process of becoming a sheriff's deputy," Salters said. "She started at the Greenville County Detention Center, and I was working at the prison."
The second "push" came after a friend was killed in what authorities described as an armed robbery.
"I was driving to work when I heard about it, and I'm surprised I even made it," Salters recalled. "I was driving in tears. There were a lot of unanswered questions. I had told her that she was hanging out with some of the wrong people, and I was trying to keep her on the right path. I heard the 9-1-1 call on the news, and that was horrible. That was my biggest push."
Having been on the job for nearly a year and a half, Salters feels like she made the right decision.
"I like the fact that there is no micro-managing," Salters said. "I have a really cool chief in Joseph Cooper. I have the best chief. We're kind of spoiled here. With it being sort of a small department of about 25, you get to talk to one another a lot and learn about each other. I like the flexibility. They're willing to work with my schedule since I am a single mom."
Although she works in a small town, she is not immune to facing the same dangers any law officer sees on a regular basis.
"The only time I ever got scared was during my first high-speed chase," Salters said. "It was nerve-wracking because the guy ran right in front of my car, and we were going at a fairly fast pace. You have to worry about other people maybe not hearing the sirens or not getting out of the way."
It was an honor to be able to go to school on a full scholarship, and for my mother to not have to pay for my education.

Belita Salters
Originally from Scranton, South Carolina, she was a multi-sport start at Lake City High School, competing in volleyball, basketball and track and field. She was recruited by several schools for a variety of sports, and despite winning four state triple-jump titles and one hurdles crown, Salters' first love was volleyball. She found the right fit at South Carolina and her experience as a Gamecock was an important part of her life for more than just the chance to play sports.
"When I first started, I had to redshirt during my freshman year, but I still had a chance to do everything the team did," Salters said. "That meant a lot. It was an honor to be able to go to school on a full scholarship, and for my mother to not have to pay for my education. I had told her that if she ever had to pay for my school, I never would have gone. All five years were awesome."
As a student-athlete, Salters had to adjust to different coaching styles as her career started with Kim Hudson as the head coach during her redshirt year, followed by Nancy and Ben Somera at the helm for the next two years, and eventually Ben Somera holding the reigns by himself her last two years. She, along with her sister, Theris, who played basketball at UNC Greensboro, were the first in their immediate family to earn college degrees.
"It was an honor," Salters said of earning her degree from the College of Arts and Sciences. "Every day I look back and think about how I came from a small town and now there is a life sized poster of myself in glass there near the (volleyball) office. I don't know where I'd be without being around those people at South Carolina like Ben Somera, Nancy Somera, Kim Hudson and (former assistant coach) Trina Smith. Trina gave me a lot of pep talks."
As she finds her way in the field of law enforcement, she is looking forward to putting the classroom skills learned at South Carolina to work in her chosen profession.
"My focus in school was on photography," Salters said. "That is incorporated to what I do now because I am leaning toward crime scene investigation and accident reconstruction. So what I did in school is helping me with what I am doing now."
Salters was recently honored by being inducted into the Lake City High School Hall of Fame, and now she keeps her attention on being a role model in the community and enjoying time with her son.
"We like to play with 'Snappy' the (pet) turtle," Salters said. "I try to get him to play volleyball, but the ball is too heavy. He tries though. He likes to run, run, run."