Former Gamecock Aleighsa Welch Continues to Make the Most of Opportunities
Dec. 23, 2015
Every program needs a "Muffin" at some point. No, not a breakfast treat. Former All-American forward Aleighsa Welch, known as "Muffin" to family, teammates and later, fans, was Coach Dawn Staley's first in-state signee at South Carolina as she began building what is now an elite program nationally.
"When you're trying to build a program, you want someone like 'Muffin,' " Staley said. "We saw she had a strong mother-figure in her life, who was a disciplinarian. When you know you have that kind of pedigree, you have a special one. I was glad we were able to bring out some of her great qualities, including her leadership qualities, and I think from what she learned playing basketball and being at the University of South Carolina, she has all the great qualities to be the CEO of a company. I'm really proud of what she contributed to our program."
"That's my rock right there," Welch said of her mother, Sharell. "A lot of how I am molded is because of her. My mother is the one who has been calling me 'Muffin' since I was a baby. It's just a nickname that stuck, unfortunately. She used to call me 'Muffin' on my visits to campus. The only time Coach Staley called me by my real name was when I was in trouble. She would call me 'Muffin' during games, and then fans got a hold of it. (ESPN analyst) Kara Lawson called me Muffin on national TV. So I figured I may as well embrace it."
Now playing professional basketball in the top league in Portugal, Welch embraced South Carolina after graduating from Goose Greek High School, donning the garnet and black from 2011-2015. She helped the Gamecocks reach the NCAA Tournament all four years, including the program's first NCAA Final Four last season as well as back-to-back SEC regular-season titles and an SEC Tournament championship in her final two seasons.
"The biggest selling point was Coach Staley," Welch said. "It was big to get someone like that who has done so much for the women's game. I was sort of star-struck when she first offered me a scholarship. The team improved every single year before I got here, and you could just see that she believed in the process and was always very honest with me. That is something I will always respect.
"As far as my favorite memories, I'd have to say the Final Four," Welch said. "That was a fun moment to hear that final buzzer go off when we won. Going to the Sweet 16 after beating Purdue in that hot gym my freshman year was big, too. I'll never forget that. I have a lot of moments I'll never forget."
When you're trying to build a program, you want someone like 'Muffin.' We saw she had a strong mother-figure in her life, who was a disciplinarian. When you know you have that kind of pedigree, you have a special one.

Dawn Staley
Welch earned plenty of memorable accolades as well. She finished her career ranked 13th in career points (1,451) at South Carolina, third in career rebounds, and first in offensive rebounds. In addition to being a two-time Honorable Mention All-America selection, Welch earned All-SEC recognition every year, including First-Team All-SEC honors following her junior and senior seasons. She was also the MVP of the 2015 SEC Tournament and was named to the SEC Academic Honor Roll all four years. Out of all the accolades, the two that she treasures the most are the SEC Scholar-Athlete of the Year and SEC Sportsmanship awards she earned following her senior year.
"Getting the Scholar-Athlete of the Year pin-pointed a side of me that not a lot of people see, and that is how I took my academics very seriously," Welch said. "My parents always instilled into me the idea that, no matter what, academics come first. The sportsmanship award was important to me because I always pride myself in being a good sport. Win, lose or draw, no matter what jersey another player has on, I want to pick them up and help them. At the end of the day, we all want to play basketball. You can be a competitor but still be a good sport at the same time."
What won't show up in the record books were some of the intangible qualities that made her special.
"You can replace points, and you can replace rebounding," Staley said. "You can replace what she gave to us cerebrally with different people out there on the floor, but the leadership is still a void that has yet to be filled in that same way. This year's team is doing it in their own way, but to be all of those things when you need them is hard to replace."
Although she often led by example her first two seasons, Welch felt the need to take on more of a leadership role following her sophomore year.
"It was a situation where I knew I had to be more vocal," Welch said. "I embraced it. I don't think I really learned 100 percent how to be a proper leader until my senior year. I learned that I needed to set the tone as far as my attitude and how I approached the game because that could rub off on my teammates. I needed to be sure I remained positive and kept my focus."
With all of the talent she played alongside during her career, Welch noted that the most underrated part of a good program is team chemistry.
"You can tell when a team has good chemistry, and you can tell when they have bad chemistry," Welch said. "We weren't always the most talented team when we stepped on the court, especially my freshman year. We made up for that because we played so well with each other. We fed off each other, and you could tell that we had good relationships with each other off the court. When it came to my senior year, we had more talent, but we had fun with one another and truly enjoyed playing with each other too."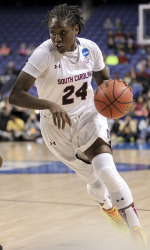 Welch earned her degree in sport and entertainment management last May, and was selected in the second round of the 2015 WNBA Draft by the talent-rich Chicago Sky. Unfortunately, she was later released, which led her to pursue a professional career overseas.
"I've always been a firm believer that everything happens for a reason," Welch said. "I was fortunate enough to even be drafted and had the opportunity to go to draft orientation. I met some of the top players in the league, and I heard my name called. Those are still memories that will last a lifetime. Just because it didn't work out my rookie year, doesn't mean it can't happen in the future."
In true 'Muffin' form, Welch went to work to make an impact and currently ranks in the top-10 in scoring (21.8 ppg) and rebounding (10.0 rpg) while playing for CAB Madeira in Portugal's Liga Feminina.
"Madeira is a beautiful island and great place to play," Welch beamed. "I get to play basketball and stay right by the beach, too.
"The pace of the game is the biggest difference there. We have a 24 second shot clock, and even when you get an offensive rebound, it resets to 14 seconds. Everything is a lot more fast-paced. You get up and down quicker. It's very physical too. It's not like I was going into a situation where we didn't play in a physical league or physical team, so I think playing at South Carolina in the SEC prepared me for going overseas."
Although she is playing on another continent, Welch still stays in touch with Staley quite often.
"I talk to Coach Staley all of the time," Welch said. "She is somebody I get constant advice from. She has done so much for me in developing me as a person, not just a player. I always want to make sure I keep that relationship."
While she hopes to play professional basketball for many years, Welch also has an eye on life after she hangs up the high tops.
"I finally have come to that realization that I do want to coach," Welch admitted. "When I was in college I didn't know if I had the patience for it. Looking back at the impact Coach Staley and my (Goose Creek) high school coach Tim Baldwin have had on my life, I would love to have that same impact on someone else. Coaching goes a lot further than what gets produced on the court. It goes to instilling values and morals and a code of ethics in people."
"She is going to be tremendous coach," Staley said with conviction before speaking a little louder so Welch, who was recently visiting practice, might hear her. "But also when you become a coach, all of the bad things that you did come back to haunt you. So they'll put her through the ringer. Trust me, she's going to survive because of her experience here."
A serious competitor on the court, Welch has a softer side off the court that many fans wouldn't see.
"I like taking long drives," Welch laughed. "I'll put my music on and turn it all the way up, and I will sing to the top of my lungs. I know I can't sing to save my life, but I will try anyway. I turn it up loud enough so it blocks my voice out. I like to find fun in anything that I do."
Every program needs a 'Muffin' at some point, although Welch isn't willing to share her nickname overseas.
"Absolutely not," Welch laughed. "I'm keeping that here."