Leach Keeping Professional Aspirations Alive
Feb. 24, 2016
Talent can take you far, but intangibles such as a good work ethic, passion and the ability to overcome adversity can be the difference in turning dreams into reality. South Carolina women's soccer alumna Taylor Leach has all of the above and is currently training with the hopes of fulfilling her dream of playing professionally in the National Women's Soccer League (NWSL) this spring.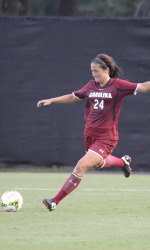 "It's going to be a dream come true," Leach said about the possibility of making the professional roster. "It's just going to be satisfying to know that all of the hard work that I put in, not only in the last year and a half since I've been out of college, but also during college, paid off. This is what I've been working for since I was a little girl. I'm really hoping everything works out."
A former All-SEC performer and team captain who played for the Gamecocks from 2010 through 2014, Leach credits her alma mater for preparing her for a chance to pursue a professional career.
"South Carolina prepared me tremendously in every aspect as a person, as a player, and as a student having to take care of all of those things off the field," Leach said. "All of those things helped me grow into this potential professional player that I'm hoping to be."
Leach was one of two reserves on the Western New York Flash of the NWSL last year, and is currently busy with off-season training. Former South Carolina teammate and best friend Sabrina D'Angelo is a goalkeeper for the Flash. While she would love to be on the roster with her fellow Gamecock teammate, the Houston Dash recently expressed an interest in her services, and Leach is hoping to find a place on their roster this spring. Despite not making the active roster last year, Leach used the experience as an education.
"The center backs playing in front of me are phenomenal, and one of them was on the U.S. National team," Leach said. "I was playing and training with the best, so I knew my role. Obviously, I was working every day to dress or make the roster. In the end it was a great experience in playing with some of the best players in the country. So being able to train with them day in and day out helps to make me a better soccer player.
"Sometimes it was hard to go to practice and not be able to play in the game, but other than that, I think it did wonders for my game and did great things for me to be able to establish relationships with players and coaches from all over. Hopefully it helps me this year."
Leach earned her degree in exercise science from South Carolina in 2015 and finished up a semester of graduate school last fall before returning to her professional training schedule. She has one semester of graduate school remaining.
The family atmosphere with my teammates and coaches will be something I always remember.

Taylor Leach
Before that, Leach enjoyed a well-decorated career with the Gamecocks, on and off the field. In addition to the earning All-SEC honors, Leach was named to the SEC Academic Honor Roll each year and was a NSCAA Second Team Scholar All-America and Capital One Academic All-America Third Team selection. That's not to say that things came easily for Leach, who made her way to the Columbia campus from the small town of Whitehouse, Ohio.
"There was one stop light in my hometown and then there were lots of cornfields," Leach said. "I was used to being out in the middle of nowhere, and then coming to South Carolina, everything felt a lot busier. It seemed big a first, but once I was there for a while, I got used to it, and it became home."
She overcame her second torn ACL just prior to her freshman season, forcing her to red shirt, but she persevered. As she developed relationships with the coaching staff, teammates, and a rabid fan base, Leach enjoyed her time in her home away from home.
"The season was always the best part of the year," Leach said. "Just playing at 'The Graveyard' (Stone Stadium) with our fan base was amazing. I'll never ever play in front of a crowd that loyal and dedicated to that sport. It was just a great feeling with that kind of environment. The family atmosphere with my teammates and coaches will be something I always remember."
Leach was named to the SEC Community Service Team and was also nominated for the SEC Brad Davis Community Service Scholarship. That aspect of her experience sticks with her.
"There are so many kids and adults that take the time to come to our games and had loyalty to us, so I wanted to give back to thank them for what they did for us," Leach said. "Doing that formed a bond between players and the community. You could see that with our fans. It was unbelievable.
"South Carolina did an amazing job. (Head Coach) Shelley and (Associate Head Coach) Jamie Smith always preached that it's the little things that we need take very seriously, and that has helped me. Because the staff at South Carolina always had us in an environment where we were helping out, whether it was doing community service or doing team events, I think that helped me grow as a person and as a player. Being a captain at South Carolina and experiencing different situations also helped me grow. Being at the professional level now, I understand what captains on the teams are going through."