Aug. 1, 2016
The Olympics are coming, and it's time to do your homework so you can be the top dog around the water cooler. Every four years, the casual sports fan takes an interest in all things Olympic, and suddenly we're all experts in things like double takeouts in curling (winter Olympics) and just how much is too-much splash from a 10-meter platform dive. To get you up to speed, we've tracked down some of South Carolina's coaches to offer expert advice on what to watch for in the upcoming Summer Olympics in Rio de Janeiro, including seven current and former Gamecocks who are competing for seven different countries. (Spoiler alert: check in to Gamecocksonline.com for features on South Carolina's 2016 Olympians in the coming days.)
Swimming and Diving
If you like drama, the swimming and diving events normally have plenty of it. Similar to track and field, one-one hundredth of a second can be the difference between a medal and being forgotten. South Carolina will be represented in the pool with junior swimmer Akaram Mahmoud (Egypt) and junior diver Julia Vincent (South Africa) competing for their respective countries. Gamecock swimming head coach McGee Moody said there are some great storylines as household names are back along with a good cast of newcomers.
"That's what was interesting at the U.S. Olympic trials," Moody said. "There were a lot of new faces jumping into the mix in a lot of different events. You have your steady veterans in Ryan Lochte, Michael Phelps and Missy Franklin for the U.S., and then you've got the newcomers, like Ryan Murphy and Cody Miller, and you've got Caeleb Dressel who swims for Florida, and on the women's side you've got Olivia Smoliga, who swims for Georgia. They're going to have a lot of new faces to follow, and a lot of these young people are going to be medal contenders."
The American aren't the only ones in contention for medals.
"You're going to see a number of countries that are going to compete with the U.S., one of them being the Russians, assuming they are actually allowed to compete," Moody said. "That's going to be an interesting storyline itself. There are a lot of swimmers that are involved in this doping scandal.
"The French, both male and female, have great swimmers. The Australians always put up a very strong team. The Chinese will also put up a very strong team."
Akaram has already established himself as one of the greatest distance swimmers in the world … It would be our first Gamecock Olympic medalist if he finishes in the top three.

McGee Moody, South Carolina Head Coach
If you need to drop some knowledge about swimming and say something around the water cooler other than "Michael Phelps," Moody suggests keeping an eye on the sprints.
"I think the most interesting events will be the sprint freestyle on the men's side," Moody said. "The 50 and 100 freestyle are the equivalent of the 100 and the 200 sprints in track. Those events are so tightly grouped, and there are so many countries in play that could win a gold medal in those events. Nathan Adrian (USA), Anthony Ervin (USA), Caeleb Dressel (USA), Florent Manaudou (France), and Cameron McEvoy (Australia) are all within hundreds of a second of each other. It's going to come down to who executes the most perfect race.
"On the women's side, one of the big story lines will be Katie Ledecky (USA). She is the 'female Michael Phelps' in that she has done things that coaches never thought females would be capable of doing. I think she is going to dominate."
As for the Gamecocks, Akaram Mahmoud will be representing his homeland Egypt in the 400-meter freestyle and the 1500-meter freestyle. Julia Vincent will represent South Africa in the diving competition. Moody believes both of them have the ability to get to the finals in their respective competition.
"Akaram has already established himself as one of the greatest distance swimmers in the world," Moody said. "He was fourth at the World Championships last summer. It would be our first Gamecock Olympic medalist if he finishes in the top three. We're crossing our fingers and looking for big things.
"If Julia is on, she can put together a top-12 finish, which would be huge for our program. She is that good."
Women's Soccer
The American women's soccer team has won four golds and a silver in five Olympics, but that doesn't mean they are shoo-ins to win again. There are some familiar names such as Alex Morgan and Megan Rapinoe, but gone are several big name veterans. South Carolina head women's soccer coach Shelley Smith is excited to see what some of the younger players can do on the Olympic stage.
"I think you will see some younger up-and-coming players that are going to dominate like the past players have," Smith said. "You're not going to see Abby Wambach out there. Mallory Pugh is a high school player who was brought in and is such a tremendous athlete. To be on the national team already just shows how strong the youth programs have become in this country. I think she is fun to watch, and the fact that the U.S. has so much pride in its women's soccer program makes it really an exciting time."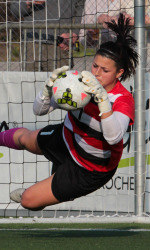 South Carolina is represented on the pitch by former goalkeeper Sabrina D'Angelo who is one of two goalkeepers on Canada's roster, which could be one of the teams to challenge the U.S.
"I know Sabrina has high hopes," Smith said. "They have a quality side, and I know they want to beat their 'neighbors.' Brazil has been good in the past, and some of the European countries have been coming on strong. The quality of soccer all around is better than it has been. I would love to see Canada match up against the U.S., not just because we have ties, but because a lot of those Canadian players have played on U.S. college teams too. It would be neat to see."
If you haven't paid attention to women's soccer in the past, but still want to sound knowledgeable, Smith said to pay attention to the formations each team is running.
"You see different styles," Smith said. "Most teams in the world will play with four backs, but there may be a team that comes out with a three back system and play a 3-5-2 and 4-2-3-1. The U.S. has been dominant in world soccer because they're very athletic and play good, smart soccer for the most part." With South Carolina's season starting shortly after the Olympics end, Smith acknowledges that the success of Team USA can certainly increase what is already tremendous support for her program.
"Whenever you have exposure like that for women's soccer, it always helps," Smith said. "More people want to see what we have going on. There is always help with that kind of exposure, for boys and girls."
Men's Soccer
Team USA didn't qualify for the Olympics in men's soccer, but that doesn't mean it's not worth watching. South Carolina men's soccer coach Mark Berson noted one of the most interesting story lines involves traditionally strong soccer teams that are looking for redemption after recent failures in the World Cup or the Copa America Centenario.
"There is tremendous pressure on Brazil to win," Berson said. "They failed miserably in the World Cup in Brazil, at home, which is unthinkable. Now they're hosting the Olympics, so it's a big chance for some redemption. The pressure on those players is enormous, so it will be interesting to see how they respond.
"Mexico left the Copa in disgrace and they're in disarray, so I think they'll be motivated to do well. It will be a very good tournament."
Berson also noted that while fans will see some of the big name international players, a lot of young talent will be on display.
"You'll want to look at the rosters and see who each of their big-name players are," Berson said. "I know that Neymar is going to play for Brazil. Each team is allowed a certain number of over-age players, and the rest have to be under 23."
Berson noted that the Olympics have gained in stature in the soccer world in the last five years because of the addition of over age players to the rosters and the commercialization of the Olympics with endorsement deals.
"It is a big showcase window for those younger emerging stars as well," Berson said. "They're all signed as full professionals already, but this a chance for them to show what they can do and go to a bigger club. It's like going from the Twins to the Yankees."
Track and Field
Nothing says "Olympics" like the traditional track and field events, and the Gamecocks certainly have an expert with head coach Curtis Frye, who is in Rio as part of Team USA men's coaching staff. While there are plenty of great individuals, such as Jamaica's Usain Bolt and USA's Justin Gatlin to grab headlines, with nearly 50 track and field events between the men's and women's teams, we'll focus just on the Gamecocks here for your water cooler talk.
Frye has already coached 25 Olympians while at South Carolina who have earned 13 medals in past Olympic Games. This year he will see four more current and former members of the Gamecock women's program competing for Olympic Gold as alumnae Natasha Hastings (USA/400m/400m-relay), Jeannelle Scheper (Saint Lucia/high jump), and Kierre Beckles (Barbados/100m hurdles) as well as rising sophomore Aliyah Abrams (Guyana/400m) will be in Rio.
"We're always excited about being able to represent our country and to have kids represent their country," Frye said. "It's a testament to the University of South Carolina, to our coaches, and to our training staff. All of those things add up together so our athletes can reach their ultimate goals, and the Olympics are the ultimate goal for anyone in an Olympic sport.
"When we have student-athletes who take the banner of the Gamecocks, it thrills me. I'm glad that we have four student-athletes involved from four nations."
While it's an honor simply to have made the Olympics, Frye has high expectations for all of them.
"Jeannelle was seventh in the world last year, and I would like to see her get back to that," Frye said. "I'd like to see Kierre get through the semifinals and into the finals. With the rookie, Abrams, she is so happy to be on the Olympic team. I know she is thrilled to be a participant. I told her, don't just participate. This is really large for a 19 year old to be in the Olympic Games when realize that you're one of only 7,000 people in the whole world who get a chance to participate. She'll probably be running around trying to get autographs.
"For Natasha Hastings, she's been here. She was one of the top ranked people in the world coming out of college. She had a lot of pressure on her then. Now, as a 30 year old, she will be focused. Her expectations will be to make the finals, and not let the awesomeness of it overcome her."
Frye has enjoyed many different assignments with Team USA during his career with South Carolina, including his first Olympic experience in 2004 as a member of the Team USA women's track and field staff.
"I'm proud," Frye said. "This is my opportunity to serve my country, and I've been doing this for the last 20 years. Carolina gave me an opportunity as a head coach to be selected. This is a big deal for me. I try to be a role model for young coaches. I'm trying to help young people reach their dreams."
Beach Volleyball
If there was ever a sport on the rise in the United States due to the Olympics in recent years, beach volleyball has to be among the front runners. It became South Carolina's newest varsity sport in 2014, and the 2016 season saw beach volleyball become a NCAA Championship-sponsored sport for the first time with the Gamecocks posting their first 20-win season on the way to top 20 national ranking. Head coach Moritz Moritz said there is no doubt that the past Olympic success of Americans Misty May-Treanor and Kerri Walsh Jennings helped make the sport more mainstream in the U.S.
"The foundation of the sport itself is based on the popularity we've had in the Olympics," Moritz said. "A lot of people around the world love the sport of beach volleyball and have been playing it forever, but to make it really successful at the collegiate level, you really needed that boost from the Olympics. There is a lot of value to the success we need to continue to have as a world power in beach volleyball. It will be a lot of fun to watch.
"In addition to Brazil and the U.S., a lot of other teams are really starting to get better. Brazil and the U.S. may have the deepest history in it, but there are all kinds of good teams coming up through Europe and everywhere who are making an impact."
It's no more bump, set and spike. It's pass, set, hit, and then play great defense. You have to play with great vision and anticipation, and you have to be aggressive.

Moritz Moritz, South Carolina Beach Volleyball Head Coach
Beach volleyball is also a popular men's sport around the world, and Brazil and the U.S. are among the favorites to take home the Gold. Phil Dalhausser and Nick Lucena are the 'big dogs' for the Americans. On the women's side, Moritz said there is still at least one very familiar name.
"One of the highlights is that (three time Olympic gold medalist) Kerri Walsh is back in it," Moritz said. "Partnered with April Ross, they and the Brazilians are the favorites to win the gold. It will be neat to see how they compete."
The U.S. has won gold at every Olympic beach showing, either in men's or women's, since the sport's inception in 1996, and while it's still a new sport to some, the game has evolved.
"It's no more bump, set and spike," Moritz said. "It's pass, set, hit, and then play great defense. You have to play with great vision and anticipation, and you have to be aggressive.
If you haven't yet attended matches at South Carolina's Wheeler Beach, Moritz offers a quick strategy session to help understand the game.
"Ball control is always going to huge thing with being able to set the ball well," Moritz said. "A lot of people are wowed by who hits the ball hard and big blocking, but one of the nuances to it is found in the ball control and setting and having really great vision. If you're around the watercooler, you want to be able to talk about how a team had a great cut shot or a great 'high line jumbo shrimp,' which is a high line, over-the-blocker shot. What you're seeing there is how the athletes are finding the open court. When you dumb it down, it's just 'putting it where they ain't.' "
Indoor Volleyball
Olympic indoor volleyball will also be tightly contested. Having worked with Team USA in the past and having previously coached the collegiate national team, South Carolina volleyball coach Scott Swanson knows some of the American Olympic athletes very well. While the U.S. has had success in both men's and women's volleyball, there are several countries in the mix to stand on the podium.
"For both the men and women, Brazil typically is one of the teams to beat," Swanson said. "Those always seem to be the best battles between Brazil and the USA. Russia and Italy are always super competitive as well."
Swanson noted that you will see different styles of play between the men's and women's matches.
"The men's game is very powerful," Swanson said. "They do a lot more back row attacking. It's very terminal in that it is either a kill or a block. There are not a lot of rallies because the ball is being hit so hard and served so hard. On the women's side, everybody is elite, jumping really high and hitting really hard. Everything is more precise that what you see at the collegiate level."
If it comes up during your lunchtime chat with a co-worker, you may want get caught up on volleyball strategy and lingo so you sound authoritative when discussing the previous night's match.
"When you're watching men's volleyball, they're going to talk a lot about the back row attack," Swanson said. "You'll probably hear them talk about a 'pancake dig' where somebody dives for the ball and they just put their hand flat on the floor, and the ball pops off their hand."
Opening ceremonies for the Olympics are August 5, so you have a few days to review, study, and get ready!
Let the Games begin.