Creggers to Endow the A'ja Wilson Scholarship
June 21, 2018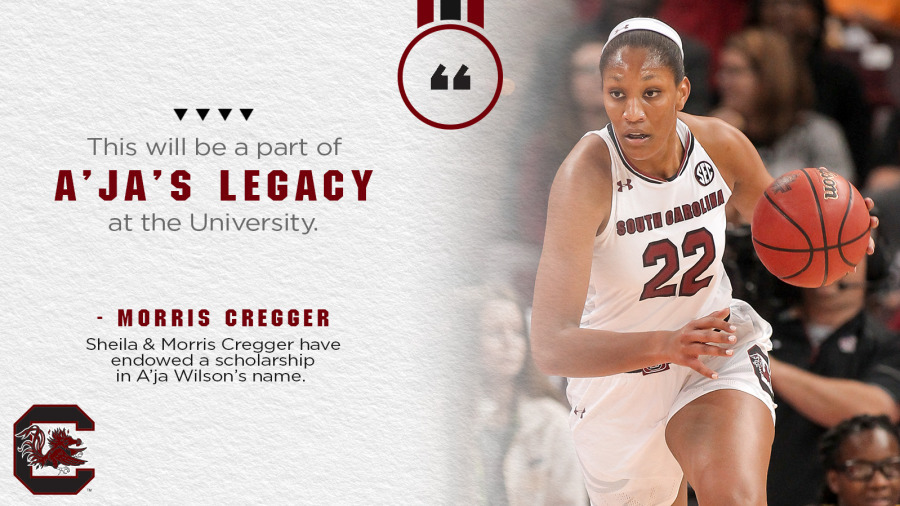 A'ja Wilson's name is all over the South Carolina women's basketball record books, and the 2018 consensus National Player of the Year will continue to be remembered in a meaningful way thanks to the generosity of Sheila and Morris Cregger. The couple has recently endowed a scholarship in Wilson's name, which will be awarded annually to a female basketball student-athlete.
"It makes us feel good that we're able to do this," Morris Cregger said. "This will be a part of A'ja's legacy at the University. For us, it's our way of saying 'thank you' for giving us an unbelievable experience."
"You couldn't ask for a better representative of the University, on and off the court," Sheila Cregger added. "We've been very fortunate, and we like to share our good fortune. We feel like education is very important."
Wilson's long list of accolades and impact on the South Carolina program are well-documented, but she is still humbled by the recognition.
"It's hard to wrap my head around how many blessings have come from my career at South Carolina, and this one is special," Wilson said. "I chose Carolina because I wanted to be part of something special in my home state, to know I made an impact, to leave a legacy. I honestly didn't think about what a 'legacy' looked like, but having someone on the women's basketball team play under a scholarship with my name on it every year definitely fits that.
"Thank you to the Creggers for all of their support throughout my career, and it's an honor that they are continuing their support like this. They are the kind of people that make South Carolina such a wonderful place."
I'm so grateful that the Creggers have now made it possible for her to have a tangible, sustained presence in our program through this endowed scholarship.

Dawn Staley
The Creggers have been Gamecock Club members for 24 years and are members of the Dodie Anderson Society. The scholarship covers the full cost of an athletics scholarship for an individual and the recipient will be selected by head coach Dawn Staley each year.
"After our last game, I told our team that we were losing a great one in A'ja Wilson, not just for what she does on the court but for how much of herself she gave outside of basketball," Staley said. "I told them that she was the example of how to be an elite player in our program. I'm so grateful that the Creggers have now made it possible for her to have a tangible, sustained presence in our program through this endowed scholarship."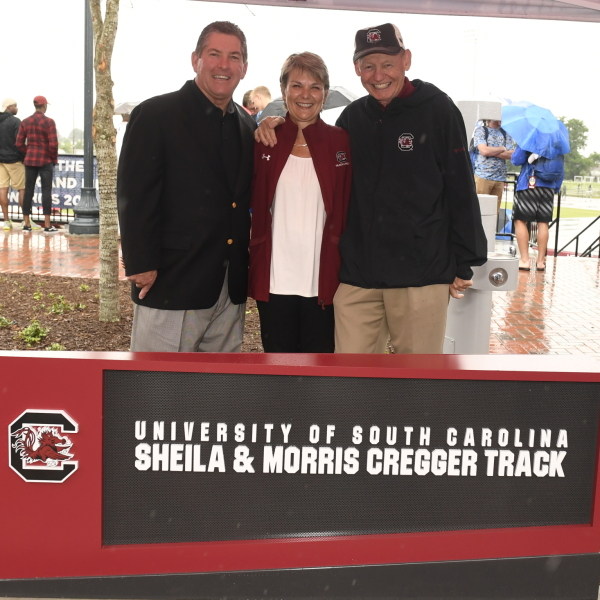 "I think it's important that the University show future student-athletes who are being recruited that there is a true following by the fans, and that someday they may have a scholarship named after them," Morris Cregger said. "A scholarship was my road to college. Without it, I would not have been able to go. Athletics teaches you so much about life. I felt it was important to give back."
"I had to become a big sports fan when I married him," Sheila said with a laugh. "We follow all the sports, but basketball has always been my first love. It's been so exciting to see how the program has developed under Dawn's leadership."
Morris was an outstanding basketball student-athlete at Roanoke College in Virginia in the 1960s and still ranks as the school's second leading scorer, all time. Sheila is a 1978 graduate of South Carolina. This isn't the first time the Creggers have shown their support for South Carolina Athletics. The couple donated funds for the renovation of South Carolina's outdoor track and field facility, which now bears their name, and they had also endowed a women's basketball scholarship several years ago in the name of Aleighsa Welch (2011-2015).
"We just felt that A'ja was certainly deserving of being the second female student-athlete to have a scholarship funded in their name at South Carolina," Morris Cregger said. "Just being around A'ja generates a lot of excitement. Both [she and Aleighsa] showed great passion for the game, had great work ethics, and they were very unselfish. They were humble in all of their successes.
"A'ja could have gone anywhere in the country, but she elected to stay home. That helped put the program on the map on a national basis. With A'ja winning every kind of national award, that's a reflection of her ability. Her demeanor off the floor was a reflection of her integrity."