Catching Up with Alex English
March 20, 2018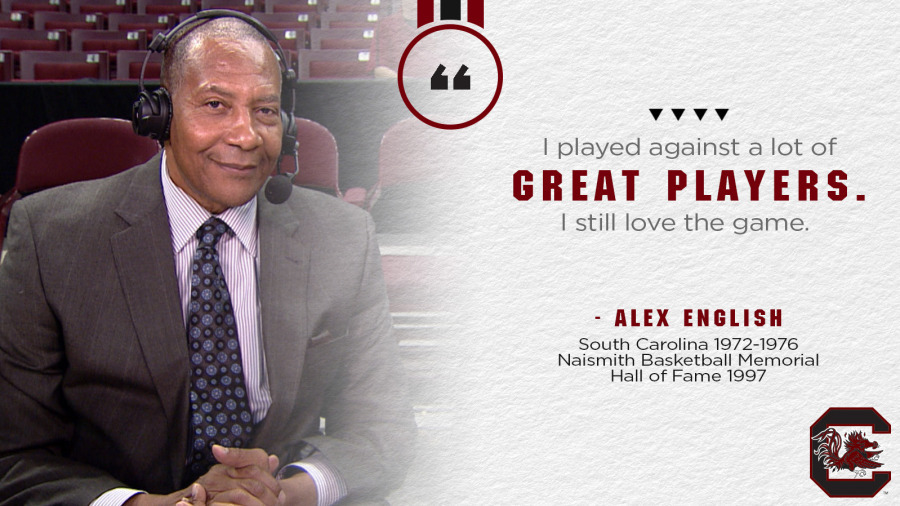 Alex English still loves basketball. The Naismith Basketball Hall of Famer and former South Carolina and NBA legend enjoys following the pro and college game, while always keeping an eye on the men's and women's teams at his alma mater.
"I love and admire the way Dawn Staley coaches the game, and what she has done for the University," English said. "With Frank Martin, I get a chance to work a few of his games, and it's an open-door policy with him. I go and watch a lot of practices, and I enjoy that.
"I've been watching a lot of college games, but I always fall back on the NBA because I know a lot of the coaches, and I see a lot of players that I've been able to work with. I've become more of a fan of the women's game because it's pure. They really focus on technique. Being here with the national champions and the best female basketball player in the country, A'ja Wilson, is awesome to watch."
English's number 22 jersey is retired at South Carolina and hangs from the rafters at Colonial Life Arena. He looks forward to Wilson's number 22 jersey being up there as well when it is eligible to be retired in five years.
"As far as basketball players, she is the number one player with what she has done, and how she has played," English said. "I love her game. She is just full of joy. She's not just the all-time women's scorer here, she's the all-time leading basketball scorer at the University of South Carolina; men or women."
"Our number, 22, is done at the University of South Carolina," he adds with a laugh. "Looking back on my years here, it was a great thing to have my jersey retired. Now to have this young woman here, who is also from the Columbia area, wear our jersey, she just takes it to another level."
That fast tempo of getting up and down the floor was fun, but yes, I think people enjoy some good defense, too.

Alex English
At South Carolina, English played for legendary coach Frank McGuire, whom he describes as being very laid back, but disciplined.
"He was one of those coaches who gave you a lot of freedom on the floor, but he was very structured as well," English recalled. "The student-athlete today is a lot different. I don't know that all of them could take the hard-nosed coaching of Coach McGuire. He held you accountable. Frank Martin is the same way. That's the way I liked to play basketball, and that's the way I like to see it.
"Frank had a lot of very good young players this year, and they had to acclimate. I know they will be better next year, and I look forward to that. They really do have a lot to look forward to next year."
Always the basketball fan, English still keeps busy as an analyst for SEC Network+ television broadcasts for men's basketball and has also spent some time in the last year working with female basketball players such as former South Carolina and current WNBA players Kaela Davis and Allisha Gray.
"Last year I worked with Kaela Davis as she wanted to put some extra time in, and I like that," English said. "Then Allisha Gray was talking to me, and people don't realize how great she is. You have to admire a young lady who can get up early in the morning, put in that kind of work, and then go to class all day to finish her degree. She was the rookie of the year in the WNBA!"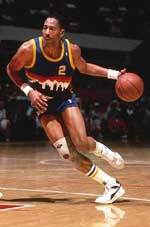 While the style of the game changes from time to time, English, enjoys how basketball evolves.
"At the pro level, it swung from being an up-tempo game when I was playing to slow tempo pick-and-roll, walk the ball up the floor and play defense kind of game later," English said. "Now I see the game swinging back the other way. It's not as mechanical as it was in year's past."
English knows all about high scoring offenses, especially in his years with the NBA's Denver Nuggets as he was the league's leading scorer throughout the 1980s with 19,682 points. He was an eight-time NBA All-Star and was the first player in NBA history to score 2,000 points in eight consecutive seasons. He was part of the highest scoring game in NBA history when he scored 47 points in a 186-184 loss to Detroit in December 1983.
"It was a lot fun," English laughed. "I think people enjoy watching that kind of basketball rather than walk the ball up the floor. That fast tempo of getting up and down the floor was fun, but yes, I think people enjoy some good defense, too.
"I loved my time in the NBA and in college. I played against a lot of great players. I still love the game."