Vay & O'Keefe Named Finalists for McWhorter Post-Grad. Scholarship
April 20, 2018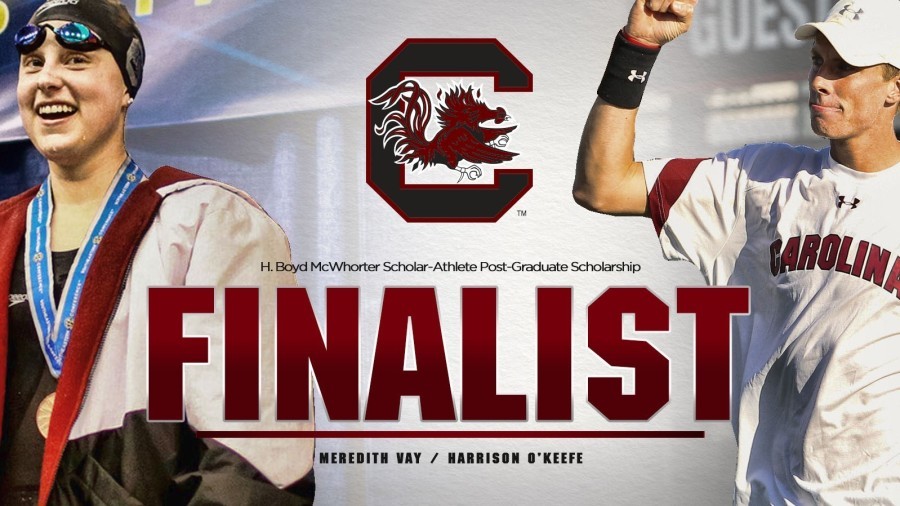 After making an impact for their teams in and out of the competitive arenas, a pair of South Carolina senior student-athletes have earned post-graduate scholarships from the Southeastern Conference that will help them continue to make an impact in their chosen professions. Swimmer Meredith Vay and Harrison O'Keefe of men's tennis are finalists for the H. Boyd McWhorter Scholar-Athlete Post-Graduate Scholarship.
"They are recognized for their work, service and academic accomplishments, in addition to being recognized for their athletic ability," said Dr. Valinda Littlefield, South Carolina faculty athletics representative. "They are wonderful awards for student-athletes who plan to go on to further their education."
"I felt very relieved because P-T (Physical Therapy) school is not cheap," Vay said. "It feels nice to know I have something going into the next three years of my academic career. I'm getting a doctorate of physical therapy at Virginia Commonwealth. It's going to be a little bit of peace of mind knowing that I'm not going to be in that much debt coming straight out of school."
"I'm very excited and very honored to be picked," O'Keefe said. "I think in the future, this will help me a lot because if I get my master's degree, it will help elevate me as a person and later down the road, career-wise."
Each of the SEC's 14 schools nominates a male and female finalist for the award, which guarantees they will receive assistance to apply to their post-graduate studies. The SEC provides the league's male and female McWhorter Scholar-Athlete Post-Graduate Scholarship recipients with a $20,000 post-graduate scholarship. The 26 remaining male and female finalists for the award receive a $10,000 post-graduate scholarship.
These have been the best four years of my life.

Meredith Vay
Vay has excelled in the pool and in the classroom. She is South Carolina's record-holder in the 100 freestyle, ranks second in the 200 freestyle and fourth in the 50 freestyle. She competed in the 2016 Olympic Trials, was part of the school-record 800 freestyle relay team at the 2016 SEC Championships, and earned Second-Team All-SEC and SEC All-Freshman honors in 2015. Just as strong academically, Vay holds a 3.945 grade point average in exercise science, has been named to the SEC Academic Honor Roll each year, and is a two-time CSCAA Scholar All-American. She noted that being successful in athletics, academics and finding time to do community service comes from internal motivation.
"The whole driving force for what I do is that I want to help people," Vay said. "That's what it boils down to. Physical therapy incorporates exercise into helping people. I love exercise, and I'm very passionate about it. P-T school is very competitive, so I knew that I had to keep my grades up. With the community service, I love to help people. Anybody that I can help, I'll do it, and I'll drop anything to help people."
Vay noted that finding time to do internships has been one of her biggest challenges as a student-athlete, and praised South Carolina's Beyond Sports Program for making it possible to find those opportunities.
"Before last summer, I didn't have any interning hours for P-T school, and most schools require at least 50 to 100 hours. Participating in Beyond Sports was fantastic for me and really gave me a leg up when I applied to P-T school."
O'Keefe earned First-Team All-SEC honors last year while helping the Gamecocks get to the NCAA Tournament and has twice been named his team's Most Valuable Player. Among his many academic honors, the retail management major with a 3.45 grade point average has been named to the Athletics Director's Honor Roll each spring and was named to the SEC Spring Academic Honor Roll each of the last two seasons.
"I've always tried my best in school," O'Keefe said. "So far, so good. The person who inspires me the most is my older brother. I've always looked up to him the most. He played college tennis, and he's now the director of tennis back home in Salem (Va.), where we both grew up. Following in his footsteps is always something that I've tried to do."
The H. Boyd McWhorter Scholar-Athlete Post-Graduate Scholarship has been presented by the Southeastern Conference since 1986 to the league's top male and female scholar-athletes.
As they get ready to move on, the student-athletes have left their mark on their school and their programs, while also taking a lot of great memories with them.
"These have been the best four years of my life," Vay said. "I'm excited to move forward, but I'm also a little bit sad. I always leave a little piece of my heart here in this pool. It was so worth it."
The award recipients are chosen by a committee of Faculty Athletics Representatives from the 14 SEC institutions. Winners of the H. Boyd McWhorter Scholarship will be announced on April 26.