Augustus & Mayronne are Brad Davis Community Service Award Finalists
May 2, 2018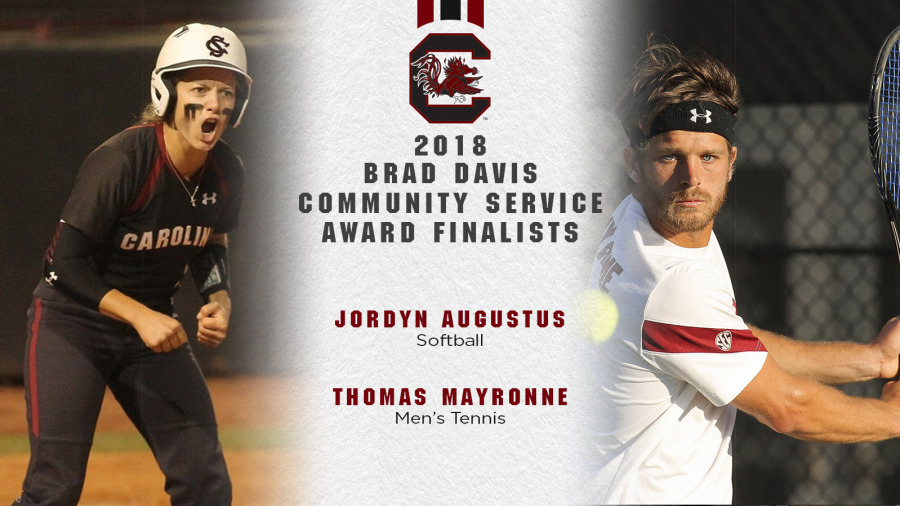 After making an impact for their teams in and out of the competitive arenas, a pair of South Carolina senior student-athletes have earned post-graduate scholarships from the Southeastern Conference that will help them continue to make an impact in their chosen professions. Softball's Jordyn Augustus and Thomas Mayronne from men's tennis were finalists this spring for the Brad Davis Community Service Post-Graduate Scholarships.
"They are recognized for their work, service and academic accomplishments, in addition to being recognized for their athletic ability," said Dr. Valinda Littlefield, South Carolina faculty athletics representative. "They are wonderful awards for student-athletes who plan to go on to further their education."
"I was just extremely grateful," Augustus said. "I know that service means a lot to me. Getting the chance to have money go towards my law school education means a lot because it gives me a greater opportunity to serve in the future."
"I'm just really honored," Mayronne added. "Growing up where I was from in Louisiana, and the family that I'm from, helping others in need, there was always a lot of importance placed on it. I think I've carried that wherever I've gone."
Being a student-athlete means a lot more than just hitting a home run or making the game-saving play that becomes a headline.

Jordyn Augustus
Each of the SEC's 14 schools nominates a male and female finalist for the award, which guarantees they will receive assistance to apply to their post-graduate studies. One male and one female Davis Award finalist each receive a $10,000 post-graduate scholarship, provided by the SEC. The 26 remaining male and female finalists for the award receive a $5,000 post-graduate scholarship.
Augustus has helped the softball team reach the NCAA Tournament in each of the previous three seasons, and this year the Gamecocks are once again ranked among the top 20 nationally. She carries 3.859 grade point average while studying political science and psychology. Among her many accolades, she has been on the Dean's List every semester, the Athletics Director's Honor Roll every year, and is a three-time NFCA scholar-athlete. She has also tallied more than 240 hours of community service this year, which included spearheading her team's weekly involvement last fall with the Irmo/Chapin Recreation Commission's Therapeutic baseball team for children and adults with special needs.
I wanted to do something that I felt would really make an impact on someone's life.

Thomas Mayronne
"It was great. It really kept things in perspective," Augustus said. "It was great for our team to be able to go and give back in a way that involved our sport, and to be around kids that were just so joyful. To be around kids and smile and laugh, it was a lot of fun for us.
"Being a student-athlete means a lot more than just hitting a home run or making the game-saving play that becomes a headline. Headlines eventually fade, and the game is coming to an end for me, but the person that I've become, the character that I've made, and the lives that I've touched in the course of getting involved in the community, those things will last forever."
Mayronne has helped the men's tennis program return to national prominence once again and will earn his degree in sport and entertainment management this spring. He has been named to the Athletics Director's Honor Roll every year, is a three-time ITA Scholar-Athlete, and has twice been named to the SEC Men's Tennis Community Service Team, while also serving as South Carolina's Student-Athlete Advisory Committee (S.A.A.C.) president during his junior year. He has contributed to the local community in numerous ways, including special efforts two years ago when the Gamecocks added two honorary members to the team through Team Impact, forging a special bond with two local boys diagnosed with a rare form of eye cancer and carried the relationship throughout the year.
"That is something that has been the biggest community service project that I've done since I've been here, and honestly, it's been the most rewarding," Mayronne said. "We had done soup kitchens and going in to read at middle schools, but I wanted to do something that I felt would really make an impact on someone's life.
"It has been a relationship that I didn't think would grow as much as it did. We spent so much time with them. Honestly, I can't tell you who benefited more out of the relationship; them or us."
The SEC Community Service Post-Graduate Scholarship was named for former Associate Commissioner Brad Davis, who succumbed to cancer on March 2, 2006.
The award recipients are chosen by a committee of Faculty Athletics Representatives from the 14 SEC institutions.