Athletics and College of Education Team Up for Teacher Appreciation Day
May 8, 2018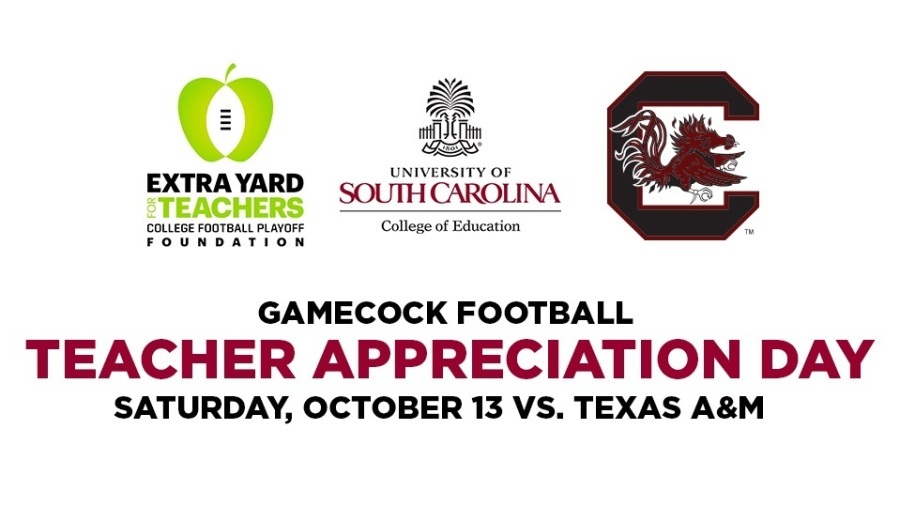 Click the button below to purchase tickets for USC College of Education Teacher Appreciation Day.
BUY TICKETS
The school year is almost over around the state, but South Carolina Athletics already has honoring educators on its mind as USC College of Education Teacher Appreciation Day returns to Williams-Brice Stadium for the fourth consecutive year this fall. Gamecock Athletics is offering discounted tickets for educators, school staff, and their families for South Carolina's football game against Texas A&M on Saturday, October 13.
"We want teachers to know how much we appreciate their hard work," said Blake Woodward, Manager for Ticket Sales at South Carolina. "They're so valuable to all of us. We want them to feel appreciated, enjoy a game, and have a memorable experience."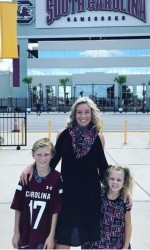 "I can't say enough great things about the experience we had last year," said Erin Fox, a teacher at Gaffney High School who was honored as South Carolina's Teacher of the Year at last year's game. "It meant so much to be appreciated on such a large scale, where you have thousands of people cheering for you, applauding your profession, and applauding the work you do in the classroom just because you love the work and the kids. We don't do it for the money or the glory, but it's nice to have somebody recognize you for doing a good job when you do something you are passionate about."
Interested parties can click on the button on the top and bottom of this page, which is also social media friendly, and gives purchasers the option to get seats together with friends and acquaintances.
"When you order, you'll receive a custom link that can be shared with their fellow teachers or family," Woodward said. "We'll assign the seats during the week of the game, so we can put them all together based on that."
For the educators and their families, the football game is just one part of the event that makes it worthwhile.
"I coach cross country, but my husband and I aren't exactly sports aficionados, and we had a great time," Fox said. "We went to the Gamecock Village before the game. We heard the band, saw the national championship women's basketball team, and my kids enjoyed the bounce houses. Later, I was able to take pictures with Darius Rucker. It was so nice.
"We had never experienced 'Sandstorm,' and when we were walking up there were some students who gave us their white towels. The generosity of those college students meant so much to me."
Tickets for USC College of Education Teacher Appreciation Day went on sale today (Tuesday, May 8), which is also National Teacher Appreciation Day. Teachers can purchase tickets beginning this week for only $30 apiece, a savings of $25 per ticket, and the educators do not have to be members of the Gamecock Club to buy the tickets.
The response for USC College of Education Teacher Appreciation Day has been tremendous in each of the first three years with demand growing from 700 tickets sold in year one, more than 2,200 in year two, and 3,000 tickets sold to educators in 2017.
"This year our goal is to sell 3,500 tickets for Teach Appreciation Day," Woodward said. "Just like the previous years, we'll recognize the teachers during the game with an on-field presentation."
While the ticket sales for USC College of Education Teacher Appreciation Day are focused on educators in South Carolina, teachers and school staff in neighboring states who are willing to come to Columbia for the game are also able to take advantage of the discount.
"We've done well with our teachers from South Carolina, and we'll welcome any teachers from anywhere else such as North Carolina, Georgia, and anywhere else," Woodward said.
To purchase tickets for Teacher Appreciation Day, please click below.
BUY TICKETS