Introducing The Gamecock Student-Athlete Promise
Highlights include Four-Year Scholarship Commitment in Head Count Sports; Gamecock Lifetime Degree Guarantee
Sept. 25, 2014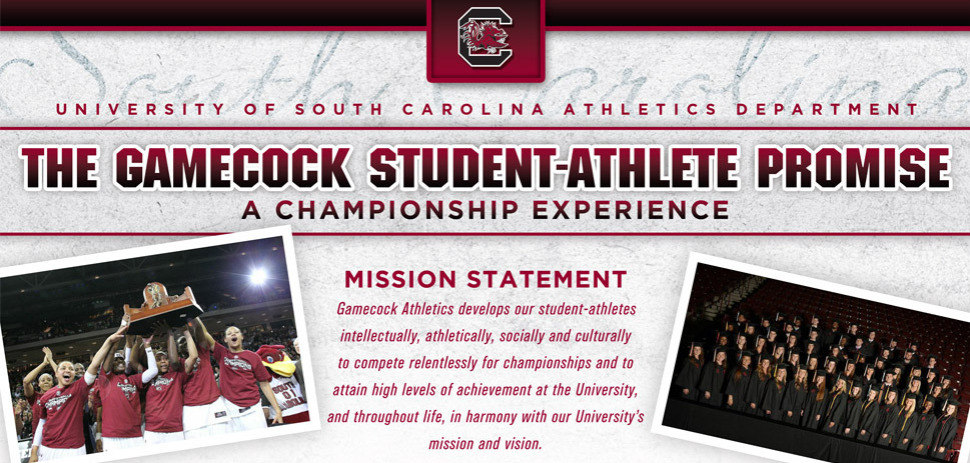 COLUMBIA, S.C. — The University of South Carolina is dedicated to providing a championship experience for its student-athletes in all phases of their time at the University.
A newly-released document, "The Gamecock Student-Athlete Promise: A Championship Experience," showcases the depth and breadth of the commitments the South Carolina Athletics Department has made to the development of young people who don the garnet and black.
"The Gamecock Student-Athlete Promise: A Championship Experience" highlights the athletic department's six major commitments- 1) cost of education; 2) commitment to academic excellence; 3) commitment to personal and career development; 4) commitment to athletics excellence; 5) comprehensive healthcare; and 6) a vital voice.
"We are excited to announce this comprehensive commitment to our student-athletes to help them achieve the ultimate goal of a college degree," said USC president Harris Pastides. "The forthcoming NCAA governance changes provide the autonomy we need to enhance our ability to support these students in their path toward graduation and success in life after college. I commend Ray Tanner, Fran Person, all of our coaches and our entire athletics department staff for their efforts to formalize South Carolina's dedication to the overall well-being of our student-athletes."
"Intercollegiate athletics prepares our student-athletes for life after graduation," added Gamecock director of athletics Ray Tanner. "We are committed to supporting them during their time at South Carolina. This document details the variety of commitments and services we provide to assist them in meeting their goals here."
Many of the items featured in the document, such as the "Gamecock Lifetime Degree Guarantee" and the "Gamecock Career Network" have previously been part of the services provided to Gamecock student-athletes.
Our goal is for every student-athlete to have a championship experience when they come to South Carolina.

Athletics Director Ray Tanner
The newest commitment in the document is the "Four-Year Full Scholarship Commitment." It states that the University is committed to providing full-scholarships to student-athletes in head count sports commensurate to a four-year college degree. In addition, the University will increase scholarships to address the cost of attendance once these increases are approved by the NCAA. The scholarship can only be reduced if the student-athlete 1) decides to leave the team; 2) becomes ineligible; or 3) violates University or athletics department policies.
"The Gamecock Student-Athlete Promise can really be a difference maker for South Carolina," said Thiago Pinheiro, a senior on the Gamecock men's tennis team and president of the South Carolina Student-Athlete Advisory Committee. "It makes it clear to us as current student-athletes who we are and what we are about as a University and an athletics department. The commitments described in this document have made my experience as a Gamecock so amazing, and it's an honor to represent a University that so formally promises them to all future student-athletes, too."
Under the "Gamecock Degree Completion Program," South Carolina has welcomed back student-athletes, who have left the University in good academic standing to complete their undergraduate degree. In the last five years, 16 student-athletes have taken advantage of this program.
The "Gamecock Career Network" matches potential employers with student-athletes to assist them in securing jobs and internships. The athletics department hosts seminars for student-athletes in topics such as interviewing, resume and cover letter writing, networking skills, dress and presentation.
"As Gamecocks, we relentlessly compete for conference and national championships," said Tanner. "That commitment to excellence also extends to everyone on our staff and all of the units in our athletics department. Our goal is for every student-athlete to have a `championship experience' when they come to South Carolina."
"The Gamecock Student-Athlete Promise: A Championship Experience" document also details academic support services, life skills and community service, facilities, coaches and support staff, healthcare and nutrition and representation in the leadership of the athletics department.
"Throughout the process of developing `The Gamecock Student-Athlete Promise,' we were able to take an introspective view into the programs we provide our student-athletes," said Fran Person, special assistant for student-athlete well-being at South Carolina. "This is a living document, designed to put South Carolina at the forefront in student-athlete welfare among the nation's universities and colleges. We will be continually designing and implementing new programs with the intent of benefiting Gamecock student-athletes."
South Carolina's holistic formula of athletic, academic and personal development of its student-athletes has proven that success on the field, in the classroom, and in the community go hand-in-hand.