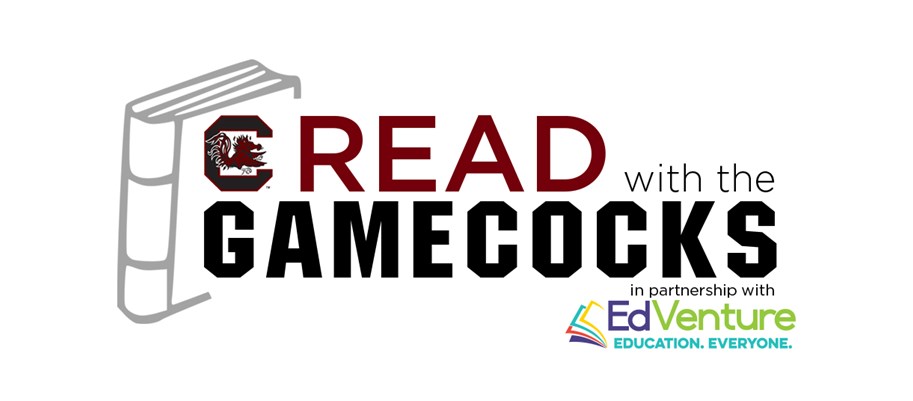 Check back in August 2020 for next year's program registration!  
BASKETBALL GAMES ANNOUNCED! 
        Saturday, February 1 – Men's Basketball vs. Missouri at 3:30pm 
        Sunday, March 1 – Women's Basketball vs. Texas A&M at 12:00pm
WHAT IS READ WITH THE GAMECOCKS?  
In partnership with EdVenture Children's Museum, Read with the Gamecocks is an incentive-based reading program developed by South Carolina Athletics to promote the importance of literacy in elementary and middle school aged students.
 
Note: due to NCAA compliance regulations, only students in grades K – 8 are allowed to participate.
 
Through Read with the Gamecocks, we encourage elementary and middle school teachers to challenge their students to keep a log of all reading done outside of the classroom over a two-week period. In an effort to have this program better fit classroom goals and curriculum, teachers will set their own goals for their classrooms (ex: number of pages, number of books, number of minutes read). If a student reaches this goal, they are eligible to receive a voucher for two complimentary tickets (one student and one guardian) to a predetermined Gamecock athletic event.  NEW this year, participants will also receive a voucher for free admission to the EdVenture Children's Museum.
 
WHAT'S NEW THIS YEAR?
No longer requiring a program coordinator. Individual teachers/classrooms can register
Teachers can choose their own classroom goal to challenge their students
Larger window for participation

We no longer pick the two weeks! Teachers will have a specified window from September to November to complete the two-week program to better accommodate class schedules

New prizes

In partnership with EdVenture Children's Museum, participants will also receive a voucher for free admission to the museum 

Voucher may only be used once and will be honored at any EdVenture location (Columbia, Myrtle Beach, Hartsville)

Teachers who register their class in the program will be entered to win two tickets to a Gamecock football game
Any questions or requests for more information can be directed to ebujak@mailbox.sc.edu.
NOTE
The "Read with the Gamecocks" program coordinator will also be responsible for distributing the game tickets to each reader involved. We will provide one voucher for free admission to select games for each participant and one parent or guardian; additional tickets may be purchased on game day. Please keep a copy of the school totals form to know who should receive tickets.