Great Turnout for Annual Lettermen's Association Golf Tournament
Friday's annual golf tournament hosted by the University of South Carolina Association of Lettermen was one of the largest in the 36-year history of the event.  The event was held at Fort Jackson Golf Club with 164 golfers taking part.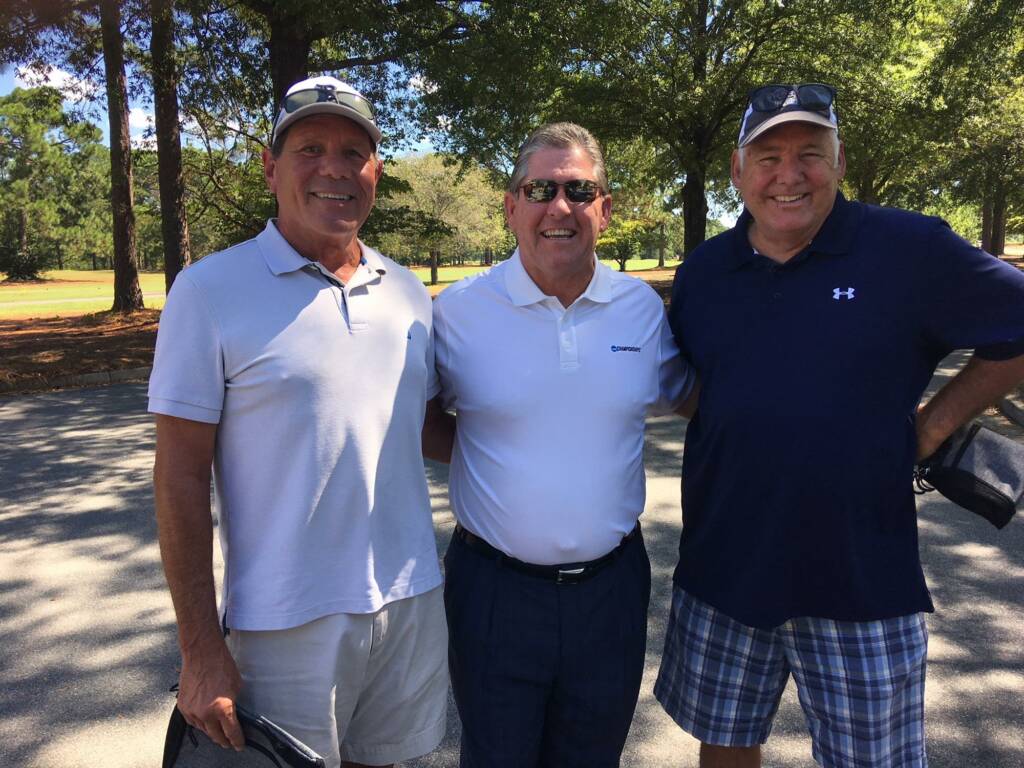 (L-R) Jeff Grantz, Ray Tanner, Steve Cook
"This is the largest fundraising event for our association each year," said former football student-athlete and chairman of the golf tournament Courtney Leavitt (1996-99). "We want to create networking opportunities for all of our lettermen, bridge the gap with the Gamecock Club and the Athletics Department, and have people come back and be active. This is a great opportunity to do that.
"We've got guys who played football here in the 1950s and '60s that are out here, and we've got former athletes who just graduated in the last few years. It's a great way for everyone to share stories. It's also a great opportunity to talk about what's currently going on in the Athletics Department, and the needs that it has now."
For the former student-athletes who come back to play, seeing old friends and making new ones from different generations is at the heart of the event.
"With athletes, there's always a competitive streak in you."
– Steve Cook, 1975-76 (Baseball)
"It's about the camaraderie," said former football student-athlete Ryan Brewer (1999-2002). "You've got former athletes of all ages and from all sports. The greatest part is hearing stories from guys that played in the 1960s, '70s, '80s, '90s and 2000s. When you're done playing it can be tough. We can all help each other out."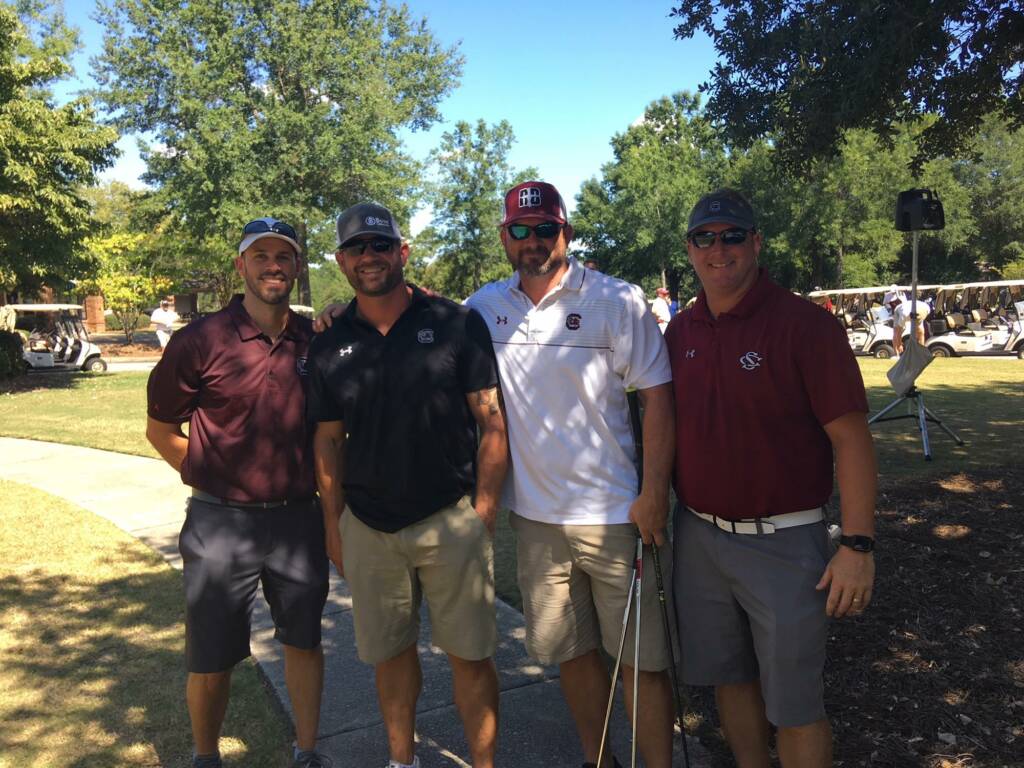 (L-R) Kevin Melillo, Garris Gonce, Brian Buscher,
and Drew Meyer. 
"The fellowship is the best part. I've played this for the last five years or so, and I love it," said former golfer Meredith Taylor (2004-09). "Things like getting a bear hug from Sterling (Sharpe), and meeting lots of former athletes; it's just great when we get together like this."
"I am forever a Gamecock," said former running back Harold Green (1986-89). "It's always a pleasure to come back and reminisce with the boys and the ladies who are on to different walks of life now."
"It's good to reconnect with guys who played in the 1960s and '70s and on up," said former quarterback Connor Shaw (2010-2013). "These are guys who laid the foundation for what we have now. It's good to go compete and have fun."
While a day on the golf course is fun, there is still plenty of competitive spirit from the former student-athletes, even if golf wasn't their sport.
"Everything is competitive," Brewer said. "You have a bunch of competitive people out here. The big problem is you have some real golfers here. You know, guys that actually played college golf. Then you get football players that only swing a club once or twice a year. We don't have a chance! But you do have guys like Sterling Sharpe (1983, 1985-87) and Harold Green who come out and will keep the scores down. The baseball guys can really stroke the ball."
"Of course, I'm still competitive!" Taylor said. 
"With athletes, there's always a competitive streak in you," said former baseball student-athlete Steve Cook (1975-76).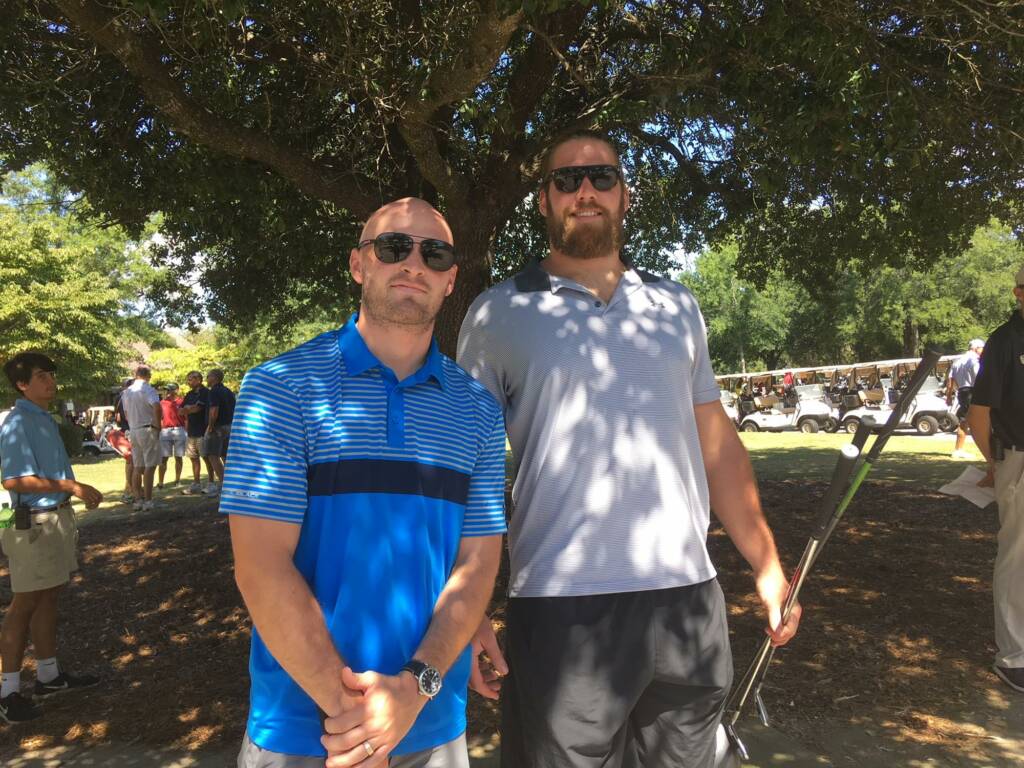 Connor Shaw and Cody Gibson.
"It's competitive if you're competing against your arch-rivals from your sport when you were here," Green said. "For example, Corey  Miller (1988-1990) is playing in my group today, and we used to always battle in practice. Really though, it's more about fellowship, reminiscing about the good old days, and catching up with how everybody's family is doing."
Even with that competitive spirit, most of the former student-athletes admit that their golf game wouldn't get them a scholarship these days.
"My game is horrible," Brewer said. "I can hit a long ball, and then dribble the next one, but I have blast out here."
"My game is here and there. It comes and goes," Green said. 
"I'm terrible; absolutely terrible," added former football student-athlete Walker Inabinet (2010-2012).  "I would consider all of us a big family. Having everybody come back together is a great feeling, and that's why I enjoy this."
The USC Association of Lettermen was founded in 1965 to promote fellowship among alumni who have earned varsity letters in any of the intercollegiate sports sponsored by the University. There are currently more than 6000 active members. The proceeds from this event are used to supplement the programs of the association, which in turn promote the athletes.