Krzeczowski Takes Pride in Team Defense While Breaking Record
At 5-feet, 6-inches tall, Mikayla Krzeczowski is not among the tallest goalkeepers in the Southeastern Conference, but that doesn't matter as the junior continues to come up big for the South Carolina women's soccer team in keeping opponents from slipping one through the 8-feet high and 24 feet wide goal she is protecting. The junior from Douglasville, Ga., , who wears the number 0, recently broke the program's career shutout record, surpassing Mollie Patton (2006-2010) with her 32nd clean sheet in a 1-0 win over Florida on October 7.
"I don't think size matters," said Krzeczowski, who is studying visual communications. "It depends on who can make the saves. It depends on the presence you bring on to the field. It's all about mentality and presence to me when it comes to the goalkeeper position."
"I just wish I could give that clean sheet record to every single defender, too, because those girls do so much."@mikayla_kski keeps making history! Read the feature on her latest and greatest accomplishment!

FEATURE: https://t.co/zc7vIzcLLa pic.twitter.com/ABAJ4gyRiI

— Gamecock W. Soccer (@GamecockWSoccer) October 8, 2018
Records and accolades aside, Krzeczowski loves earning a shutout, but she doesn't necessarily see it as an individual record.
"That's just a really cool accolade to have your name in the record books," Krzeczowski said. "I just wish I could give that clean sheet record to every single defender, too, because those girls do so much. They make my job really easy.
"A lot of times the saves a goalkeeper makes aren't pretty, by any means, but if you keep it out of the back of the net, that's your only job out there. It means a lot, and I owe a lot to the defense. We take pride in how we defend."
"Communication is huge."
 – Mikayla  Krzeczowski

Krzeczowski isn't hung up on the number of saves she racks up either as the final result is what matters most.
"I love what I do, but if I don't have to do a lot of work, that's probably a good thing actually," Krzeczowski said.
"When it comes to really close games, and it comes down to one save, one decision, whatever the case may be; dealing with that pressure, I really thrive on it." 
Krzeczowski started playing soccer when she was in preschool and fell in love with the game early.
"I fell in love with the sport and the competitive nature and training," Krzeczowski said. "I loved going to practice. Getting to travel and see and meet new people, that was fun, too."
When she was 12 years old, while many youngsters were more interested in scoring goals, Krzeczowski would volunteer to play goalkeeper in practice to try to stop them.
"One day my coach threw me into goal in the second half," Krzeczowski recalled. "I just loved it. I thought it was so cool. I was the only one using my hands. I would always cry whenever I got scored on. Then I got used to it, and people thought I was really good at it, so I started to get individualized training."
The training paid off as a coach from her club team asked her to play up a year with older players and play goalkeeper.
"Of course, I accepted because I love a challenge," Krzeczowski said. "I was the youngest one on the team. I did really well that year. My career just took off from there."
Fast forward a few years and she was earning U.S. National Team Player Pool experience and eventually recruited by South Carolina where she made an immediate impact as a freshman, starting 21 matches and setting a program record with a 0.43 goals against average while leading the SEC with 11 shutouts, the most by a freshman in program history. She earned SEC All-Freshman team as well as First Team All-SEC and First Team All-Region honors, while helping the Gamecocks win the SEC Regular Season Championship and reach the NCAA quarterfinals. Krzeczowski is quick to deflect and attribute a lot of her success to the work put in by her veteran teammates.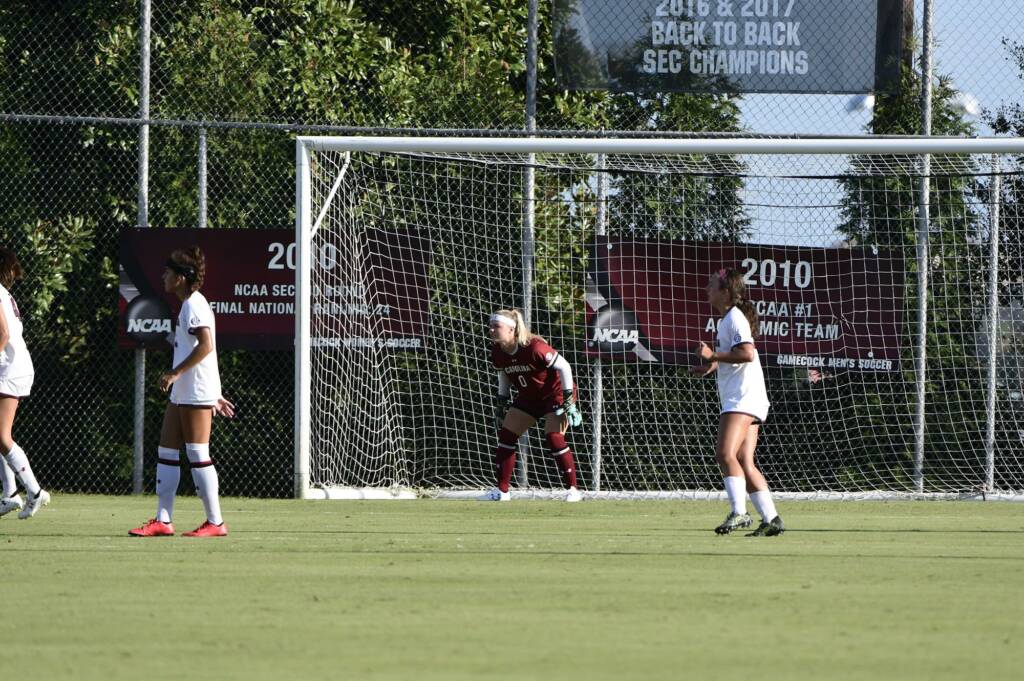 "It was a little intimidating coming in," Krzeczowski said. "I came in early in January of 2016 to compete with the goalkeeper at the time and fight for the position. I was observing (defenders/midfielders) Kaleigh Kurtz, Chelsea Drennan, Paige Bendell, and everyone in front of me who commanded the field. I got a feel for how to run things back there. For the most part, I didn't have to do a lot my freshman year, but my sophomore year was my real transition where I had to turn it up a notch. I'd like to think I adapted to that role pretty well."
Krzeczowski enjoyed much of the same success as a sophomore, starting every match with a 0.48 goals against average, and ranked third nationally with 14 shutouts. She earned Second Team All-SEC and All-Region honors while helping the Gamecocks win their second straight SEC title and reach the College Cup Semifinals for the first time in program history.
While she believes footwork is one of the most essential skills for a goalkeeper, communication with her team as she surveys the entire pitch is also high on the list, and that's something Krzeczowski has never been shy about.
"I demand a lot out of my defense, and I always want to be engaged in what's going on," Krzeczowski said. "Communication is huge. We harp on that a lot. I just try to do my part."
Now a junior, Krzeczowski is certainly one of the leaders on the team. With all she has seen and done already, one of her most memorable moments wasn't about a save or a shutout. Instead, it involved her baptism into the rivalry with Clemson.
"You'd think I'd say the Final Four because that was such a cool experience, but honestly, the first time my freshman year when we beat Clemson; I'll never forget it," Krzeczowski said. "It's a rivalry game, and it's a lot of fun to play in that intense environment. I'll never forget when the whistle blew, and I saw Kaleigh Kurtz so ecstatic and so happy. That's when it hit me that this was a real thing. It blew me away.
"I'm just competitive in anything I do. You give me any type of ball, I'll figure out how to play it and go full steam."