Team Chemistry Helps South Carolina Volleyball Break Through
It's been 16 years since South Carolina volleyball has reached the NCAA Tournament. When South Carolina's first -year head coach Tom Mendoza met with his team before the 2018 season, he broke down what it would take for the team to get there. The Gamecocks were quick to buy in.
"Tom laid it out pretty simply," said junior Mikayla Shields. "He told us 'this was the formula,' and if we could do x-number of things, then we would be there. He had that belief in us from day one. We're a good team. Building that inner belief has been all the difference."
"You try to lay a path to success knowing that not everything is going to go the way you want," Mendoza said. "You at least try to put your team in the position where they can be successful. That's your job as a coach. Then you let them loose and go compete as a group, handle adversity as a group, and enjoy success as a group. We gave them a path in August, but to see the way they've navigated it and the way they've handled everything, individually and as a team, has been really exciting. I think they're really deserving of everything."
The Gamecocks finished the year with a 19-9 overall record and a 10-8 mark in SEC play, both win totals were the highest since 2008.
"The chemistry was there, and then it all just started clicking."
– Aubrey  Ezell, Senior

Mendoza is not a stranger to success having spent the previous two years at the helm of High Point University, where he led the Panthers to back-to-back NCAA Tournament appearances. When he came to Columbia, Mendoza knew there were already strong elements in place.
"We've said that this was a good team," Mendoza said. "We had good players in our gym. There was talent there. I didn't think we were too far away. Since 2002, the players and coaches who have been in our gym and worked towards this goal have all been a part of getting us here. It's exciting to be there with this group when they got to see their name called on the TV, especially for the seniors. It's been a long journey for them. They've stuck with it and continued to put the work in, so you're excited for them."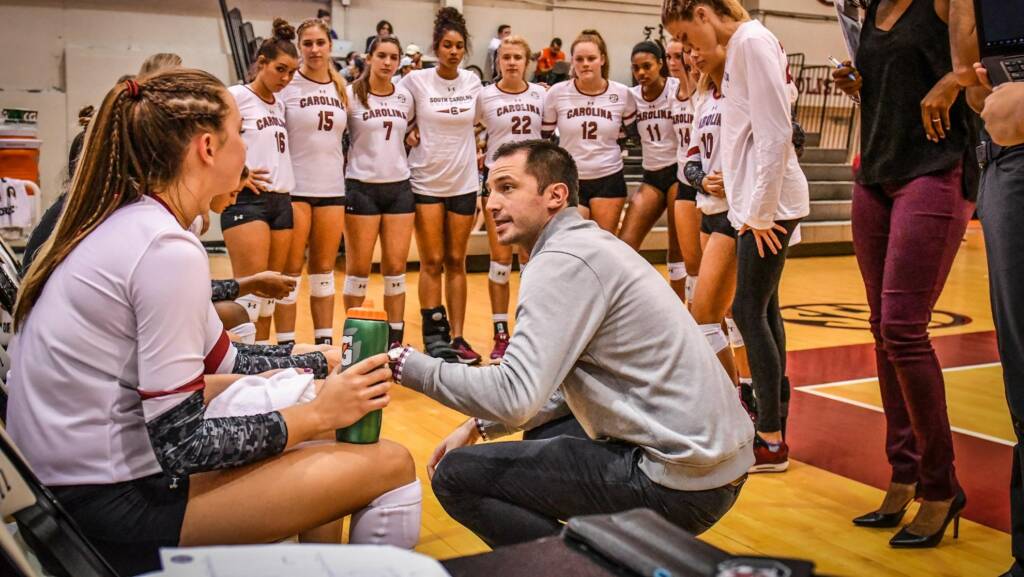 The student-athletes started seeing the benefits of their work early on this season.
"I knew in the preseason that we were going to be a lot better than we were in previous years," senior Aubrey Ezell said.  "Especially with the transfers (Addie Bryant and Brittany McLean), we knew we needed those in specific positions. The chemistry was there, and then it all just started clicking. After we beat Maryland, I think that was a very big confidence builder where we proved we can beat big teams."
"In times previously, there were times we may have buckled, or we may not have pushed through some of the harder times," Shields added. "The fact that we did pull through this year in most of those situations was all the difference."
For the student-athletes, being rewarded for their hard work is the standard to be passed along to the teams of the future.
"I don't know how to describe it," Shields said of seeing South Carolina come up at the NCAA Tournament selection show. "It's a feeling unlike any other feeling in the world. All the sacrifices that we make, and all the work we've put in over the past year have been for this moment. To see all that come to fruition was an amazing feeling."
"It was almost like a breath of relief," Ezell said. "All those mornings the last three years and not making it, and now going to sleep tonight knowing that we finally got there, we've been dreaming about this day.
"We finally made it. Every year we've been working. Every year someone says, 'do it for the seniors.' Just to be able to have that year where we finally have practice after our last (regular season) game and not feel like it's our last game, it's just crazy!"
Now that they're in, the Gamecocks are trying to keep their emotions in check and get back to doing what got them to the postseason. Having a head coach who has been in the tournament the previous two years certainly helps.
"Tom (Mendoza) has been a rock for us," Shields said when talking about the week ahead leading into the tournament. "He's been our method of re-focusing. I think our practices this week will be just like any other. Maybe it will be even more intense. I think it will be a great time!"
The Gamecocks will play Colorado at the Maturi Pavilion, home court for the University of Minnesota, on Friday, Nov. 30 at 5:30 p.m. ET.