Olarra Enjoys Historic Opportunity at Augusta National
Former South Carolina All-American Ainhoa Olarra (2014-2018) made history last week after finishing tied for 12th at the Inaugural Augusta Women's Amateur tournament. Not bad for someone competing in her first tournament in eight months after working as an auditor in her homeland, Spain. Olarra was one of 30 golfers who were the first women to play in a competitive golf tournament at the Augusta National Golf Club, and she offers several reasons as to why she performed so well, including playing for the memory of her childhood friend Celia Barquin Arozamena, the former Iowa State golfer who was murdered on a golf course in Ames, Iowa, last September.
"I was really surprised, but at the same time I was enjoying it so much that I think that's probably the reason why I played so well," Olarra said. "Another reason was to play with my friend Celia with me. That gave me so much motivation on the course. The last reason is that I don't have the same pressure as before because I know that I don't practice as much. However, I wanted to do the best I could."
"I was amazed," said South Carolina coach Kalen Anderson, who served as Olarra's caddie for the event. "She's just a competitor at heart. It was like playing a video game out there. I know where to tell her to hit it, and we had a game plan. Then to watch her execute that was just amazing. She hadn't played competitive golf since July! You couldn't have scripted that any better. We had a blast out there.
"She was the oldest one out there.  I kept calling here the grandma of the event at 24. She was the only one who was employed. The rest were in college or waiting to turn pro."
"I don't really remember much about that putt, but I know that I asked Celia for some help before putting."
– Ainhoa  Olarra
The first two rounds were played last week at Champions Retreat in Augusta, Ga., where Olarra overcame an opening round 3-over par 75 by posting an even-par 72 in the second round to force a sudden-death playoff. She won the playoff thanks to an incredible 25-foot putt to clinch the right to play at Augusta National.
"I don't really remember much about that putt, but I know that I asked Celia for some help before putting," Olarra said. "She definitely helped a lot! I am 100% sure that she helped me through the round and on that putt; she was a great putter."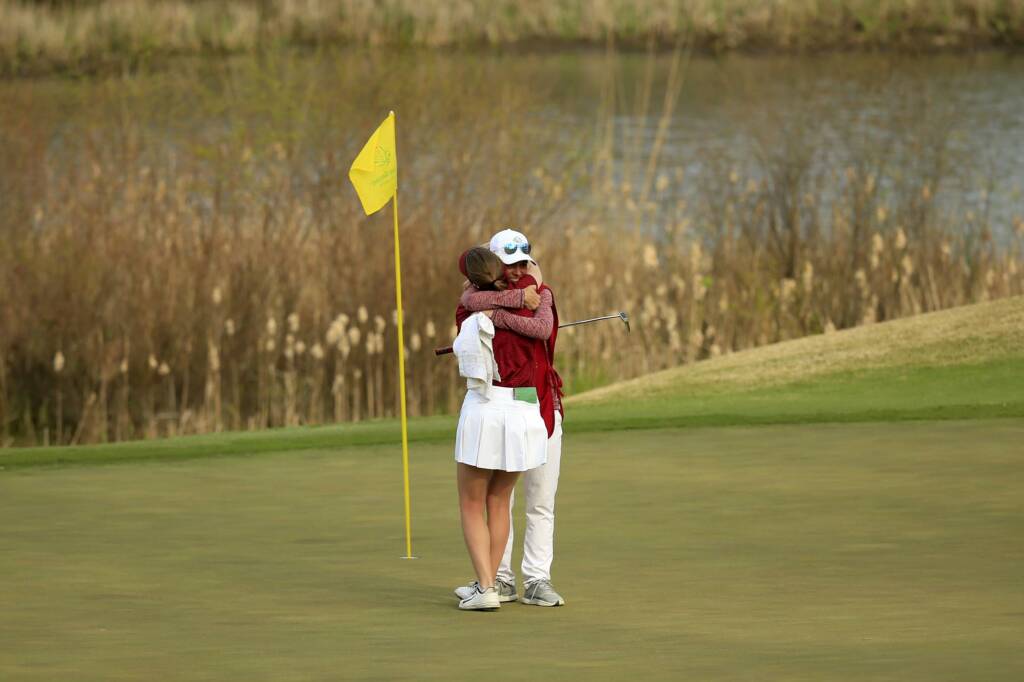 "It went in, and it was just awesome," Anderson said. "The crowds out there, with the number of Gamecocks that were out there, it was so much fun."
While playing the Augusta National Golf Club could be nerve-wracking for any of the world's top golfers, having her college coach serve as her caddie certainly helped.
"Coach was awesome!" Olarra said. "I think we talked so much about other different things; both of us enjoyed it a lot. She knows me well and she knows what to say in different situations."
"I've spent a lot of time on the golf course with her," Anderson said. "That's what I do when they're players. We spend a lot of time out there on the golf course to game plan and manage emotions."
Olarra carded four birdies in her round at Augusta National for a one-under par 71, including the par-4 17th hole where Jack Nicklaus famously birdied in his final Masters in 1986.
"I remember that I didn't have the iron I needed to hit. It was in the locker room!" Olarra said. "However, we managed pretty well to leave the ball close to the hole and make the putt."
Olarra enjoyed a record-setting career at South Carolina capped by her senior year of 2018 in which she posted the lowest single-season stroke average (71.00) in program history. She was named a Golfweek All-American and took individual titles at the 2018 Florida State Match-Up and 2018 SEC Championship. She ranks second all-time at South Carolina in career scoring average (73.44) and career wins (2), and her 12 top-10 finishes are the eighth-best total in program history.
The tournament was significant in opening doors for women to compete on one of professional golf's greatest stages, and the Gamecocks hope Olarra won't be the last Gamecock to play there.
"I am thankful, and I feel proud to be part of the inaugural tournament," Olarra said. "If I have the chance, yes, I definitely will go back again!"
"It was an incredible week for golf in general and for women's golf," Anderson said. "It was just a first-class experience.
"The highlight of my coaching career is to see women's golf grow like that. I think it's going to create a lot of dreams for young females. It's going to be the premiere event that players and amateurs are going to strive for."