Lifelong Medical Condition Doesn't Keep Miles from Thriving
Walking a round of golf isn't always pleasurable for South Carolina senior Will Miles. It's not because he doesn't love the game, however. Miles suffers from a lifelong medical condition that affects his lower legs, causing them to swell and appear unusually sized. The condition, called lymphedema, can cause some pain and discomfort when he's on his feet for extended periods of time, such as when he's playing several rounds on the golf course in a short time.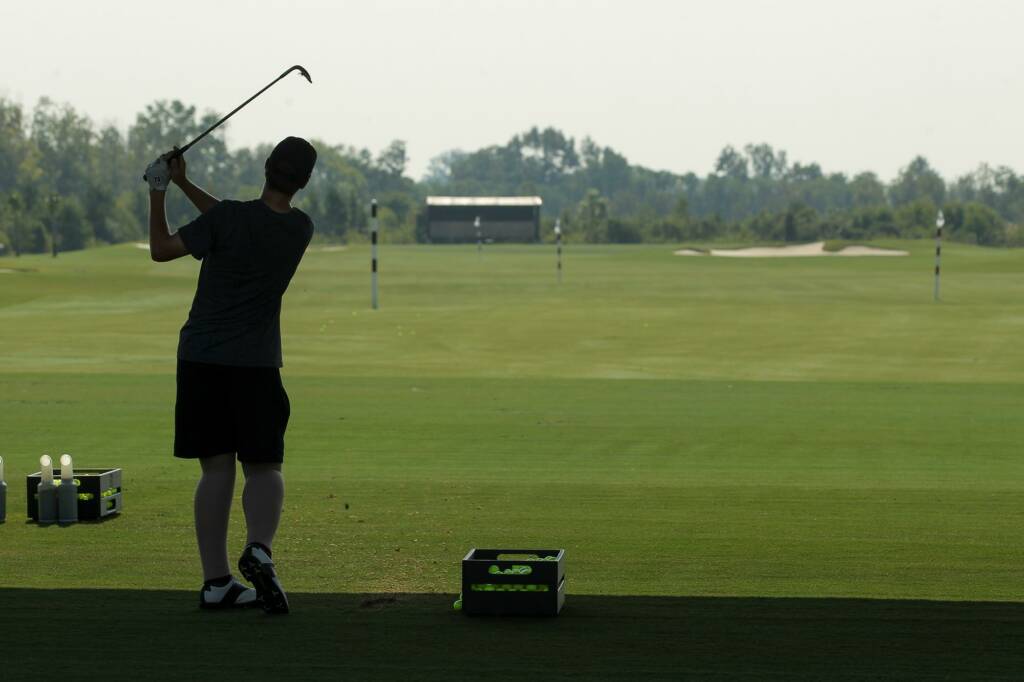 "I don't consider it a handicap, but I think it can be," Miles said. "If you don't manage it well, it can really get out of hand. There are some people it hits really bad. I try not to let it get me down.
"The 36-hole days are long days. It's so nice being outside. Walking compared to running is pretty low stress on my legs. I have to be involved in sports somehow. I'm kind of a sports junkie."
With lymphedema, Miles' lymph nodes don't work all throughout his body, which makes him unable to flush out fluid properly as most people can.
"It can back up in my legs and causes swelling," Miles said. "It can be painful if I let it get out of control, but after dealing with it for so many years, I manage it and keep it under control."
Miles wear compression tights to ease the symptoms, which is why he wears long pants, even on the hottest days on the course. He also uses special equipment every day.
"I use a machine every day for about an hour each day. I wear compression boots at night, and then I wear the stockings throughout the day," Miles said. "So, I'm pretty much in compression 24 hours a day. The fluid can get fibrotic, where it gets hardened, and that's not good. The compression keeps the legs soft.
"We have some quick turnarounds. When we play 36 holes in a day, we'll get done at around 7 p.m., have dinner and some meetings. Then we get up around 5:30 the next morning for the next round. The longer I'm in the boots the better, so the late nights and early mornings can be tough. It doesn't really affect my swing. It can make my legs not very flexible, which is a hindrance."
Head coach Bill McDonald didn't know of Miles' condition while he was recruiting him, and he educated himself on how Miles takes care of himself. He soon discovered that Miles didn't want any special treatment.
"Will is the kind of kid that never complains about it; not one time in the four years that he has been here," McDonald said. "We've had some 36-hole days that have been brutal where he's had to walk up and down hills. Everybody is worn out, and he doesn't say a word about it."
"I don't know if I've had a player be more of a team-guy than Will."
– Head Coach Bill  McDonald
Miles carries an extra bag when traveling for all his compression equipment.
"We always joke that I'm moving in to wherever we're playing when we go on the road because I have so much stuff with me," said Miles, who has a sense of humor about treating himself. "It's all about keeping my legs elevated.  I try to kick my feet up and watch sports."
Miles was born with the condition, which made things difficult at times growing up.
"It was tough when I was young," Miles said. "It took us a while to get it diagnosed. We had gone to doctors all over the U.S. It was actually my grandma's neighbor who recognized it when I was five. She was a nurse.
"I always had to wear stockings or something like that. I wore shorts initially, but everyone would ask about it, so I just started wearing long pants. Kids weren't really mean or anything, but they would ask a lot, and I got tired of it. I was definitely self-conscious about it. It wears on you. My faith has helped me get comfortable with it. That's really all that matters at the end of the day."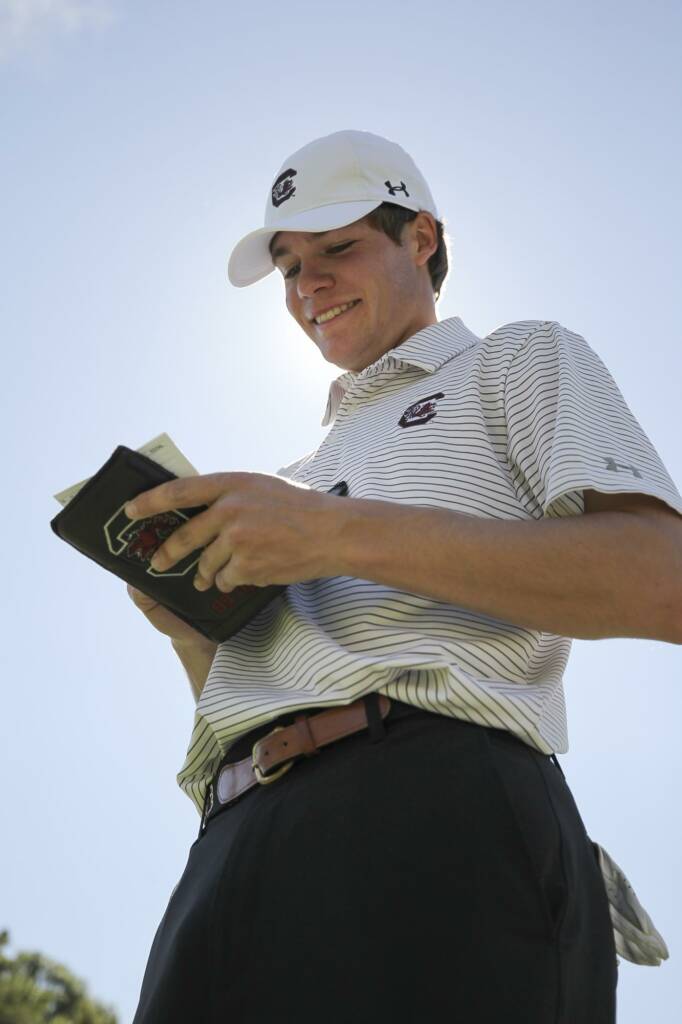 Like many kids, Miles wanted to play a variety of sports when he was younger, and lymphedema limits the running and training he can do.
"I played basketball and baseball up until eighth grade," Miles said. "We knew it wasn't great for me, but I love sports. My physical therapist told me it wasn't the best thing for me. Now, I can't really run at workouts. I can do the elliptical or ride the bike; other kinds of cardio.  It's the pounding on the ground that's not good for it."
Growing up in Hilton Head, S.C., Miles began playing golf before he was in the first grade and started playing tournaments at the age of 12.  He excelled at the sport and was one of the top 10 juniors in the state coming out of high school.
"I like being outside, and that it's all on you," Miles said. "You don't have to have a whole team there to practice. You can get better on your own."
For most college golf tournaments, the student-athletes are not allowed to use golf carts, and sometimes there are complications with his lymphedema, which makes him prone to infection.
"Last year I was in the hospital three or four times. I went in on Christmas morning in 2017," Miles said. "I went in again about 10 days later for a few more days for cellulitis. It first started happening in the eighth grade. If I get a little cut in my skin, even if I can't see it, it can get an infection where my leg turns red and gets hot. It's kind of scary, so I have to go to the hospital and get a bunch of I-Vs.
"My teammates worry about me when it happens. They've come to visit me. They've been really helpful, and they've always been there for me."
Miles has progressed steadily in his career, and while he puts up some great individual numbers, McDonald said he's also a great teammate.
"I don't know if I've had a player be more of a team-guy than Will," McDonald said. "He has ownership in this. He works extremely hard, and he is very talented. He is the kid that is always prepared. He has a lot of toughness. It's a testament to his character and how his parents have raised him. In his dealing with this condition, I think it's something that has inspired the team to a certain extent.  I know this year, for the most part we've all worn slacks (at tournaments) to support him."
Miles is eyeing a professional career in golf after graduation. He currently enjoys conditional status on the PGA Tour-Canada and plans on playing there this summer. The sport and entertainment management major has handled things well, on and off the links. Miles has a 3.7 grade point average, earned his first tournament win earlier this semester at the Cleveland Golf Palmetto Intercollegiate in Aiken, S.C., and recently helped the Gamecocks take first place at the 2019 Southern Intercollegiate by taking medalist honors with rounds of 71 and 65 to finish eight under par. He currently owns a 70.57 scoring average with seven top-20 finishes this year, and he leads the team with nine rounds in the 60s, while ranking second with 18 rounds of par or better in 28 outings.
"It's been quite a progression since I got to school," Miles said. "I've always been a pretty good student. Golf-wise, I've really become a lot better since I came here. The coaches have helped me a lot."
While there is no cure for lymphedema, Miles is in a good place with it.
"I've accepted that I have to keep managing it and keep doing my thing," Miles said. "You have to accept what you've got and don't let it stop you from your goals. You just keep working for whatever you want to do, because if you manage it well, you can get there."