Gamecocks Fill-In at Local School for Student-Led Conferences
Parenting is a full-time job and sometimes it's just not possible to be at every school or sports event involving a child due to work or other commitments. South Carolina student-athletes from football, women's tennis and men's golf sat in for parents who were unable to attend their child's student-led conference at Meadowfield Elementary School in Columbia earlier this month.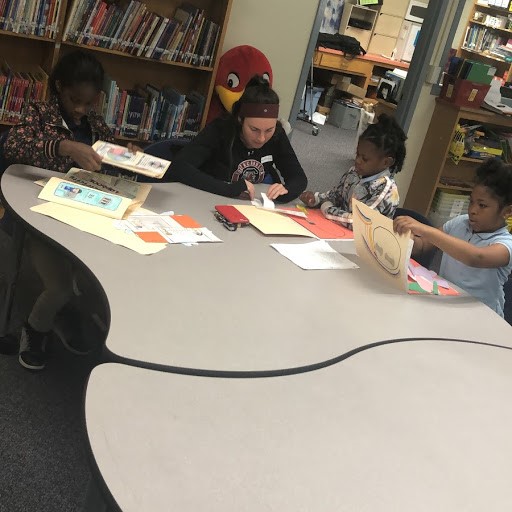 Rachel  Rohrabacher (Tennis)
"Student-led conferences at Meadowfield are an important part of the student ownership of their own learning," said Elyse Davis, Principal of Meadowfield Elementary School. "Students meet with their parents to share their personal achievements and struggles and set goals for the next grading period of school.  Many of our student's parents cannot make the conference.  The partnership with Gamecock Athletics allows our children to share their work, challenges, and goals with caring mentors."
The idea for this service initiative came from Vaughn Granger from Granger Owings Classic Clothiers, which is a partner with South Carolina Athletics, and his wife, Erin, whose children attend Meadowfield Elementary. When the staff in the Student-Athlete Development Office for South Carolina Athletics presented the idea to the Gamecocks, the student-athletes were more than happy to assist.
"I want to be a positive role model in this community," said redshirt junior football student-athlete Donovan Wirt. "The kids were pretty excited, so it was fun. I think we made impact. I liked it when they asked us for advice because they really seemed to take it in. Personally, I got the satisfaction of knowing that I helped somebody out and helped somebody's children out in a small way." 
"I cannot explain the joy on the students faces, both from Meadowfield and the student-athletes, when they sat together and shared their stories of struggles and goal-setting," Davis said. "I believe this will be life changing for both the big and small students!"
"You could tell it meant a lot to them."
Jack  Parrott, Men's Golf
While pinch-hitting as willing listeners may have been an easy thing for the student-athletes to do, the gesture meant the world to the youngsters who were excited to share what they've been learning in school.
"It's great because kids want to show off what they're doing in school, and I know at the school that I went to, it was a great way to show off our strengths and weaknesses and learn to grow," said sophomore golfer Jack Parrott. "I'm from Columbia, and I used to play tee-ball out there at Meadowfield. I sat with groups of kindergartners, and they had large portfolios, about three inches thick with their drawings and writings. It was cool to hear the kids talk about their favorites and just to be there for them.
"You could see it in their eyes in how excited they were to show us their work. Just speaking with them for a little bit, you could tell it meant a lot to them. They asked us a lot of questions about what we do, and they talked a lot about their moms and what they do."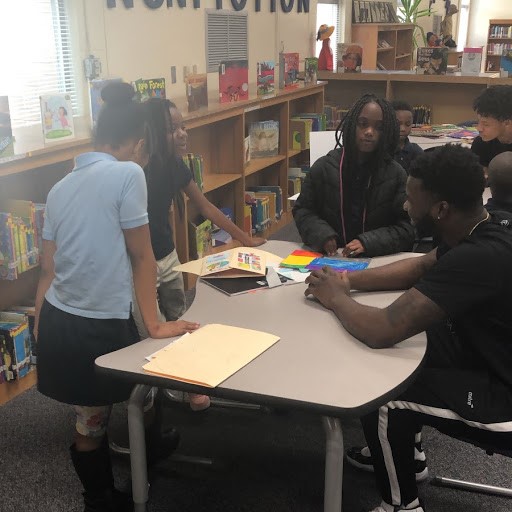 OrTre  Smith (Football)
"It was a good a chance to get out in the community to meet with kids and let them know that we're more than just football players," said red-shirt sophomore Summie Carlay. "There are a lot of other things that are important, such as going to school and being well-rounded. I think it meant a lot because a lot of kids look up to athletes. Just having someone there to support and encourage them can be a big deal, whether it comes from any athlete or anybody else.
"It was a unique experience. The joy of working with kids was the best part. They can be so funny. They loved what they were doing, and the joy they have for everything was great."
Davis noted that Meadowfield has a 28-year history of partnership with the University of South Carolina through the Professional Development Schools Network. 
"This new partnership with the athletic department is a truly a gift to the students at Meadowfield Elementary," Davis said. "Not only did they share their portfolios, but they shared their dreams with the student athletes.  The connection was instantaneous.  Many athletes shared email addresses to keep in touch with the students."
"I always want to give back to the community," said redshirt-senior Donell Stanley from the football team.  "I met a young man there who wants to play football, so I gave him my phone number so we could talk. I wanted to help him out any way that I could."
"Giving back is the best things we can do as college student-athletes," said sophomore Ernest Jones from the football team. "It was a good experience. We love doing things like this.
"I loved every bit of it. I definitely think we made an impact."