After Getting Help for Depression, Brayman's Story is Not Over
It's not uncommon for individuals who are suffering with psychological or emotional problems to do so in silence. South Carolina senior equestrian student-athlete Madison Brayman encourages those who are struggling to speak up and get help. Brayman can speak from experience after attempting suicide in high school and struggling with depression and anxiety for much of her life.
"You're not alone. If you don't do anything about it now, it will only get worse," Brayman said. "There are so many resources to help you, especially here at South Carolina. There are so many people here to help you, and they want to help you. It's not just their job. They love to do what they do."
Life is good for Brayman now, and she has regular visits with Gamecock Sports Science professionals, including Wellness Director Doctor Tim Malone.
"The past two years have been the happiest I've been since I was about eight years old," Brayman said. "They really help here. I'm in a good place. I'm applying to grad school, which is something I never thought possible, so I'm super-excited about that."
Brayman will earn her degree in criminal justice this spring and then hopes to pursue her master's degree. Her dream job is to be a private investigator or a field agent for the FBI.
Life hasn't always been so rosy for Brayman.
CHALLENGES AT A YOUNG AGE
A Rhode Island native, Brayman had been involved with equestrian at a young age. Before she was even a teenager, she went to work on a farm of a well-known name in the horse industry in upstate New York in order to help pay for what can be a very expensive pursuit.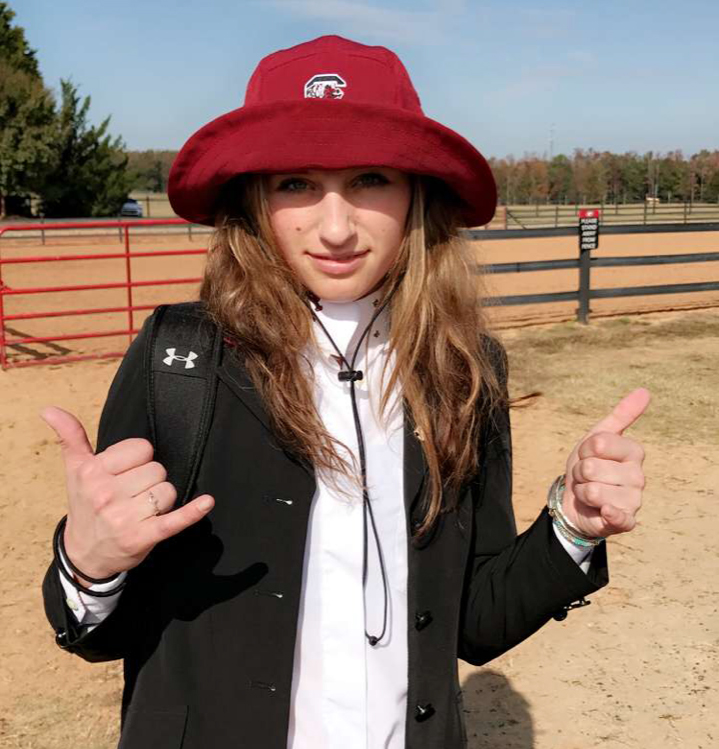 "It was like a dream come true at first," Brayman said. "I started there as a working student to help pay for the expenses of competing at the top level because it's ridiculously expensive.
"I worked 14-hour days when I was 12 years old. I loved it in the beginning. Then it started to get very tiring. Now that I look back, it was a lot for a little kid. That went on for three years. It was full-time. It wasn't just for the summer."
Brayman would fly from her home in Rhode Island to Buffalo, N.Y., every Friday after school and fly back home on Sunday. She lived at the owner's house, and each day saw a long list of chores to care for the horses.
"When we were at horse shows, which was mainly over the summer, we would get there around 5 a.m.," Brayman said. "We'd feed the horses, clean the stalls, water the horses, and all that had to be completely finished before a horse walked out of its stall. There were usually around 12 horses there to care for and there were two grooms (professionals who take care of horses) and me. That's not a lot of people for that number of horses. It's non-stop.
"There were days that I didn't eat because I didn't have time. Well, I did have time, but I knew if I got caught sitting down and eating, I would be demoralized."
After a year of the hectic schedule, Brayman's relationship with her trainers had declined.
"I was being verbally abused and belittled for everything I did," Brayman said. "I could go out and win, and my trainer would say I still wasn't good enough. It was a lot of mean things to say to a kid who had just won.
"I think it started to rub off on me, and I didn't even know it. When I would come home to see my parents, I was mean to them. I was miserable and hated my life, but I wouldn't say why I was acting like that."
It came to a boiling point when Brayman identified a specific event which made her realize that she was not in a healthy place with her trainer. She said she was humiliated by the trainer at a clinic in which Brayman was not even performing.
"She screamed at me like I had never been screamed at in my life, and it was in front of every single spectator, clinician and athlete that was there," Brayman said. "I ran to the back of the barn, called my dad, and told him to get me on the next flight home.
"I was done, but deep down I know I didn't mean that because I knew I would end up coming back because I was really good. I was one of the best at the time."
Brayman hadn't told her parents about the verbal abuse before because she thought working under the trainer was too good of an opportunity for her future. She finally broke down and let them know.
"It was a shock to them," Brayman said.  "I told them everything. A few days later (the trainer) called my dad and told him it was best that I didn't come back because she said I obviously didn't care about this.
"It broke my heart because I knew that I didn't want to go back, but I knew that if I wanted to be the best, I had to. I didn't really think anyone else would give me the opportunity that they did."
As it turns out, there were plenty of other well-respected trainers who were willing to take her on, and she later continued her equestrian pursuits elsewhere. Not all of Brayman's problems were solved, however.
In April 2012, she attempted to kill herself.
"I blacked out after that, and I just remember waking up in the hospital."
Brayman had previously been diagnosed with depression when she was in the eighth grade, along with anxiety and ADHD.
"The doctors related some of that to what had happened at the farm, but there is a history of depression on my mom's side of the family as well," Brayman said. "I was bullied very badly in school when I was young, too. I had moved to Connecticut for two years beginning halfway through eighth grade. I was the 'new pretty girl,' and a seventh grader broke up with his date to the Snow Ball to ask me, and when his girlfriend found out, she turned the whole school against me. It's kind of silly, but they were so mean to me. That's when I started seeing a doctor about it."
She later moved back to Rhode Island. While in high school, she was competing in Wellington, Fla., at the Winter Equestrian Festival as part of a 12-week circuit. There was plenty of competition, and Brayman had the added stress of keeping up with her school work.  As she continued to train and develop her equestrian skills, Brayman thought she was riding well, but she wasn't getting the results she had hoped for.
"My results weren't good enough for me," Brayman said. "I was used to being the only kid in the barn. Now I wasn't. Slowly, it started to eat away at me. By the twelfth week, I was completely fried. I got home and thought that I never wanted to sit on a horse again. I was back to being miserable.
"We were home for about a week, and my mom and I were always fighting."
A disagreement with her mother after an argument with the barn manager who lived at their house sent Brayman over the edge.
"I went into my room and swallowed a whole bottle of antidepressants," Brayman recalled. "I walked out and told my mom that it won't matter anyway because I'm going to be dead."
Brayman locked herself in her room, and her mother called for an ambulance.
"I blacked out after that, and I just remember waking up in the hospital," Brayman said. "My parents were devastated. I'm good at hiding my feelings, which is a blessing and a curse. No one saw this coming. I can't imagine what they must have thought."
RECOVERY
After five days, she was allowed to go home, provided she enrolled in a program to help with her psychological problems. She had previously seen a docto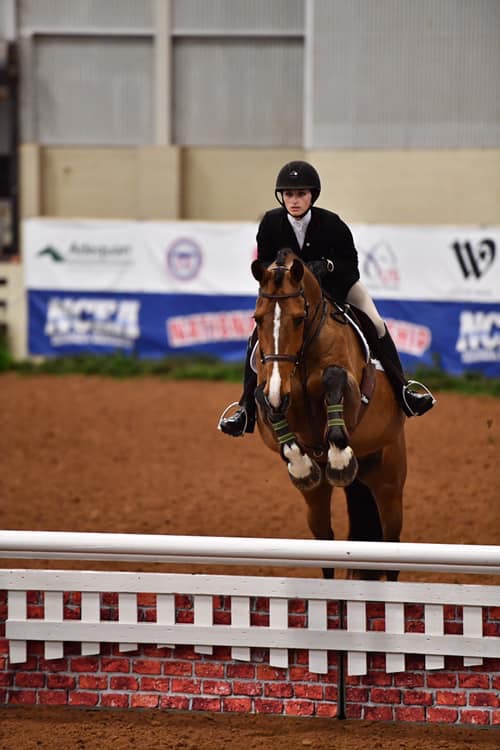 r at Bradley Children's Hospital in Rhode Island.
"It's sort of a psychiatric hospital for children," Brayman said. "I went back to see my doctor there, and he admitted me into a program called SafeQuest, which was a program for troubled kids. That was really scary at first. There were people in there with serious anger issues, had been arrested, or that were addicted to drugs. I didn't think I was like any of the other kids there. I remember everyone staring at me when I walked in.
"It was kind of like Alcoholics Anonymous where you say your name and say that you attempted suicide. Once we heard each other's stories, we became more understanding of one another. We'd meet twice a week for three or four hours."
She graduated from the program a few months later, and Brayman was ready to go back to school. After meeting with the school superintendent, Brayman was told she would have to repeat her junior year of high school.
"I thought everything was going great, and then that happened," Brayman said. "I eventually took it as a chance to start over."
Brayman was out of serious riding for nearly half a year, but it wasn't totally out of her system.
"I didn't take it as seriously as I had before," Brayman said. "I took lessons sometimes. I rode with a local trainer in Rhode Island. I was having fun again. There was no pressure."
Brayman didn't decide she wanted to ride in college until January of her senior year. By then, many of the scholarship offers from collegiate equestrian teams had already been offered elsewhere. After emailing coaches from schools around the country, New Mexico State responded and eventually made a scholarship offer.
"My grades coming out of high school were not good," Brayman said. "I had to fly out to New Mexico and take the A.C.T. I needed a 21 or better to get into school. I got a 27! So, I was in. I literally registered for classes the day before classes started."
STRUGGLES IN COLLEGE
"Because of my high school grades, the NCAA wouldn't let me compete until I at least posted some decent grades in college," Brayman said. "So, I spent the first year and a half there feeling useless. I was still having fun, but it seemed like every time something good happened, something bad was waiting to follow it. There was a rain cloud following me around, everywhere I went."
That trend continued once Brayman became eligible to compete.
"My first semester of my sophomore year, I got a 3.4 (grade point average), and I was eligible for the spring," Brayman said. "Then I was unstoppable! I went undefeated on the (equitation on the) flat. I was 5-1 in the jumping."
Following her spring season, Brayman was selected as a team captain for the next year. Then the rain cloud came back overhead. That summer, New Mexico State announced it was dropping the equestrian program.
"I couldn't believe it. My heart broke," Brayman said. "They would have honored our scholarships, but we wouldn't be able to compete and there wasn't really any time to transfer anywhere. With all of the things that kept happening, I just felt like I couldn't do anything right. No matter what I did, something bad was going to happen."
A short time later, New Mexico State announced it would give the program another year to compete before it was dropped. Brayman made the most of it.
"Even though it was the end, I told myself that I'm going to make it a great year," Brayman said. "I tried to give everyone the mindset that we had nothing to lose."
"Life is going pretty great now. I'm in a good place."
Brayman practiced what she preached and earned All-American honors in equitation over fences in 2018. She wasn't ready to be done with competing in college, however.
"In the beginning of that time when I was deciding whether to transfer or not, I started feeling the bad part of me coming back. The sad me." Brayman said. "I was terrified of the future. I started seeing a psychiatrist again."
A NEW OPPORTUNITY
During that spring, Gamecock Equestrian coach Boo Major invited Brayman to come visit South Carolina.
"I came here and fell in love," Brayman beamed. "I'm treated like a queen here. It's amazing! I committed on the second day. I didn't even ask my parents if I could. I was super, super-happy!"
Brayman performed well in her first year with the Gamecocks, posting a 9-5-1 (5-0-1 SEC) record in equitation over fences and 7-7-1 (3-2 SEC) mark in equitation on the flat, while earning three Most Outstanding Player awards. She has also learned to apply herself in her academic work.
"I made the Dean's List, and I got to do the Honor Roll walk with all the other student-athletes at the basketball game," Brayman said proudly. "South Carolina has changed my life in so many good ways. I've achieved goals I never dreamed possible."
Now in her second year at South Carolina, Brayman is a captain for the Gamecocks, and she's happy to have so many resources available to her if needed. She also participates in the Suicide Prevention Walk on campus each year to help raise awareness for mental health.
Wherever she walks now, there is no longer a rain cloud following her.
"Life is going pretty great now," Brayman said. "I'm in a good place."