Educators Enjoy Discount on Gamecock Football Teacher Appreciation Day
BUY TICKETS

South Carolina Athletics is proud to announce that Gamecock Football Teacher Appreciation Day will return to Williams-Brice Stadium this fall. Educators have always been valued by South Carolina Athletics, and the Gamecocks are partnering with the UofSC College of Education and the South Carolina Department of Education to offer discounted tickets for educators, school staff, and their families for South Carolina's football game against Florida on Saturday, October 19.
 
"This has grown every year, and it goes beyond just selling tickets," said Blake Woodward, Sales Manager for Ticket Sales at South Carolina. "The main purpose of the event is to show teachers and those working in education that they are important to all of us. We want to recognize them and allow them to have a memorable experience."
"Just being recognized and knowing that Carolina values teachers meant a lot," said Robert Harris, who taught at Hand Middle School in Columbia last year and was one of five finalists for the South Carolina Teacher of the Year Award. He's now a program coordinator for the Magnet program in Richland School District One. "It was great having the stands full of teachers who were proud to be there and be recognized. It was nice that so many enjoyed the discount and were able to enjoy the day at the game. I'd definitely do it again."
Tickets are only $30 each, a discount of $40, and educators do not have to be members of the Gamecock Club to buy the tickets.  In addition to the discount, teachers will be recognized on the field and with a special presentation on the video board inside Williams-Brice Stadium.
Educators can purchase as many tickets as they need at the discounted rate to enjoy the game with family and friends. Interested parties can click on the web site, which is also social media friendly, and gives purchasers the option to get seats together with friends and acquaintances.
"I'm a die-hard Carolina fan, so it was a dream come true!"
– Robert Harris, Richland School District One
"When teachers complete the checkout online, it will ask you for a group name and give them a custom link that they can share with other people," Woodward said. "If they go to that same link, it will pair up their tickets and seat them together. They can pick the section, and we won't assign the seats until we get closer to the game. So, you can pay separately and sit together."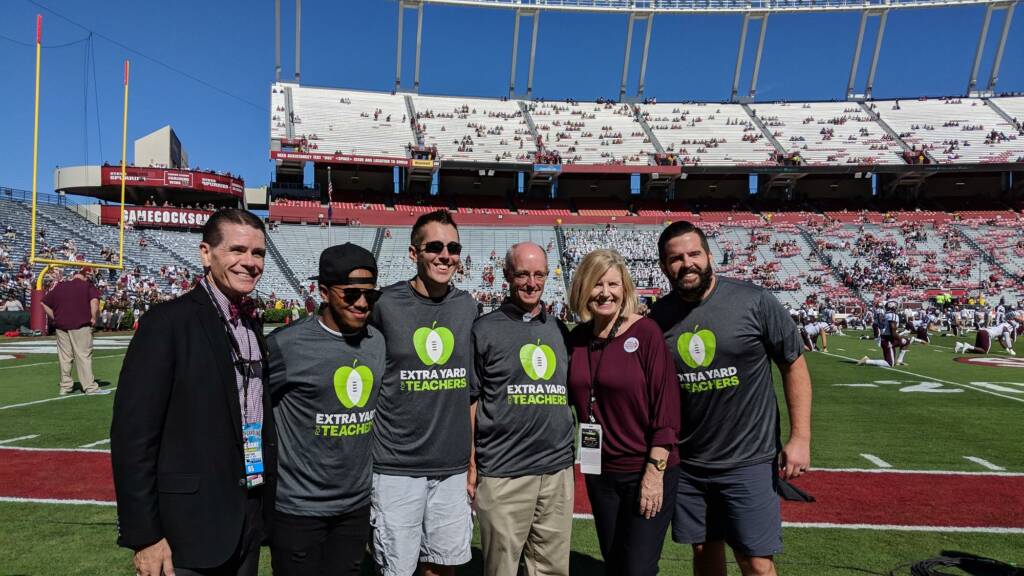 For the educators and their families who may not always be able to attend South Carolina football games, the experience is more than just four quarters of a football game.
"It was amazing," Harris said. "With the group I was with, we were able to go on the field to see the team warm up and get prepared for the game. We were able to shake hands with the coaches and see the team run on the field.
"I'm a die-hard Carolina fan, so it was a dream come true!"
The response for Gamecock Football Teacher Appreciation Day has been tremendous in each of the first four years with demand growing steadily since the inception. More than 2,000 educators have attended in each of the last three years. 
While the ticket sales for Gamecock Football Teacher Appreciation Day are focused on educators in South Carolina, teachers and school staff in neighboring states who are willing to come to Columbia for the game are also able to take advantage of the discount.
To purchase tickets for Gamecock Football Teacher Appreciation Day, please click www.gamecocksonline.com/teachers or use the button below.
 
BUY TICKETS