Beyond Sports Program Helps Wade Dive Into Medical Career
Former South Carolina swimmer Allison Wade didn't exactly dip her toes into the water when it came to getting practical experience for her career. Thanks to South Carolina's Beyond Sports Professional Development and Summer Internship Program, Wade was able to immerse herself in the medical field.
Wade was a member of the Gamecocks Swimming and Diving team for four years before graduating in 2019. She was named twice to the SEC Winter Academic Honor Roll in 2017 and 2018. During the summer before her senior year, Wade participated in the Beyond Sports Professional Development Program. This gave her the opportunity to work with top professionals at Palmetto (now Prisma) Health in Columbia.
"For my internship I shadowed Dr Kristen Nathe, she's a pediatric orthopedic surgeon," Wade said. "I shadowed her all summer and I even got to experience working with her in the OR (operating room).
"I would go to clinicals with her every day and would see patients with her. I eventually got to help her out with the patients, like if they need a wrapping, I would help the cast techs, and I was able to shadow the people that worked for her as well. People such as check-in and out, clinic workers, and her surgery schedulers, which gave me the full idea of how her job worked. It was really cool when I got to shadow her in the operating room. One time it was for a hip surgery on a little girl and it was amazing and really nice of Dr Nathe to let me do that."
Wade had to balance both the internship and her offseason swimming and put in the hard work to achieve at both.
"It was tough training for swimming and doing the internship, but Dr Nathe was very understanding and willing to work around my swimming schedule which was great and very nice of her," Wade said. "I would swim from 7 to 9 in the morning. Then get ready for work at the pool, and I would work at the hospital up until practice in the afternoon, which was lifting at 2 p.m. and then swimming from 3 p.m. until 5 p.m. Those were my days throughout the whole summer. It was very busy, but it was just as fun."
Wade enjoyed the experience and highlighted one of the important learning points from the internship.
"The thing I took away from the internship the most was actually the networking part. I still talk with Dr Nathe sometimes on a daily basis and she wrote me a recommendation letter for both Medical school and Physician Assistant school. Networking and building that relationship with her has been really great.
"Dr Nathe has been really helpful and has become one of the greatest mentors that I've ever had for my future medical career. I think the best part was also just diving headfirst into what the medical field is like right at the moment and just getting a good feel of how things work. Getting to know what her job entails."
"This job has given me a lot of valuable experience and being able to network with different people means it's just a perfect fit."
Wade explained why she took part in the Beyond Sports Development Program.
"Being a swimmer, we go all year round. Summer is technically our only off-season, and I'd never stayed in Columbia for the summer. I'd always gone home to Ohio and worked there.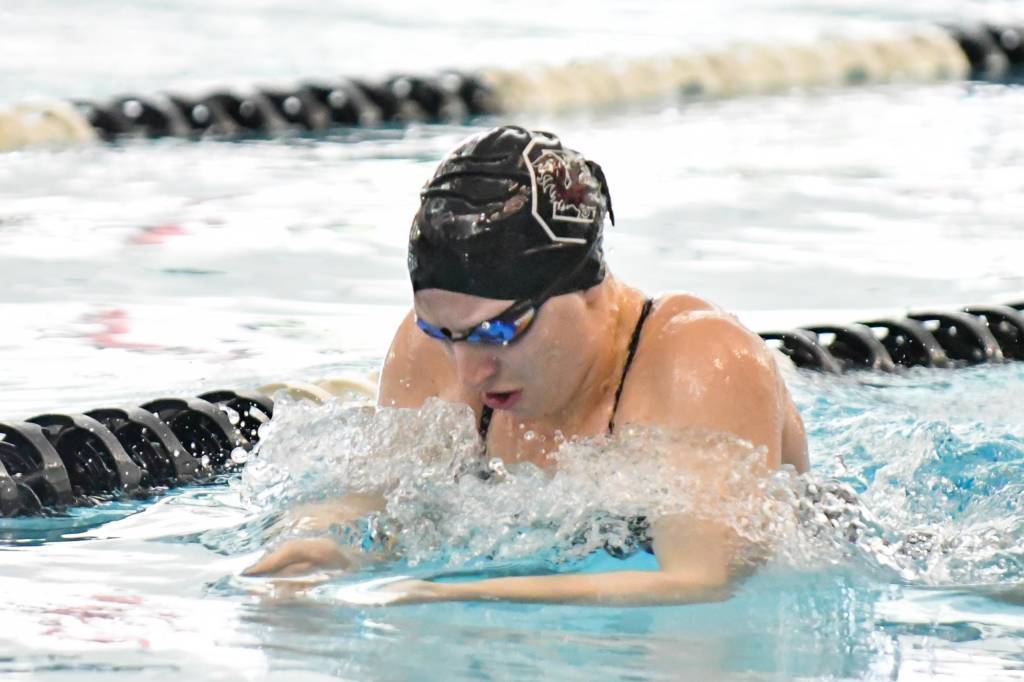 "I really wanted to stay for the last summer before my senior year and train and I also wanted to do Beyond Sports as I wanted to network with different physicians and medical professionals in South Carolina as I didn't know many here. It was the perfect fit. I was able to get an internship with a great surgeon, train really hard, and was able to stay in Columbia."
There were other areas of the program which helped shape Wade's career path.
"We had networking seminars every Monday night as well as the internships, and there was one in particular which was very helpful where old students came back to talk about where they worked now," Wade said.
Wade shared a turning point she had during one of these sessions.
"Claire Miller (women's soccer 2013-2016), a Physician Assistant student at South Carolina spoke to us, and it was very interesting as I was still on the fence between Medical school and PA school. I asked her to compare both and it was really interesting because she rattled off these reasons why PA school was great and at that point in my head, I knew that It was something I wanted to work towards. That was very helpful, and she now works with the USC Palmetto Health organization, so it's been really fun to work with her for a few days recently as well."
Wade graduated in May 2019 and is continuing her work in the medical field.
"After my internship with Dr Nathe, now I'm working at Palmetto Health in a different department. Dr Nathe really helped me with getting the job. I'm working in hand and upper extremities and I love working with all the different physicians here.  Honestly, it's the best thing that could have happened. I love working in this department.  My boss is amazing, and all of my coworkers are great. It's so much fun and I love working for all the physicians.
"Currently I'm getting my patient care hours at USC Palmetto Health for PA School. I'd love to go to the Medical University of South Carolina in Charleston. They require a thousand hours for school so that's why I'm working for a year and applying. This job has given me a lot of valuable experience and being able to network with different people means it's just a perfect fit."
Wade wanted to give thanks to her coaches during her time as a Gamecock, who helped her through everything. "Kevin Swander was the breaststroke coach when I was at school and is now the associate head coach. I really appreciated how he was so supportive of me not only during my senior year but my four years both in and out of the pool and towards my future career.
"He was very understanding that summer as there were some surgeries that I wanted to shadow, and he let me go and make up practices at other times. He's also written my recommendation letters and I just appreciate how supportive he was to me. We're still in contact and I still see him at meets when I go to watch in Columbia. I just wanted to give a shout out to him."