Former Gamecock is Helping Kids to Use Sports as a Vehicle for Education
Lynette (Keppeler) Washington is not a stranger to multitasking. She was an SEC Champion in the shot put for South Carolina track & field (1997-2001), and also played basketball (1996-97) for one season with the Gamecocks. More recently she has combined her passion for sports with a passion for community outreach, serving as the executive director of the International Youth Education and Sports (iYes) Foundation in Arkansas, a non-profit organization dedicated to helping local youths discover their own passions through education and athletics.
"I've always worked with kids," Washington said. "When I was a kid, they let me stay in the nurseries with the babies at church. My life's work is centered around kids, and I've been an athlete my entire life, so it makes sense. Getting to kids and letting them understand that education is a pathway to power, knowledge, and freedom is important. Sports are a great vehicle for that.
"The world can get so small once you get out there and get to know people. That's just my personality. If you talk to me for five minutes, you'll probably feel like you've known me for a lifetime!"
Washington works in her local community and abroad as well through her work with the non-profit.
"It was started almost four years ago, and the founder is originally from the Bahamas, who came here to play high school basketball and went on to get a scholarship to play at John Brown University," Washington explained. "Most of his work had been done back in the Bahamas. I went there with him last fall to run a division I basketball tournament as a means of creating a rallying cry for young girls there and getting them connected to sports and higher education so they can see a possible pathway for themselves for bigger and better things. This gave them their first experience around women's college basketball.
"We had around 400 girls between fifth and eighth grade there to come to the games and interact with the players. They were able to share the Bahamian culture with the Americans, and we did some community service projects with some of the teams, most of which were centered around hurricane relief efforts after they were hit in September. It was a phenomenal experience."
"We want to develop self-care and awareness that they have something to offer this world."
Washington is also an adjunct faculty member at the University of Arkansas, teaching a lab portion of a strength and conditioning class where her husband, Tyrone, is also an associate professor of exercise science. Her work with the iYes Foundation also focuses on helping youths in her local community.
"Some of the programs we do around here center around social and emotional learning, and empowerment of kids who are working on some really cool projects in their school," Washington said. "We want to empower kids and families to figure out what they're passionate about and how they can use those passions to impact the world around them with education and sports being our two vehicles.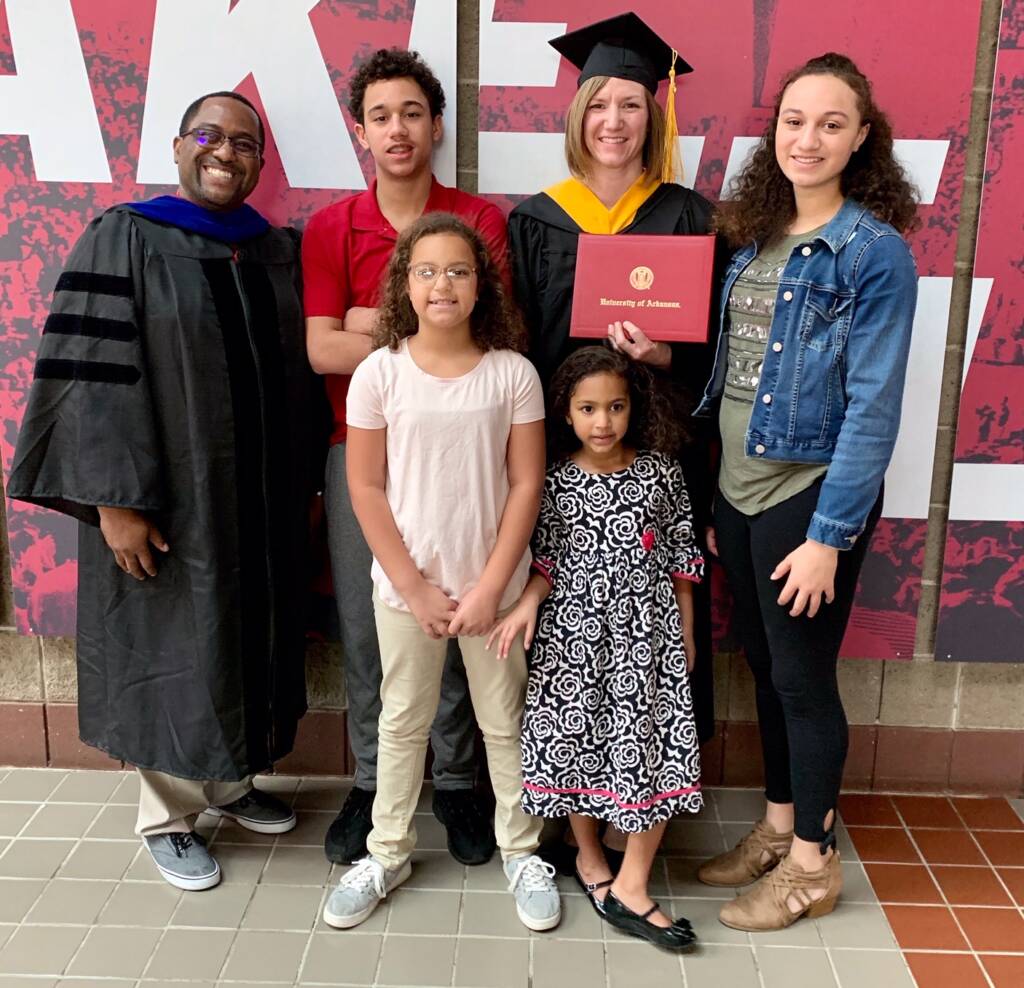 Lynette Washington and family.
"I've been piloting a social and emotional learning project in our middle schools where we want to get kids connected to self-identity. From there we build out teamwork and collaboration. We want to connect them to a diverse social network. Again, sports are a perfect vehicle for all of those things. We also have a summer basketball league where we incorporate that while teaching them the skills of basketball. We're also working on an afterschool program at one of our alternative high schools where we'll go in a couple days per week, teaching them the skills of basketball and other skills that they are interested in. This is among a population that is primarily Hispanic and Marshallese (pacific islanders). We're building soft skills such as leadership and development. We want to develop self-care and awareness that they have something to offer this world. We want to show them how they can contribute to society as they get ready to graduate."
Balancing her two jobs as well as a family, which includes her husband and four children, Washington is accustomed to tackling different passions. She started her career at South Carolina on the women's basketball team (1996-97) and then competed in track & field for four years. She won the SEC Indoor Championship in the shot put as a senior in 2001, later advancing to the NCAA National Championships, which were held in Fayetteville that year.
"If I could come back and do it all over again, I sure would!" Washington said. "I loved every minute. I loved going to practice. My last two summers, I worked the grounds crew in the athletics department.
"When coach (Curtis) Frye and (assistant) coach (Mike) Sergent are here at a track meet, we're over there to see them. To this day, I'll always go over and give them a hug and catch up on life. It was a family that Coach Frye built, and I'm so happy that they're still there doing that."
Washington graduated from South Carolina in 2001 with a degree in statistics and earned her master's in public health last fall from Arkansas. While she works at Arkansas, she is still all about the Gamecocks!
"We go to a lot of Razorbacks events here, but I will not let my kids 'call the hogs,'" Washington said, referencing the traditional cheer by Arkansas fans.
Washington is grateful for the resources available to help others in need, and she looks forward to continuing to grow those efforts at home and in the Bahamas.
"We're looking at having eight teams for the tournament next year in Nassau," Washington said. "We'll be heading down in April and will also be building a basketball court on a more remote island called Andros. We'll be working with the ministry of education and some other key people there to grow our outreach for the event. We'll be in the schools and connecting with the kids as we bring high level basketball into the Bahamas. Some other organizations are following suit, but we have a focus on how we are impacting the local economy, the local kids and their families with our presence.
"I have a friend who does global missions work, and she says that we have about five percent of the population in the U.S., but we have around 95 percent of the resources. We're working on figuring out how to share those resources in the Bahamas."