Gamecocks holding on to Olympic dreams for another year
South Carolina track and field has a proud history in the Olympic Games with more than two-dozen former Gamecocks competing for their respective countries over the years. Due to COVID-19 postponing the 2020 Olympics in Tokyo, Japan, several Gamecocks had to put their Olympic dreams on hold for another year. So, what happens now?
"I had already qualified for the Olympics in my last season," said graduate student Aliyah Abrams, who is a member of Guyana's National Team and had previously competed in the 2016 Olympics.  She had earned he degree in public health in 2019.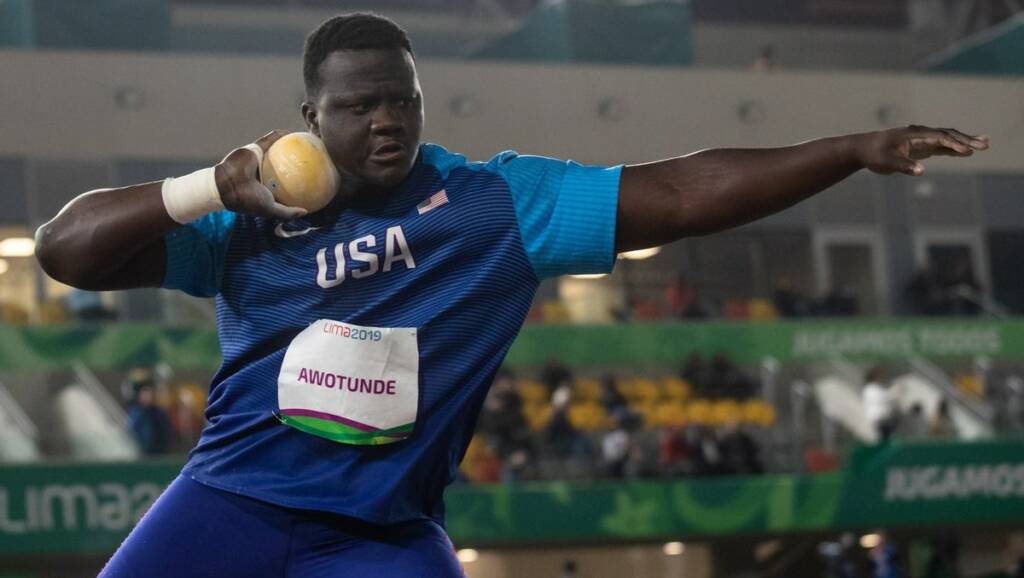 Josh  Awotunde
"Last year I finished in fifth place at Outdoor Championships, and the U.S. Team takes only the top three," said Josh Awotunde (2014-2018), a four-time All-American in the shot put who graduated with a degree in Public Health. "I was climbing up the ranks for sure. The Olympic qualifiers would have been in June. I would have still had three or four months to continue to try to train and make it."
"I already represented the U.S. last year, so I was looking forward to doing that again at the Olympics this time," said Wadeline Jonathas, a two-time national champion for the Gamecocks, who is graduating in December with a degree in Retail. "I had hit the standards to go to the Olympic Trials. Nothing is official yet for the U.S. Team because you have to go against the best in the country, but I had the standards that I would have already gone through the trials by now and possibly qualified for the Olympics."
While postponing the Olympics was disappointing for some, the athletes took it in stride.
"I was concerned about the well-being of myself and others," said Jonathas, who was competing in the 400 meters. "It wouldn't have been a good idea to have all of the athletes and the people coming in to watch, all in one place and then go back home. That would have increased the spread of the virus. I think it was a good idea to postpone it."
"Initially, I think a lot of us were on the fence about it," said Abrams, who also competes in the 400 meters. "A lot of the places for training were closed, so I wasn't doing a lot of training at that time to keep me sharp. So, when the decision was made, I was kind of relieved because nobody wants to go into the Olympics with that uncertainty.
"It was easier to take since I had been to the Olympics once, but I also want to get better and be at the top of my game going in. The people with Guyana (national team) called me and were very supportive, so I'm still on the team. They still want me to go next year, and I want to go next year, so it's just a matter of keeping fit and staying healthy and getting my mind set for the next step."
"It didn't feel real at first," Awotunde said. "We were all thinking they were going to find a way to have them. Some thought maybe it would be pushed back until September. Once nothing changed, it really set in. It's still setting in. A lot of people could use the time to prepare for next year, so that's what I'm doing."
"Competing in the Olympics would mean a lot."
– Wadeline  Jonathas
With track and field being one of the signature sports for the summer games, the athletes look forward to fulfilling their dreams and goals that have brought them this far.
"It would be a dream come true," Awotunde said. "I made a couple of (U.S.) teams last year. I made the Pan American (games) team and another team that was in Belarus but making the Olympic team would be a dream come true for me, my family, my coaches at South Carolina, and my coaches in high school. I'm glad I have another year to prepare myself.
"The U.S. had the Olympic Gold in 2016 and at the World Championships last year. Things are pretty stiff right now with the competition for shot put, but me being the younger guy, hopefully I can use this time to advance my skills. With that U.S. team being so good, it would be a blessing to make it. The U.S. has been kicking butt in the shot put since the dawn of time! That's another reason I want to compete for the U.S. because I know if I make that team, then I know I'm good enough to win a world title."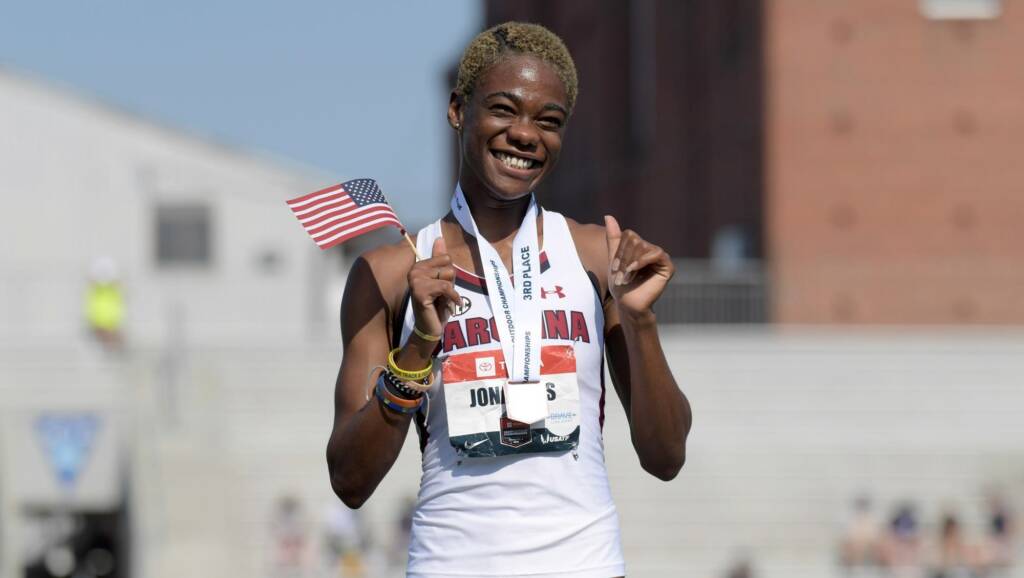 Wadeline  Jonathas
"Being an Olympian is the top goal for a lot of track athletes," Abrams said. "That's the one place you want to make it to. It means a lot to be there. It's an experience you really want to take in and enjoy the moment because you never know what will happen. It's something I really appreciate being a part of and being able to go."
"Competing in the Olympics would mean a lot," Jonathas said. "It's not my only goal. My goal is to win. Unless I win, I don't feel like it would mean as much to me, other than that I would have been grateful to have been there."
In the meantime, the Gamecocks are doing what they can to be ready for next year.
"I'm in a good position," Jonathas said. "I'm training anywhere I can now. It was kind of tough first when things were closed. I have somewhere to run and somewhere to lift now. It was very difficult at the time when we didn't have a place. As sprinters, we can't just continue to run on open concrete because it's not good for you. It was extremely difficult to find places to train at first.
"Now I need to get as strong as possible. A lot the people I'm going against have been in the game for a long time, so I probably needed to catch up. I don't worry about younger people coming up. For me to worry about other people would mean I'm not trusting in myself and my training."
"My goal for the next year is to improve on my personal best," Abrams said. "I really want to break 51 (seconds) and get into the 50s. I also just want to say healthy and get stronger. I want to a feel a lot more well-rounded."
"I'm at the Olympic Training Center," Awotunde said. "When I finished college, they contacted me and supported me by bringing me out there to train in San Diego. Housing and training and meals are paid for, so it's pretty nice for now. For a good time, the Training Center was holding on strong. We were training, and people were staying six feet apart. About two months ago they stopped letting anyone train there. You could go off site and train somewhere else, so that's what I did for a while, but then recently the Training Center opened back up."
"I have time to develop. I'm still getting stronger and trying to convert my strength into further throws."