Gamecock Swimmers aren't giving up quest to compete at the Olympics
Seeing former South Carolina student-athletes competing in the Olympics is nothing new. Several current and former Gamecock swimmers had a shot at competing for various countries this year before the COVID-19 pandemic put their dreams on hold with the Games being postponed until next summer in Tokyo, Japan. So, how does that affect their chances of competing in the Olympics in the future?
"My situation related to making it to the Olympic games for Israel is a little bit complicated," said senior Itay Goldfaden who is majoring in computer science. "First, I qualified in the 4×100 mix medley relay last year in the 2019 Swimming World Championship in South Korea. We needed to finish in the top 12 in order to qualify, and we finished at 10th place. In addition to the relay, my main goal is to qualify in an individual event. Therefore, my last two qualifications meets were supposed to happen during the middle of June."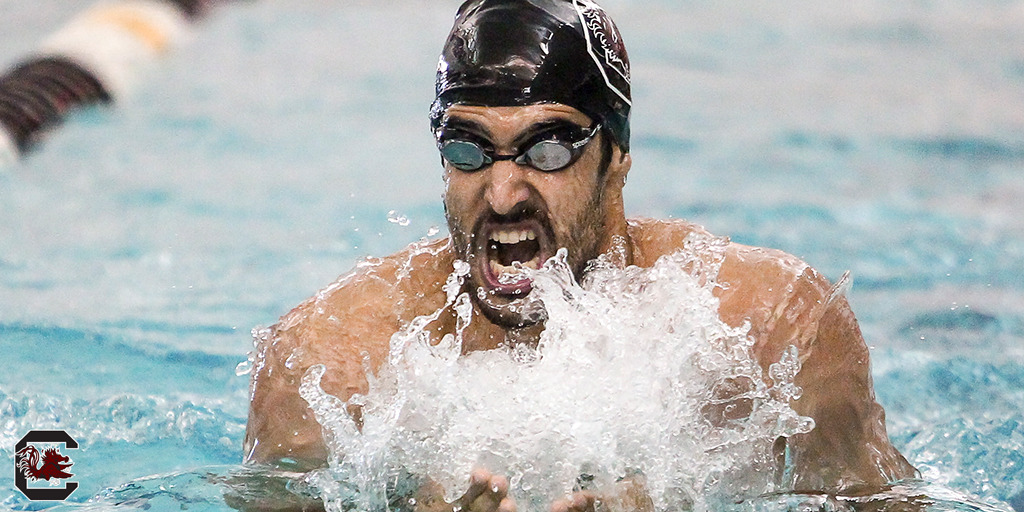 Itay  Goldfaden
"I had not yet qualified for the Olympic games before they were canceled," said former All-American Albury Higgs (2016-2020), who earned her degree in public health this spring and has been representing the Bahamas in international competition since she was 12-years-old. "Qualifying for the Bahamas requires having specific time standards, and I had hopes to make those times in meets throughout the spring and early summer. However, that was all put on hold starting in early March, when the pandemic broke out."
"As I get back into tough training, I hope to become a stronger and smarter athlete. I hope to compete in meets this upcoming fall and winter, although right now we are not sure what that will look like. By the beginning of next summer, I hope to qualify for the Olympics by meeting the required time standards."
Former All-American Emma Barksdale (2015-2019) qualified for Olympic Trials in the 100/200 breaststroke 200/400 individual medley, and while she was not one of the top six swimmers to make the U.S. Team for 2019-2020, the cancellation of the Games still impacts her career.
"I struggled with the option of retiring from the sport of swimming, since I had made up my mind that the 2020 Olympic Trials were going to be my last swim meet ever, prior to COVID-19," said Barksdale, who graduated in 2019 with a degree in public relations and a sports management minor. "On one hand, I really wanted my last meet to be Olympic Trials, but on the other hand I was mentally preparing myself to be done in July.  I had made plans to move to Denver with my boyfriend and had already applied for jobs there.
"After I made my decision to keep training, my family, teammates, and my boyfriend were so supportive, I knew getting back into shape would be tough and there is always the thought of 'I could have been done with swimming,' but as soon as I got back into a real pool, I knew I had made the right choice to keep swimming."  
Hearing the news about the cancellation of the Olympics led to a lot of mixed emotions for the athletes.
"I was more relieved than anything," Barksdale said.  "I am glad that the USOC listened to its athletes in postponing the games. When I left Columbia, because our pool at the Blatt had closed, I was nervous about what my next steps were."
"I heard that the games were canceled on the news, but also got a call from one of my coaches," said Higgs, who competes in the 200m and 100m breaststroke. "I was shocked, but at the same time relieved. Like me, many athletes I know had been stressed about not being able to train and compete due to stay-at-home orders and the closure of training facilities. The cancellation of the Olympics for this summer was almost a blessing, as it gives me more time to try and make my dream a reality."
"When I found out that the Olympics were canceled, I was in quarantine with the national team in Israel, and we all felt very sad," Goldfaden said. "I remember the exact moment. It was during our lunch break. One swimmer just told us all, and we did not want to believe that it was true. Maybe a bad April fool's joke. Because the NCAA championships were canceled just a few weeks beforehand, I felt like everything was happening so fast, and it took me a while to realize what happened."
"It makes me hopeful for this upcoming year, knowing that I have been given an extra year to accomplish my goals."
– Albury  Higgs

For most of the athletes, the opportunity to compete in the Olympics is the ultimate dream, and they know that the window of opportunity to do so doesn't stay open for very long. Qualifications for each national team may differ and are fluid right now as certain countries may not have the chance to re-qualify their athletes.
"For athletes who had already qualified prior to the cancellation, their qualification stands," Higgs said. "Since I had not qualified, I have a lot of work to do in the next year so that I can qualify. Since I have graduated, I will be training with a group of post-grad/ professional swimmers starting this fall but will continue to train at South Carolina.
"Competing in the Olympics and representing my home country of the Bahamas has been a dream of mine since I started swimming at six years old. For the past four years or so, it has turned into more of a realistic goal than a dream, something that could truly happen if I put my all into it. It would mean the world to me to qualify and compete for the Bahamas in Tokyo."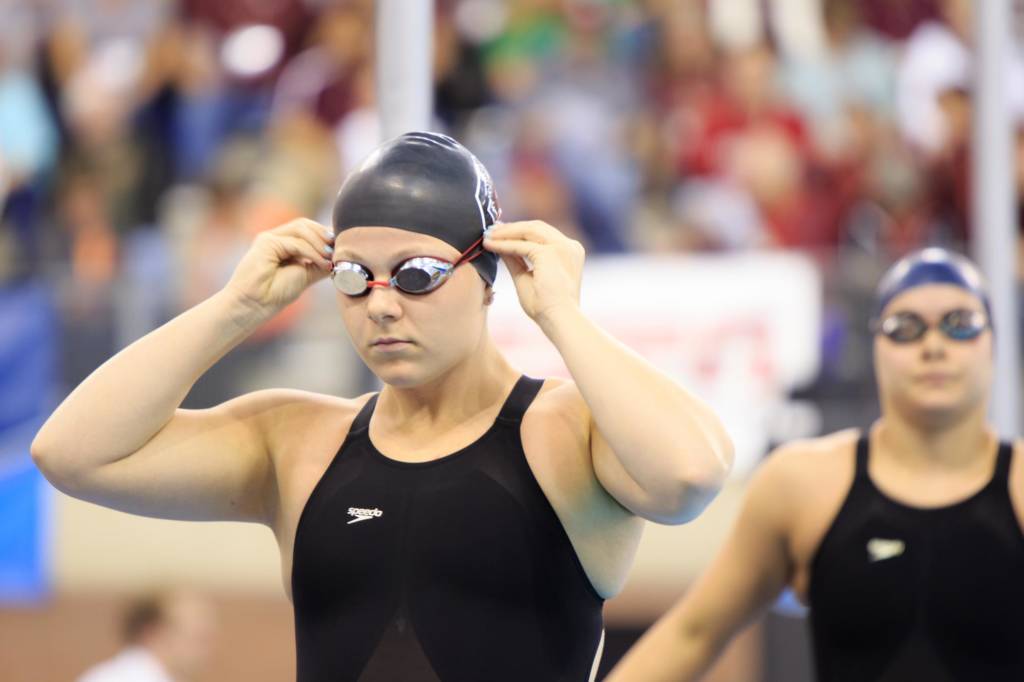 Albury  Higgs
"Right now, we do not really know what is going to happen next year for the swimmers," Goldfaden said. "The federation is waiting for an official recommendation/rules from the IOC to make a decision. I know that in some other sports, the athletes have been informed already that they will have to qualify all over again so I believe that it will be the same for the swimmers as well.
"To take part in the Olympics and to represent my country will mean so much to me. Ever since I was a child, I always dreamed about racing in the Olympics and I think that a lot of athletes who compete at the NCAA have the same passion as I do. We all want to be the best of the best."
"I have heard that USA Swimming is possibility going to make the Olympic Trials cuts a little faster, but they have not released an official statement about what the Olympic Trials are going to look like in terms of cuts, at least to my knowledge," Barksdale said. "I don't know if I will have to try and re-get my cuts, because of the possibility my times had expired from when I last swam them.
"I have always thought that competing in the Olympics would be a dream come true. To compete at the highest stage for my sport and represent the United States at the Olympics would be the perfect way to end my swimming career."
While a lot can happen in a year, the former Gamecocks now have to find a way to make the best of it and stay focused while trying to train wherever possible.
"Pools, along with all other training facilities, were closed from the middle of March to the end of May," Higgs said. "Unless you had your own back-yard pool or lived on a body of water, training in the water was impossible. Pools have been slowly starting to open back up with new rules and regulations, so swimming in a pool has become accessible again in small groups. I have been able to slowly start to train again, so that is a blessing."
"It has been tough to stay motivated, especially recently with all that is going on. However, this time off at home with my family has allowed me to re-evaluate my goals, and I know that this is something I want to accomplish. Since I was someone who hadn't qualified yet, it makes me hopeful for this upcoming year, knowing that I have been given an extra year to accomplish my goals. I know that a lot of hard work is in the near future for me, but I also know that it is something I want to give 100-percent into making happen."
"As of right now, I am able to train with my club team in a 25-yard pool and have actual workouts as well as go to a gym to lift weights," Barksdale said. "I plan to go back to Columbia later this summer and continue training as a post grad with the team. I'll be living with two of my old teammates, one who is going to be swimming as a post grad as well, and the other will be doing graduate school."
"Next year is going to be very challenging for me," Goldfaden said.  "Unfortunately, I only have one more semester left in South Carolina. During this semester I will be able to maintain a high level of swimming with the university swim team. Because I am an international student, I need to find a job in order to stay in the U.S. Otherwise; I will have to go back to Israel right after graduation. Going back home can harm me greatly because the swimming level in Israel is so much lower than the swimming level in the U.S.
"I really enjoyed my time here so far, and I do not want to leave South Carolina just yet. With that being said, I hope that I will be able to find a job in my field in the Columbia area while maintaining a high swimming level, which is not going to be an easy task. I just want to thank the Athletics Department for their help so far. Stay safe and GO COCKS!"