Seniors look to carry on tradition of stout defenses for Gamecock soccer
As the saying goes, defense wins championships. South Carolina women's soccer is known for playing great defense, and senior captains Anna Patten and Sarah Eskew are vying to add their names to the long list of outstanding defenders for the Gamecocks.
"I think because we have been around and have been a part of that strong defensive unit, we know what to expect," said Patten, who is studying sociology.  "With new players having to step up into their roles, it's important for us to be teachers and leaders to help them and help us be just as strong defensively this year. The coaches emphasize the minute details."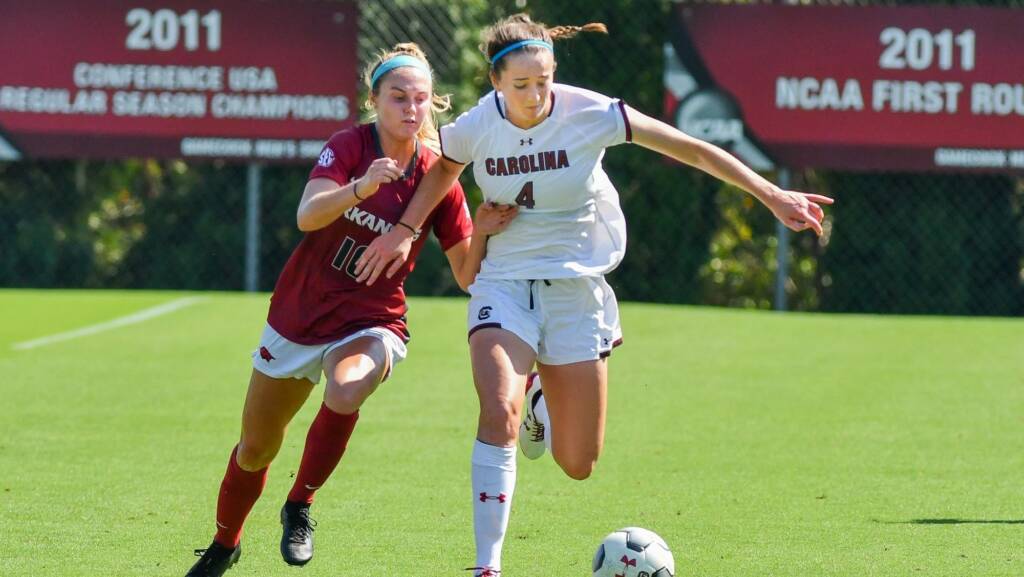 "Since we have been a part of backlines that have been really strong, we have an idea of what a good back line looks like and what we should be doing," said Eskew, who is studying public health and wants to work in hospital administration. "It gives us some knowledge to help teach the freshmen or the girls who are now starting or getting more minutes."
"(Associate Head Coach) Jamie (Smith) really puts an emphasis on defense. Defense is really the foundation of our team. It's not just the backline. It's the whole team."
The Gamecocks won the SEC Tournament last year for the second time in program history after winning back-to-back regular season titles in 2016 and 2017. Defense has been a big part of that as a South Carolina player has earned SEC Defensive Player of the Year honors six times in the last 12 years, including three years in a row. Kaleigh Kurtz took the honors in 2017 and Grace Fisk won it in each of the last two years.
"We want to do well as a team, and if at the end of the season, someone gets an honor like that, then it's a credit to them, and it's also a credit to us as a team," Eskew said.
"I don't think anyone goes out there looking for the individual awards," Patten said. "It's a team sport."
With Fisk and All-American goalkeeper Mikayla Krzeczowski graduating last year, this year's defenders know they have big shoes to fill, especially with a new keeper in goal.
"It's definitely different because we're so used to hearing Mikayla's voice back there," Eskew said. "It's just important that we're communicating with the new goalkeepers and talk about their ideas and what they want to do and also have us giving them advice because we know what good goalkeeping is and how it improves our game so much more when we're compatible."
"I think all the goalkeepers have the ability to be just as good as Mikayla," Patten said. "It's just a matter of them stepping up and for us to have that trust in them."
"We get mad when any goal is conceded by us."
– Anna  Patten
Patten won a national championship at Florida State before transferring to South Carolina and helping the Gamecocks win the SEC Tournament last year. The native of Harpenden, England, has contributed to 39 shutouts in her three seasons on the pitch. She earned Second Team All-SEC honors last season and was the only two-time Defensive Player of the Week in the league last year.
Eskew has quietly carved out a nice career in the backline as well. The Centerville, Ga., native has started 45 straight matches for the Gamecocks and has made a total of 54 starts in three seasons. Eskew has played a big role in the back line, helping the Gamecocks post the most shutouts in a single season in program history in 2017 (16) and then breaking that total again in 2019 (17) while helping the team achieve the best goals against average in program history last year at 0.320.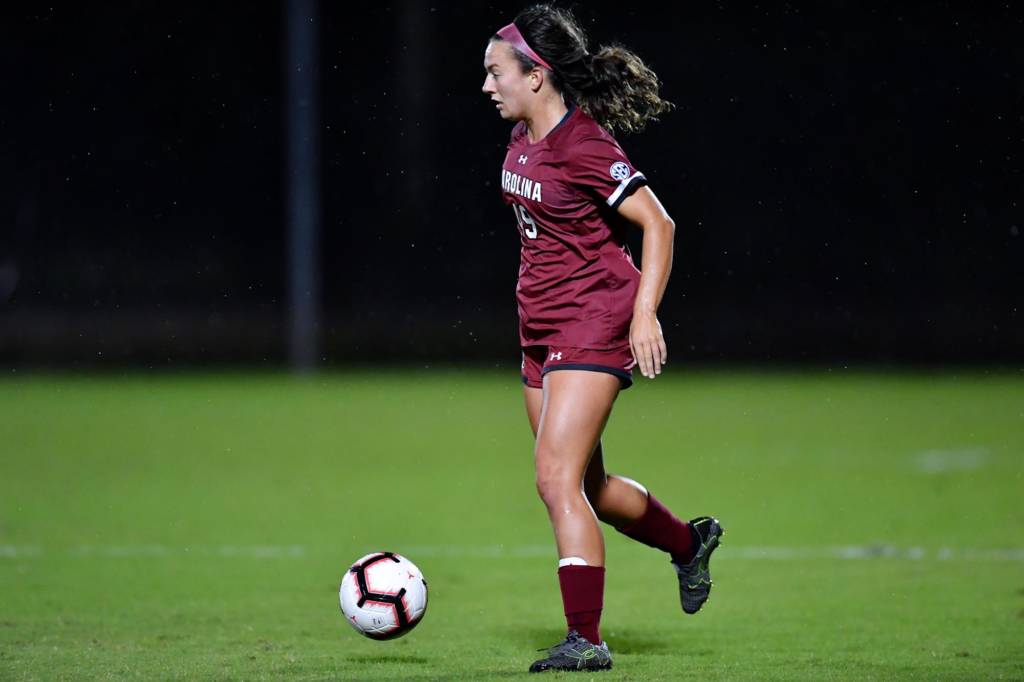 Both Eskew and Patten don't mind getting into the attack and scoring goals themselves when the opportunity arises, but helping the team post a clean sheet (shutout) is more satisfying.
"I have to admit, when we're attacking in training, I'm all for a goal, but no, it's got to be a clean sheet," Patten said. "We expect and want that every game! We get mad when any goal is conceded by us."
While each has enjoyed a solid career so far, they're both still working to get better.
"I think one of my strengths is my composure," Patten said. "I trust in my ability to stay relaxed, and I hope that will help the girls around me. Something to work on for me is being a loud voice back there and really leading from the back."
"Since it's my fourth year in the program, I've learned so much," Eskew said. "With new girls around me, I feel like I have a lot to give. I want to give solid advice, and I hope that people will come to me and know I am reliable with that. You always want to improve your game. The last couple of years, I've wanted to be more of a threat going up the field."
2020 has been a different year in a lot of ways, and the athletics calendar has had to adjust to the COVID-19 pandemic. SEC soccer teams will play only league games this fall, and a spring non-conference schedule and postseason will likely be added. For now, the Gamecocks are trying to make this season as normal as possible by playing great defense and doing what it takes for another championship run.
 "After a year when you lose someone like Grace, you hope to have some experience, and those two have been excellent for us," Head Coach Shelley Smith said.  "Anna is finding a new role this year where she has to be the one organizing and being a bit more vocal. We've talked about how this is going to help her develop even more as a player. She can take on more responsibility and help other players. It will be a good transition for her and for us.
"Having Sarah back there is big for us as well with the experience she has at the position. She is more valuable than she gets credit for. She has become more of a standout in the back for us. It's hard when you get overshadowed by people like Mikayla and Grace. Sarah is a really consistent performer, and I can see her becoming more of a dominant one in the back. She has the ability to get up and down the field and get into the attacking half. She serves a great ball, so she can create some opportunities for us on offense. They both bring senior leadership, which is huge."