Commitment and confidence help Stone develop into a top distance runner
When Heather Stone made the commitment pursue running with passion, the results soon validated her effort. The graduate student cross-country runner has progressed each season to become one of South Carolina's top distance runners thanks to that commitment and that has led to being more confident on race day.
"I think it's a combination of a commitment to running as a fulltime thing, and mentally, I believe in myself a lot more," said Stone, who took up distance running in high school as a way to stay in shape for soccer. "Over time, I've developed more mental strength in races because I believe in my training.
"I don't get as nervous as I used to. I used to be so scared to go to practice. I have enjoyed taking the recovery runs as a time to have more fun with your runs and then realizing the workouts are what make you better. Mentally, focusing on the fun part of it over the last couple of years has really helped me be more motivated. If you just get into a routine, it can get really old if you're not doing it passionately. So, passion has really developed for me. I'm doing it because I want to, not necessarily because I have to."
In her first season with the Gamecocks, Stone was South Carolina's top freshman finisher in her final five races and was the team's top finisher overall in four of six meets as sophomore. Last year she was South Carolina's top finisher in three of the four meets she competed in, which included winning the 2019 Carolina Challenge with a time of 17:26.6. She followed that up with a personal best of 17:14.2, which also ranks as the third fastest time in program history in the 5K, to take fifth place at the Adidas XC Challenge in Cary, North Carolina.
Stone would later break the school record in the 6K at the Paul Short Run in Bethlehem, Pennsylvania, with a time of 20:38.8. After missing a portion of the season with an injury, including the SEC Championships, she qualified for the NCAA Southeast Regional for the third time in her career.
"You can be having a good day, but someone else can be having a great day," Stone said. "That can always change around. It motivates me when I see someone in front of me because I think if they can go faster, then I can go faster. I'm a really competitive person, so if I see someone whom I've beaten before out in front of me, that drives me! The team aspect also matters to me because beating one person in front of you can make all the difference for the team score."
"I can't imagine my life without it now. It's the satisfaction of it."
Reaching those marks and seeing the progress in her development doesn't come without a lot physical and psychological training.
"If we're were doing what were supposed to be doing at practice, I trust Coach (Andrew Allden) and that he knows what we need to do be ready physically," said Stone, who is out in front with her academics as well, having already earned her degree in retail management and is currently working on her master's in international business. "If I'm doing everything I need to do at practice, it's the mental thing that becomes important for me to focus on. Our bodies are in good shape if we go to practice. Having such a long time off over the summer was tough, so it's been nice to be back at practice with everyone. The mental aspect of running plays a larger role than any of the other sports I played growing up.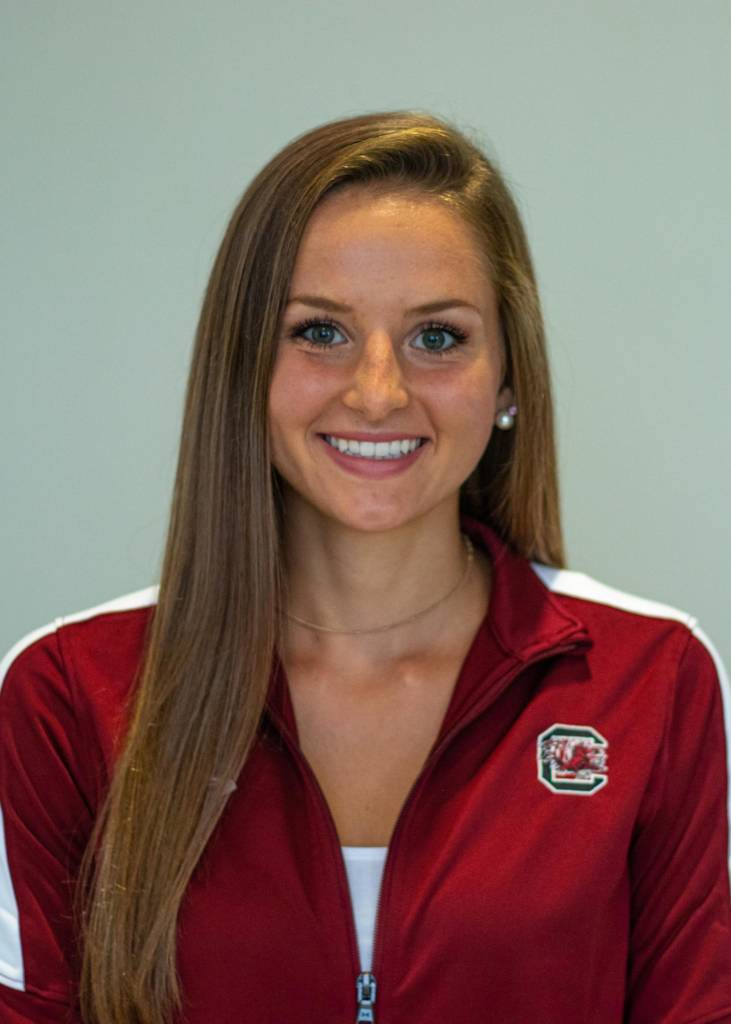 "It's really reassuring to fully commit during a race and believe in the plan because it will pay off and good things will happen."
There are always bumps in the road, but Stone has found a way to channel any challenges to motivate her even more. Early last spring, she fell ill before the coronavirus pandemic was in full swing in the United States, but she is inclined to think she had a bout with the virus.
"I couldn't really run because I felt so bad," Stone said. "After I got home from spring break, I was really sick. It was awful. I had a really hot fever for over a week. This was before everyone was really looking for all the different symptoms, so I didn't get tested. I later tested positive for having the antibodies (for coronavirus). Little things like that make you realize you love it."
Now that her final season with the Gamecocks is underway, Stone is ready to keep pushing herself for more.
"I'd like to be All-SEC," Stone said of her goals. "I definitely look at it now that I should run every race like you don't have any left. You never know when you could get injured or have something else happen. I mean look at it this year; if it's not coronavirus, it's a hurricane that cancels a meet, like what happened this week (Hurricane Sally canceled the team's opening meet on Sept. 17).
"As a freshman, I felt like I needed to prove that I belonged to be here. Now, it's more about the team and thinking about how I can contribute for our team and uplift everyone. It's about working hard for others, so you're not just trying to satisfy yourself. I'm definitely more confident now, and experience has a lot to do with that. I like to go out fast. A couple of miles in is when I really need to focus. I have to look up and keep pushing. I always have to be positive."
When she is done with running for the Garnet and Black, Stone won't stop competing, even if it's just with herself.
"I want to do half marathons and work my way up to marathons," Stone said. "I've done several long runs that are over 13 miles, but I've never done anything up to a full marathon. I'm excited to try and do something longer.
"I definitely love running now. The feeling when you're on your last mile and you know you can do it; it's just so satisfying. I can't imagine my life without it now. It's the satisfaction of it."