20 Years later, the Smiths and Gamecock Soccer are going strong
Now in their 20th year leading the South Carolina women's soccer program, head coach Shelley Smith and husband and associate head coach Jamie Smith have seen it all. After building a championship program, the Smiths are ready to see a lot more.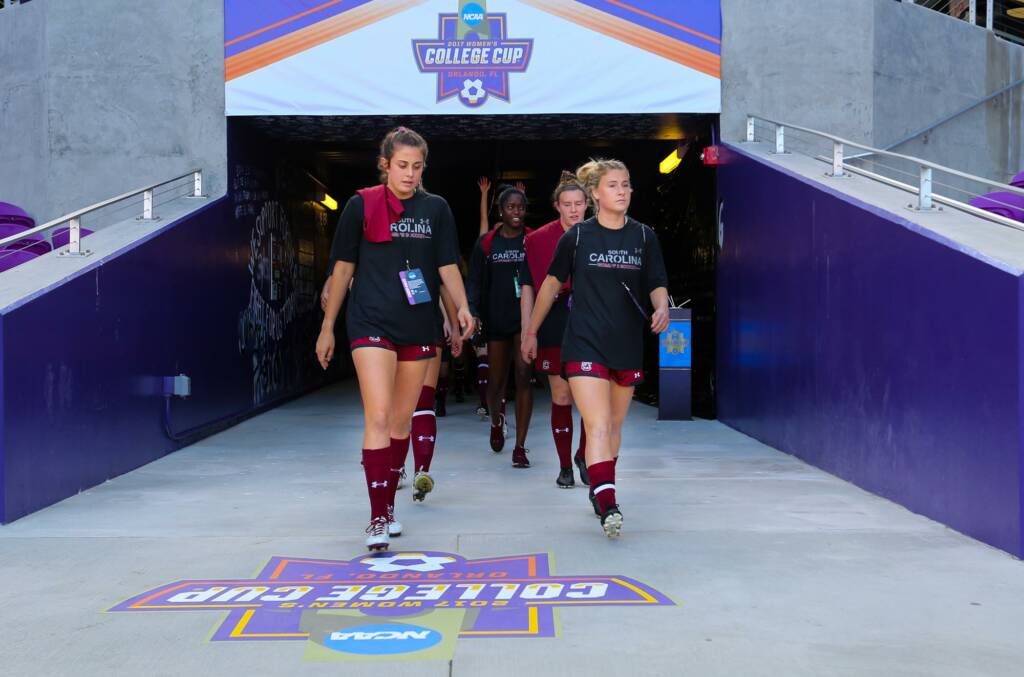 2017 College Cup
"We're enjoying it, and we're still young enough to do this and to want to do this," Shelley Smith said. "We have good relationships with players, and we enjoy the grind and the work that we do. We'll keep going as long as they'll have us.
"There have been some stressful times and seasons where it wasn't easy, and we're glad we stuck with it and that South Carolina stuck with us! We're thankful we've made it to this point."
The program began in 1995 and was still in its infancy when the Smiths arrived on campus in 2001.
"(Former Athletics Director) Mike McGee was great about it when hired us," Shelley Smith recalled. "He knew we were both in coaching, and for Jamie to move here, there weren't opportunities on the men's side at the time, so I told him I would be interested in bringing him on as a coach because he's really good. When we were hired, Mike flew up to Rhode Island a couple of days before Christmas, met us in the airport, interviewed both of us and offered the job. I guess he wanted to meet the package that he would be looking at."
The package turned out to be gift that keeps on giving. The program is now a perennial SEC championship contender and has been to the NCAA Tournament in 12 of the last 13 years, including three NCAA quarterfinals and the 2017 national semifinals at the College Cup. The Smiths have led the Gamecocks to three SEC Regular SEC Championships and a pair of SEC Tournament titles as well. It wasn't easy to bring the program up to that level.
"It was at the bottom of the SEC when we took over," Shelley Smith said. "They were 4-16 (1-8 in the SEC) the year before. I came from Rhode Island, and I thought the team here should be a lot stronger than what I had there, and it really wasn't the jump I was hoping for. There was some very good talent, but overall, it wasn't a collective group yet. They had to learn how to get along. They had to learn how to work for each other and push each other because there were definitely some talented kids, they just needed to come together as a team."
"They had lost to North Carolina and Duke by a combined score of 14-2 that year," Jamie Smith said. "That's about all we knew about the team then. I was at Brown with the men's team, and we had just lost in the Elite Eight that year. So, I went from that to the first practice in the spring here a month later with a lot of really good kids, who worked hard and there were some good players, but we definitely had some work to do.
"Switching over from coaching men to women was definitely different. The expectations at Brown for the soccer program were hardcore. To come here, the girls wanted to work, but we had work to do before we could really make a push. They responded though. I had to learn a lot from Shelley about coaching (women) with what was OK and what was not OK."
"The program won that day."
– Jamie  Smith
The Smiths realized they had turned the corner and arrived as a program with the recruiting class that came in for the 2006 season and would eventually win the 2009 SEC Tournament as seniors.

2009 SEC Tournament Champions
"The players that we picked up in that class, (Kim) Miller from Long Island, Blakely Mattern, and Sam Diaz from Georgia, those were some really good players," Jamie Smith said. "We had gotten a little bit better, but they definitely believed in what we were trying to do and took a chance. I remember meeting with them and all the seniors before the Championship match in '09, and we were talking about the fact that no matter what happens, we loved them. To be where we were there that day, it was so big for them and the program and all those that came before them. The program won that day."
"That championship and that class did turn it around for our program," Shelley Smith said.  "We were so far from that when we started. That was also a class of some unknown recruits, who were basically underestimated. They came in and really proved themselves and showed what can happen when you really believe in something and work together with good attitudes. They tried to improve as people and as players, and that was a lot of what we were basing things on as a program. When they won that championship, it was thrilling because it was neat to see what they had accomplished in trying to do what no one else had done before.
"Blakely chose South Carolina and Clemson was right in her back yard from the Greenville area. We had to really battle to get her, and that said a lot. She was a very strong player for us. Then you add someone like Kayla Grimsley later, who was being recruited by some other top teams in the SEC. So now you've got a goal scorer to go along with a top defender. That combination really helped us build a solid defense and a dangerous attack together."
One they established themselves as a team that could win an SEC Championship and contend on a national stage, the challenge became to maintain that high level of play.
"It's a different kind of toughness," Shelley Smith said. "You go through more ups and down trying to build a championship program, but then it becomes harder and more stressful to try to keep up expectations later on. When you get to a point when you have a good culture and a good group, it's easier to handle and it's more enjoyable. You have more ownership in a group. They come here to continue something. When you have a group that buys in, that makes it more enjoyable."
"When you're building, you're trying to teach the players, your staff and your recruits what it's about," Jamie Smith said. "Every day you have to remind them. Now, everyone reminds each other that this is what we have to do to maintain it. They know now when it's not a good day."
Part of that culture is a family atmosphere. The Smiths started their own family here in Columbia and their two sons, Braden and Evan, have grown up with the program. The family dynamic spreads to the staff and student-athletes as well
"We wanted our kids to grow up here and there hasn't been much turnover in any of the support staff either in the time that we've been here," Shelley Smith said. "I think it's more natural to have a family atmosphere with both of us here, but that's something we would want regardless. A lot of programs say they have that, but here it's truly that way. We are looked at as another set of parents away from home. Our staff treats each other like a family. You see how to operate and respect each other. We think of Stephanie (Rosehart, Athletic Trainer), Alex (Buchman, Strength and Conditioning coach) and Marnie (Merritt, assistant coach), as our family, and the coaches before that as well. That trickles down to the team, and they take care of each other. The players try to create and build that while they're here."
Within that dynamic, both Shelley and Jamie have their own coaching style that works well.
"I'm the louder one," Jamie Smith said. "All the players are different. Some are reached one way, and some are reached in other ways."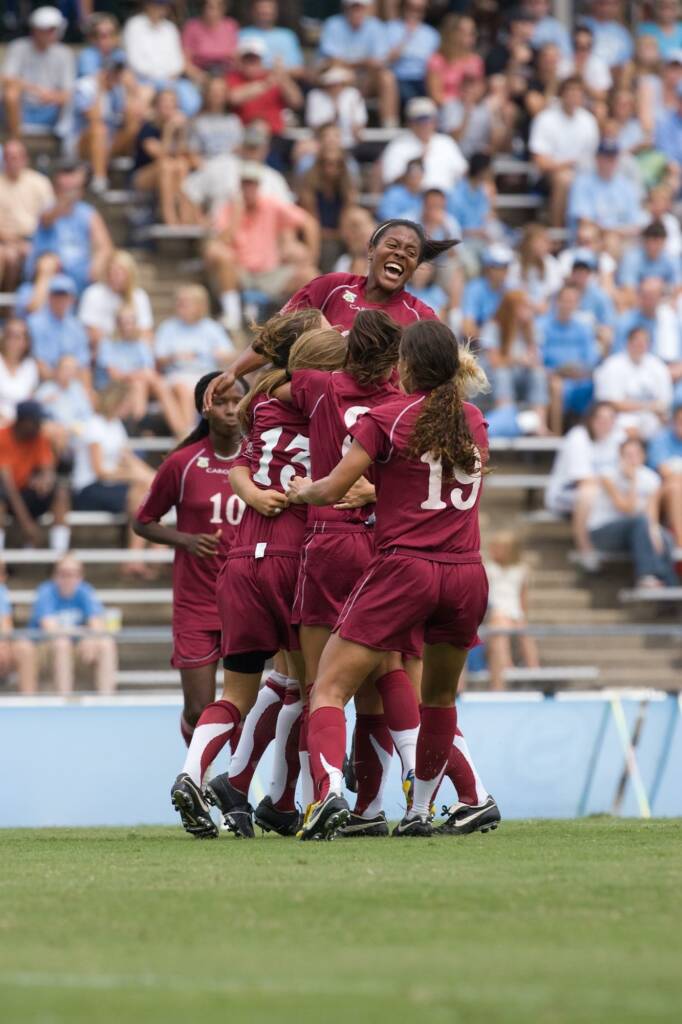 2007 win at North Carolina
"I'm more of a laid-back person," Shelley Smith said. "You have to have that balance. Just like a mom and dad. We have the same expectations."
With so many great moments in two decades of leading the program each has memories that stand out. Defeating No. 1 North Carolina in Chapel Hill to open the 2007 season was one of the highs for the program, and the Smiths also recall the agony of defeat in a buzzer-beater loss to Wake Forest in the third round of the 2009 NCAA Tournament at Stone Stadium.
"For that group to do that was unbelievable," Jamie Smith said of the 2007 win over the Tar Heels. "They just didn't lose at home. They said they had never been outplayed on their field like that, ever."
"The Wake Forest game is a heartbreaking memory, but it's one where anyone that was there won't forget it," Shelley Smith said. "It was an unbelievable game and atmosphere. The fact that it just dropped in like that in the final second was unbelievable. We had established these record-crowds that year. It really helped us turn the corner as a program. We garnered a lot of fans and they returned year after year despite that loss.
"Another amazing game was the NCAA Tournament win at North Carolina (2014). That was probably the hardest to fathom because we lost our star, All-American goalkeeper (Sabrina D'Angelo) and we lost our All-SEC center back (Taylor Leach) to a red card in the second half the game before. So, our two senior captains were out for that game! I remember freshman center back Paige Bendell just coming in and playing out of her mind. They stepped up!"
Of course, breaking through to reach the 2017 College Cup semifinals in 2017 is also among the greatest moments for putting the program on the national stage, but the way the program got there is just as important.
"I think Jamie still has that picture on the front of his phone," Shelley Smith said. "He's always been driven to win a national championship, and he has never wavered from that wherever has been. Jamie's drive to be the best helps push the program to the next level.
"Obviously, I want that, too, but I've always looked at the process of it all. If we don't ever get there, I'm not going to say we didn't have success. If the players had a good experience, get better, and are better people for it, and we've done everything we can to help them and affect their lives while moving them toward something bigger and better, then we've done our job."