Softball Team Builds Chemistry Through Friendship Friday
Building team chemistry doesn't happen overnight, and South Carolina softball coach Beverly Smith is taking time out of practice for weekly one-on-one conversations in what has become known as Friendship Friday.  The aim is to build personal relationships and allows the players and coaches to get a better understanding of who they all are as individuals and how their past experiences shape who they are today.
"At the end of the day, you're building the relationship," Smith said. "It's easier to correct or direct someone when you have a foundation of a relationship. Relationships don't happen just because you wear the same uniform. It's something intentional that we do to get them to have face to face conversation with eye contact and communication that's not on a cell phone or computer screen. It's really direct.
"To be a high performing team, there has to be a level of trust. I think this is a group activity that will build that muscle of trust. We talk about how we are going to have to solve hard problems together, and to be able to do that, we have to be able to communicate and trust each other. It doesn't mean that it's always going to be 'sing-song, we all get along.' That's not reality. We are going to have bumps in the road, so how are we going to handle it, have these honest conversations and work through the hard times together?"
Each student-athlete and coach is paired up with another member of the team, and the tandems go somewhere in the softball facility to chat with their partner about a specific question.
"We put the question on the board, and you have a six-minute conversation with your partner," Smith explained. "Coaches are included. We have it on a grid, so every Friday you meet with four people on the team. We come back after six minutes and then the next question goes up and you go with the next partner. We're doing it for seven weeks, so by the end you'll have met with everybody on the team with a detailed prompt or question."
"It can be a little hard to open up sometimes, but that's the whole point of this," said senior Mackenzie Boesel. "As an upperclassman, I try to start the conversation and be vulnerable with my younger teammates so they can feel comfortable doing it as well. Getting to know them on a personal level outside of softball helps us understand how they are on and off the field and how we can help them during a game and what their personality is. It helps us connect as teammates, and that will translate on the field."
"It's a more intimate way to get to know one another," said junior Rachel Vaughan. "With all the new freshmen, we have to take time to get to know each other and make sure that everyone feels welcomed here. It helps us on and off the field because we can come together as a team and as sisters. Everyone is so open with it, and they know it stays just with that person if it's something they just want to share with you."
Smith's team had performed similar exercises on preseason weekends in the past, but this concept digs a little deeper.
"It's intentional about our culture and understanding that it's important enough to us that we give up practice time to do it," Smith said. "We intentionally plan for things to bring the team together to build relationships and to build trust as a group. Part of that is getting to know each other."
"Building relationships allows us to have hard conversations together."
– Beverly  Smith, Head Coach
Smith came up with the idea in the offseason after spending a lot of time at home due to the COVID-19 pandemic.
"I spent a lot of time thinking about how I have 27 players on my roster this year," Smith said. "When we came back, I knew that we can't be the same because of COVID, having a short season last spring, and having a giant roster this year. This is one of the things I thought we needed to bring the team together. We've always been intentional about culture, but Friendship Friday is about having conversations where they're willing to share about themselves, and hopefully trust the other person they're talking to."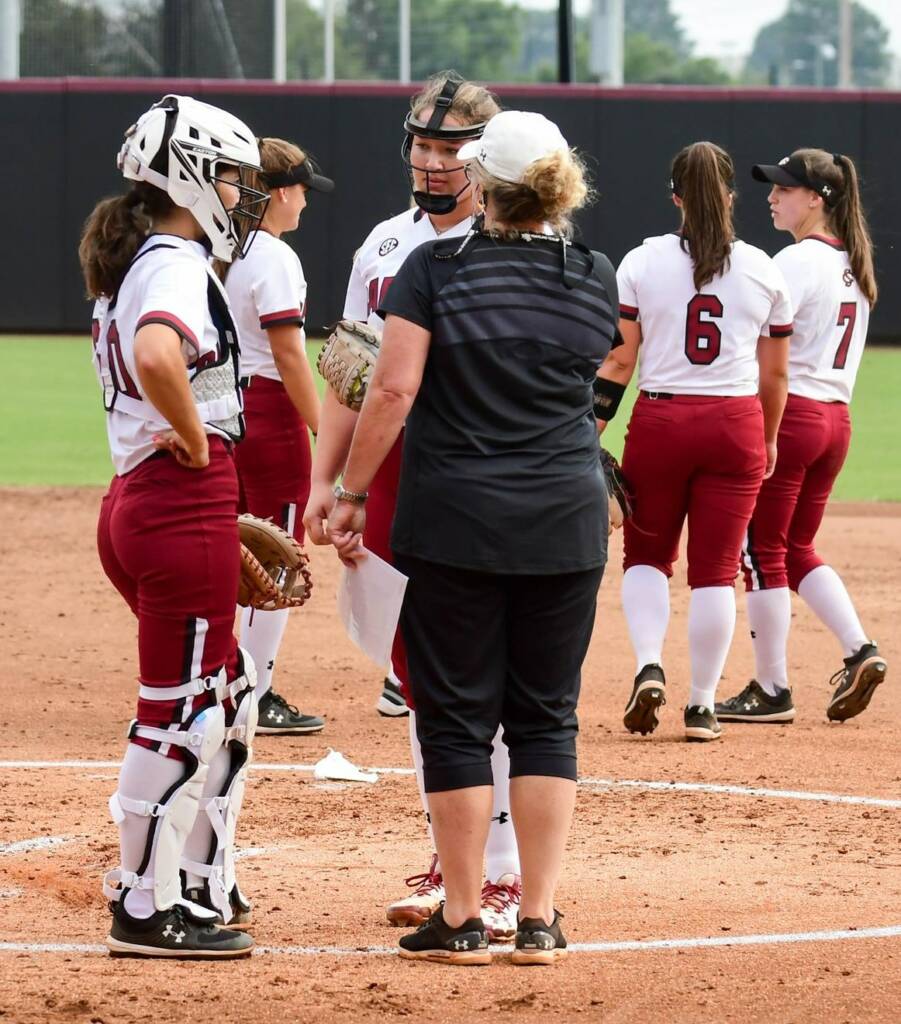 The questions came from a book that Smith read, titled The Culture Code.
"The questions we're talking about generate confession, discomfort and authenticity that break down barriers between people and bring them to a deeper connection," Smith said, quoting a statement from the book.
"It had questions that were just more authentic and are thought-provoking where you can be more vulnerable in your answers. The questions will get progressively tougher or more thought-provoking."
Questions have included, "If you're 90 years old and could have the choice between having the body or the mind of a 30-year-old, what would you choose and why?" Another asks each person to thoroughly detail as much as possible about their childhood in four minutes to their partner, while still another topic asks what would be the one thing you would change about the way you were raised, if you could."
"I also liked the one that asked, if you could know one thing about your future, what it would be," Boesel said. "I think those types of questions are super interesting, and I like hearing what people have to say about that."
"My favorite question so far is, would you want to be famous and why?" Vaughan said. "I don't want to be famous. That's too much pressure! I think doing this on a weekly basis is really good thing to do."
Smith said the sessions have been well-received.
"I hope that their ability to share, get to know each other, and recognize that we have way more in common than they probably think are some of the things that come out of this," Smith said. "It's also important for them to think that if I'm willing to share this information with you, then I'm going to trust you with it. I think it has been going well.
"It's not hard for me because I want the relationship with the players, and they need to understand that relationships are a two-way street. They have to pour in equally. I enjoy the exchange"
Smith said she is already seeing the benefit of the conversations following their fall scrimmages.
"After each game, we do an After Action Review, and in those moments, everyone is sitting in a circle, and we're talking about the things we did really well, and we're talking about the things where we made mistakes or what we need to do better, and those are really direct and honest and conversations," Smith said. "Building relationships allows us to have hard conversations together. I see the benefit of this come out in our AAR sessions where no one takes it personally. You can be specifically called out in an AAR, and everyone understands it's for the benefit of the group."