Women's Tennis Signee Blown Away by Program's Positive Culture
As a top-10 national recruit, Sarah Hamner had a lot of places she could have chosen to play her college tennis. As someone who wants to eventually play professionally, Hamner had a few simple reasons for picking South Carolina.
"I had talked to a lot of colleges. The reason I chose to take a visit to South Carolina was because I connected with Coach Kevin (Epley) really well," said Hamner, who moved to Boca Raton, Fla., four years ago after growing up in Colorado. "I was friends with a couple of girls on the team, and they said he is a great coach, so I went. When I went on my visit, I loved it so much! I loved the culture and the way he ran practice. All the girls were really focused and wanted to be there and get better. I was impressed.
"At South Carolina, all the girls were hyped up in practice and excited. It just looked like a really good culture, so after I saw practice, I knew I really wanted to go there! That's why I chose South Carolina. I think Coach Kevin can really help me develop as a player and get a lot better."
Hamner was already a friend of current Gamecock sophomore Emma Shelton, and that didn't hurt either.
"She always talked about how much she loved South Carolina," Hamner said. "I'm excited because right now I'm doing online school so I can do tennis and train. I'm excited to get there and have real teachers and classes again! That will be fun. I'm just excited to go and be a part of the team."
As the No. 8-ranked recruit in the nation, Hamner has a passion for playing and working out as much as possible. Keeping sharp in competitive matches has been a challenge for some in the last year due to COVID-19, but Hamner was able to do so without many long droughts. She made up for any lost time recently by playing 16 singles matches and six doubles matches in 14 days. Not only did she play, but she reached the finals of the Orlando ITF Grade 4 tournament, and then won the singles tournament the next week at a tournament in Daytona Beach.
"I've dedicated my life to tennis for so long. I just want to continue improving."
"I was really fortunate because after COVID hit, I still had access to practice down here in Florida because the courts where I was hitting were private," Hamner said. "I kept training and there were more tournaments here. It was hard during COVID because I just wanted to compete. That's my favorite thing; playing in tournaments. Once I came back, it was really fun. I enjoyed it so much."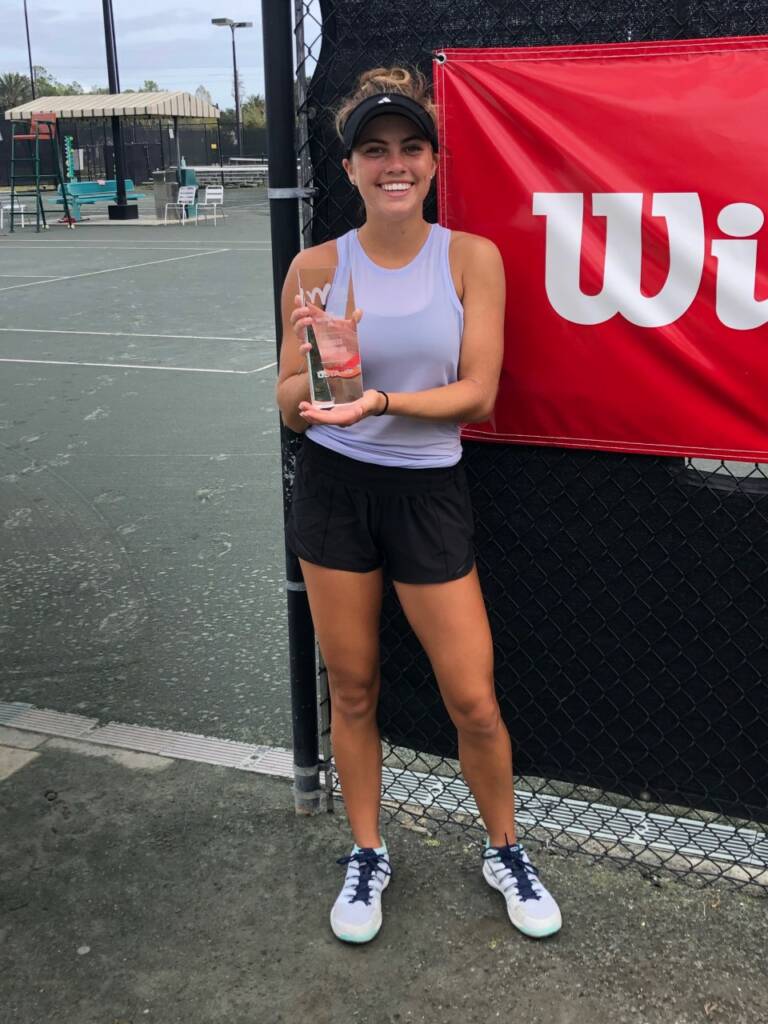 Hamner started playing tennis at four years old and began competing in national tournaments at age 13.
"I've been playing for so long, and I just love competing. It's what I do. It's fun."
When she's not on the court, Hamner loves going to work out and occasionally playing golf with her younger brother.
"I'm definitely not a golfer. I know my sport!"
In knowing her sport, Hamner understands that there will be an adjustment to playing on a team in college, but her recruiting experience showed her that there are a lot of benefits to learning and competing on a nationally renowned college program.
"I'm really excited to be on a team because in junior tennis you're all on your own and competing for yourself," Hamner said.  "I'm really excited to be a part of a team and compete with people instead of just against them. I think that will be fun. It will be an adjustment at first, but I like how the South Carolina tennis team is really loud and feisty. I'm like that, too, on the court. I'm feisty and loud, and I'm a fighter. I never let up."
With aspirations of playing professionally, Hamner knows she still has work to do to meet her goals.
"My strengths are my attitude and toughness," Hamner said. "That helps me so much because I'm not the tallest tennis player. I'm only 5'4". My spirit really pushes me to compete in matches. I also move very well. I can probably get better in seeing the court better and in my shot selection.
"I'm just trying to get better. I've dedicated my life to tennis for so long. I just want to continue improving. I'd love to be a really good professional some day!"