A'ja Wilson Statue is Bigger Than Life, Just Like A'ja
A'ja Wilson (2014-2018) had a legendary career for South Carolina women's basketball and her impact transcends being one of the greatest to wear the garnet and black. Gamecock fans, young and old, will be reminded of that impact every time they visit Colonial Life Arena as the bronze statue honoring the former All-American and National Player of the Year was officially dedicated Monday.
"To see this come together is simply surreal," Wilson said. "This moment is bigger than me. This moment is for all those who have sacrificed for me to stand here today. This moment is for every girl who was told she wasn't enough:  wasn't strong enough, wasn't smart enough, was too short, too fat.
"It is truly a beautiful thing when someone believes in you. Thank you for taking a chance on this wide-eyed black girl. To every girl, especially every black girl, remember you can do anything that you put your mind to. Have faith. Work hard."   
After thanking her family and every coach she has had during her career, Wilson put into perspective what it meant to be honored with a statue on campus.
"My grandmother, Hattie Rakes, grew up in this area four blocks from the Governor's Mansion to be exact," Wilson said through tears. "When she was a child, she couldn't even walk on the grounds of the University of South Carolina. She would have to walk around the campus just to get to where she needed to go. If only she were here today to see that these same grounds she had to walk around, now is the same ground that houses a statue of her granddaughter."  
"I just want to say thank you so much to Gamecock Nation and the state of South Carolina, and everyone who was behind this statue."
– A'ja  Wilson
Wilson is the first female student-athlete at the University to be honored in such a way, joining 1980 Heisman Trophy winner George Rogers, whose statue stands outside Williams-Brice Stadium. The statue cost nearly $245,000 to create and was made possible through the generosity of several donors, including, the late Dodie Anderson, musician/alumnus Darius Rucker, and head coach Dawn Staley.
"I just want to say thank you so much to Gamecock Nation and the state of South Carolina, and everyone who was behind this statue," Wilson said. "It is truly a blessing to be able to stand here."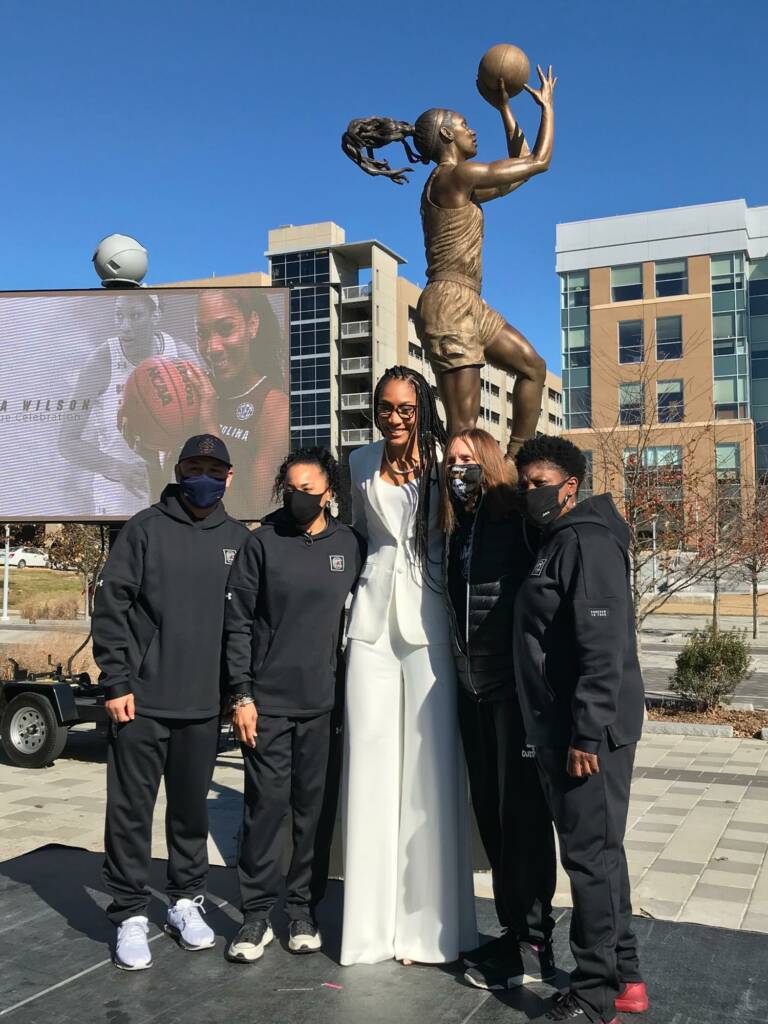 Wilson (center) and South Carolina coaching staff
The project took approximately a full year to complete. The sculptor of the statue, Julie Rotblatt-Amrany, has been a part of creating many statues of athletes, but having the opportunity to recognize a female athlete made the project extra special.
"I'm very proud that we were doing a female athlete because I think 90 percent of the sports figures (statues) out there are men," said Rotblatt-Amrany, who owns Timeless Creations in Highwood, Illinois, with her husband, Omri. "It's great that women are starting to be recognized. I've been doing this for over 30 years. Along with our other artists, we've probably done over 200 pieces between all of us. We've done Michael Jordan, all the figures at the Staples Center (Los Angeles) with Magic Johnson and others, all of the Chicago White Sox and Cubs figures, and the Chicago Blackhawks as well. The challenge is that you want to give the figure a natural sense of motion. You want to make sure the facial details look like A'ja. The sculpture has a lot of detail and texture."
And like A'ja Wilson, it's bigger than life.
"It's an eight-and-a-half feet figure, but she is shooting with her arm in the air, so the bronze itself is about 11 feet high, total," Rotblatt-Amrany said. "The base is steel-clad granite and is about four feet high. So, it's over 15 feet. There's a steel structure inside the base and the granite is clad to the outside. The granite weighs about 3,500 pounds and the bronze is about 950 pounds."
Perhaps that's symbolic of the weight of the impact Wilson had here. 
Wilson was the No. 1 recruit in the nation coming out of Heathwood Hall Episcopal School in Columbia, and her decision to stay home to play college basketball helped take Staley's program, which had won its first SEC Regular Season Championship the year before, to the next level. During her four years at South Carolina, Wilson and the Gamecocks won three more SEC Regular Season Championships (2015-2017) and four consecutive SEC Tournament crowns (2015-2018). The Gamecocks reached the NCAA Tournament in each of her four seasons, including the program's first NCAA Final Four in 2015 and first National Championship in 2017, with Wilson taking home Final Four Most Outstanding Player honors.
Wilson earned All-America honors every year of her career, including First Team accolades in each of her last three seasons. She was the SEC Freshman of the Year in 2015, the first in league history to be named SEC Player of the Year (2016-2018) three times and was also a two-time SEC Defensive Player of the Year. As a senior, she took home every major award, including the Wooden Award, Naismith Trophy, Wade Trophy, Honda Award, and was the consensus National Player of the Year.
She became the No. 1 overall pick in the 2018 WNBA draft by the Las Vegas Aces and was named the league's Rooke of the Year that year. She earned league MVP honors last season after leading the Aces to the WNBA Finals.