Emilia Reutimann's Life in the Fast Lane
Emilia Reutimann admits she sometimes drives fast. She probably can't help it, and it's likely in her blood as the South Carolina sophomore equestrian is preceded in her family by three generations of professional race car drivers, including her father, David.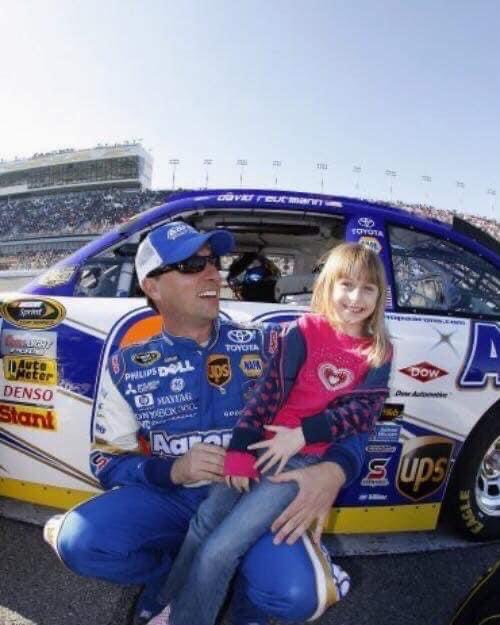 A young Emilia with her dad.
"My dad taught me how to drive, so that would be why. If I get a speeding ticket, it's his own fault!"  said Reutimann, who came to South Carolina from Sherrills Ford, N.C.
Her racing roots run deep with her father (pictured above, right), grandfather (pictured above left), and great grandfather excelling as professional race car drivers, and her family will once again help put on the eighth annual Emil and Dale Reutimann Memorial racing event at the historic Volusia Speedway in Florida on November 19 and 20 to honor a pair of late relatives.
"My great uncle (Dale) and great grandfather (Emil) were killed in a drunk driving accident on the way to a racetrack (September 4, 1973)," Reutimann said. "My great uncle, Dale, was supposed to be the best out of all of them. He was 17 when he died. He was supposed to be the star. It was really tragic.
"It's a big event. They get between 60 and 80 cars, which for a dirt track race is really big. The purse has gotten up to $10-12,000, which is pretty high for those races. It's been a really good event. It's all done by my family. They don't get any money from it, but my grandpa and my great aunt do all of it."
Her father retired when she was in middle school, and although she wasn't a NASCAR junkie, she definitely earned an appreciation for the sport.
"They really worked hard to make a name for themselves and make a living in racing," said Reutimann, who is majoring in public health and plans to go to dental school to become an orthodontist. "There wasn't all the wealth in it like there is now, especially when my grandfather (Buzzie Reutimann) raced. I'm really proud of them because they did it all on their own. It wasn't easy for them. I appreciate what they did. They did it so maybe the rest of us could do what we want because they worked so hard.
"My dad didn't get his NASCAR deal until his late 30s, which was old for a rookie. The odds were against him. For him to even get there and win was against the odds. My dad tells me stories about going up north over the summers and they'd be looking on the floorboards for change, so they'd have gas to get home."
"When I used to talk to fans, they didn't understand horses or why I didn't want to race. My family has been very supportive."
Her father enjoyed a nice career, which included 2004 NASCAR Rookie of the Year honors in the Craftsman Truck Series. He would also race in NASCAR's Sprint Cup and Nationwide Series.
"I liked watching them," Reutimann said. "It was interesting to watch my dad. We went to most of the races when I was younger. The only ones I really remember are Chicago and Charlotte because those are places where he won. I was really young.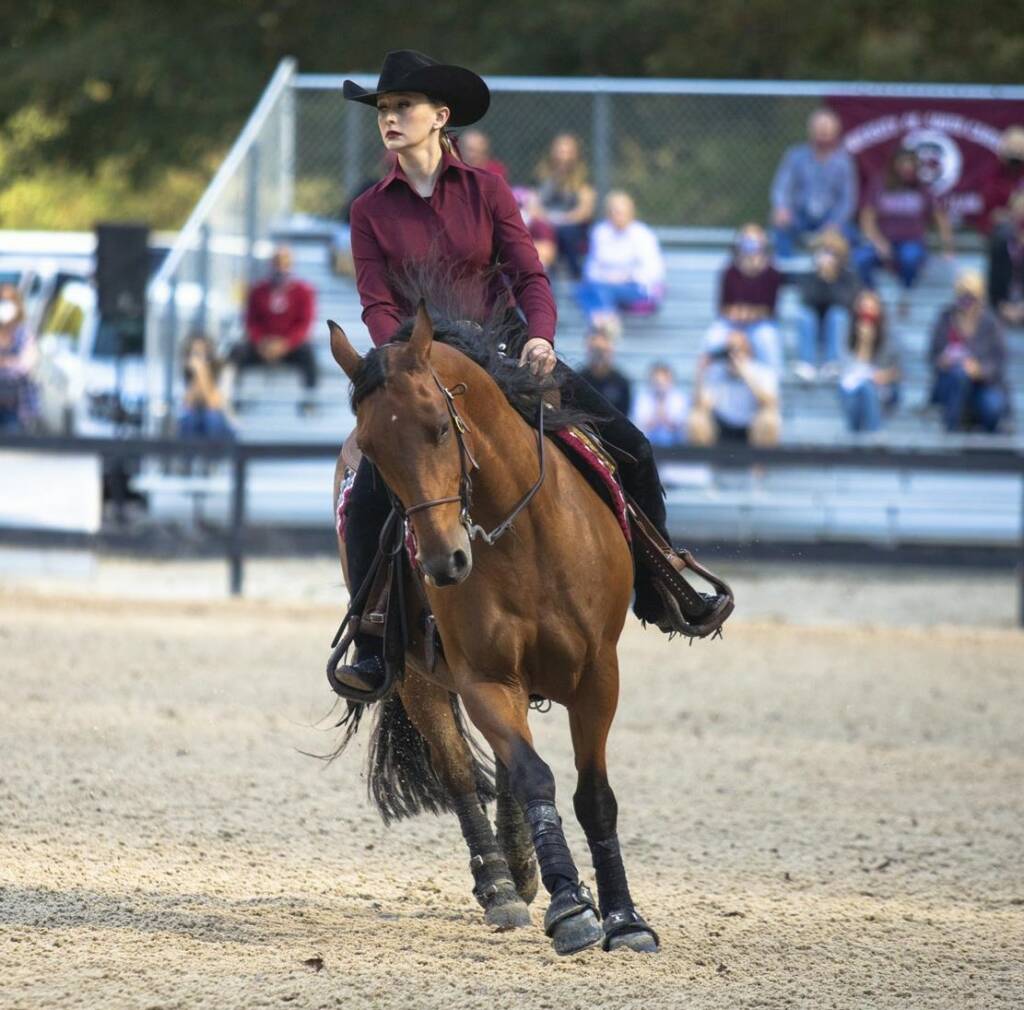 "I was kind of worried about my dad when I got older. My dad had a lot of bad wrecks. Now that I look back, if he was racing now, I'd be really worried! I'm glad he's here now! After Dale Earnhardt died, they put a lot more safety standards in."
Reutimann never planned to follow in her family's racing footsteps, and she never felt pressure to do so, as she enjoys the speed of the reining events in equestrian.
"My dad really discouraged me from getting into it (auto racing)," Reutimann said. "It's a hard sport to get into, and it's a hard sport for women to get into. He didn't want me to do it because it's dangerous, and there aren't a lot of females in it. None of my family ever really said much to me about it. When I used to talk to fans, they didn't understand horses or why I didn't want to race. My family has been very supportive. Even though I don't want to race, I admire it.
"Reining is a western event with the cowboy saddle and hat. It's about four or five minutes, and you do a bunch of sliding stops. It's an exciting event to watch because it's fast and there are interesting things going on. It's hard to compare it to anything else."
As an only child, Reutimann still proudly carries on the family name. Her father and grandfather's first names are actually Emil, which is where her first name is derived. Now Reutimann is making a name for herself in her sport and was named to the SEC All-Freshman team last year. Her father currently enjoys a career in building dirt track race cars and races them from time to time, and while he has always been supportive of Emilia chasing her own dreams, he's likely to pump the brakes when it comes to getting on a horse himself.
"We got him up there two times, and you had to lead him like a kid," Reutimann said with a laugh. "He was terrified and won't do anything! We have horses at home, and he'll just take them in and feed them."
The Reutimann family has a knack for competing, and it's OK with them if you favor a different kind of horsepower.
"I love the relationship with the horse," Reutimann said. "It's different in college because you ride a lot of different horses. But it's like people: they have different personalities. I like how everything changes. You don't ever get bored with it."