Women's Golf Reloads in Quest for a Championship Season
The South Carolina women's golf team has reloaded after a remarkable season last year and is looking forward to making another run at an SEC and National Championship in 2022.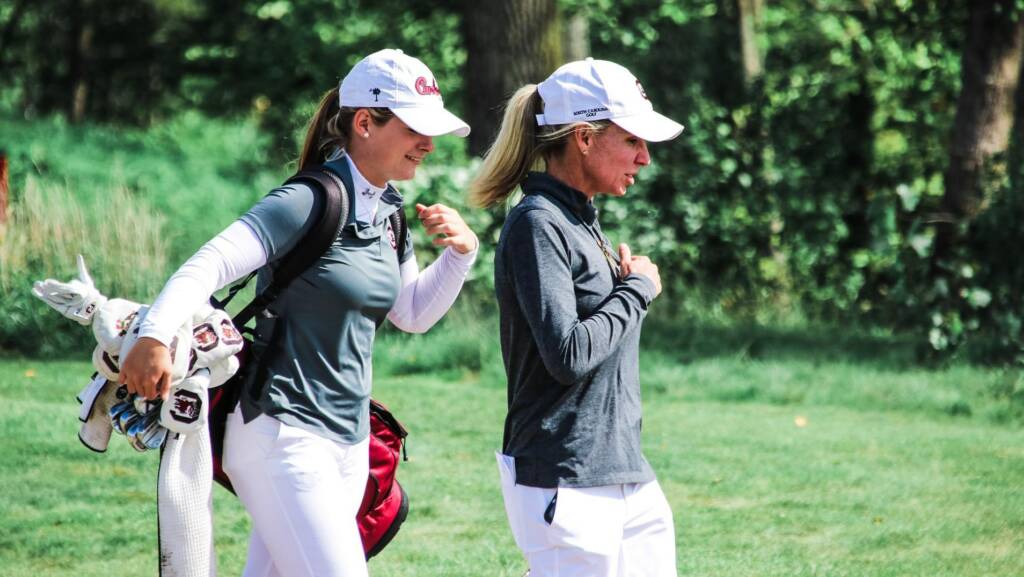 Mathilde Claisse & Kalen Anderson
"Our ultimate goals are to win SEC, regional and national championships, but the things we talk about are the process-oriented things that get us there," head coach Kalen Anderson said. "There are things we can and cannot control, but there are parts of the process we can control. That's all we can ask."
The Gamecocks lost four players to graduation and/or the professional ranks from last year's team which spent most of the year ranked No. 1 nationally after winning four tournaments and advancing to the NCAA Championship for the tenth time in 15 seasons under Anderson.
While the Gamecocks did not play their best golf at the NCAA Championship last year, Anderson isn't looking back as she has an exciting team with a lot of new faces.
"You can't define a season on one or two tournaments," Anderson said. "A great team and a great program are defined by an accumulation of weeks and weeks and a year of work. We proved ourselves as one of the top teams in the country last year, and unfortunately, we didn't peak at the right time.
"We lost four staters with Pauline (Roussin-Bouchard) going pro, and we lost the leadership of Lois Kaye Go, Pimnipa Panthong, and Ana Pelaez (graduates). They were significant in our lineup, but the really neat part of the group this year is that we basically reloaded the lineup and haven't really skipped a beat."
"The best part about this past fall is not just that we won, but that we had fun winning."
The Gamecocks won a pair of tournaments during their fall season and are ranked No. 3 nationally coming into the spring. Anderson returns veterans in junior Mathilde Claisse, who had three top 20 finishes last year, and sophomore Paula Kirner, who was named to the SEC All-Freshman team last year, as well as sophomore Abbey Schimpff.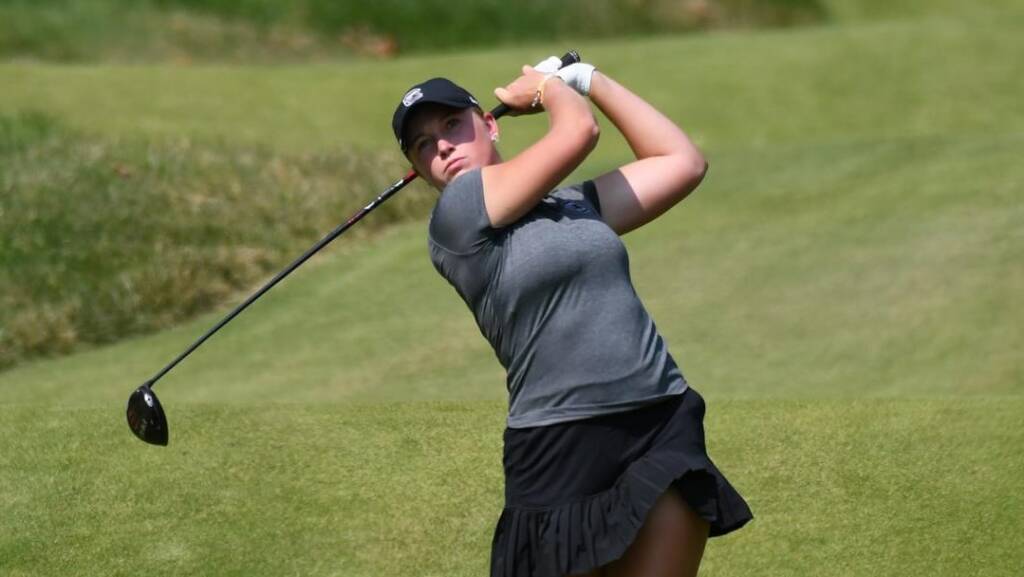 Paula Kirner
"Tilly (Claisse) has been a consistent starter for us," Anderson said. "She played in the postseason for us last year and has been a fulltime starter. She is a true team leader, on and off the golf course. She brings a ton of experience to the lineup and is a phenomenal match-play player. I'm excited about that.
"Paula had a great freshman year. She played in the postseason and was our low finisher at nationals last year."
The Gamecocks also added transfers Tai Anudit, who was the Atlantic Sun Conference Champion as well as that conference's Golfer of the Year last year at Kennesaw State, and Justine Fournand, who transferred from Florida Atlantic University where she was the Conference-USA Golfer of the Year last year.
"Tai is an excellent player, who is very consistent," Anderson said. "She is really tough. She had our second lowest scoring average in the fall. She is going to be a player that will produce a lot for us this spring. She is a great iron player, great putter, and has a great short game.
"Justine is very feisty and emotional with tons of energy out there. She plays with a ton of passion! She brings a lot of energy to the team, and she has made a lot of progress since she has been here. We've done a lot of work with her, physically and mentally, and she is only going to get better and better. I think she has moved up almost a hundred spots since she has been here in the World Golf Rankings. She earned an individual win at our last tournament in the fall."
A pair of talented freshmen are also in the mix with Hannah Darling from Scotland and Louise Rydqvist from Sweden.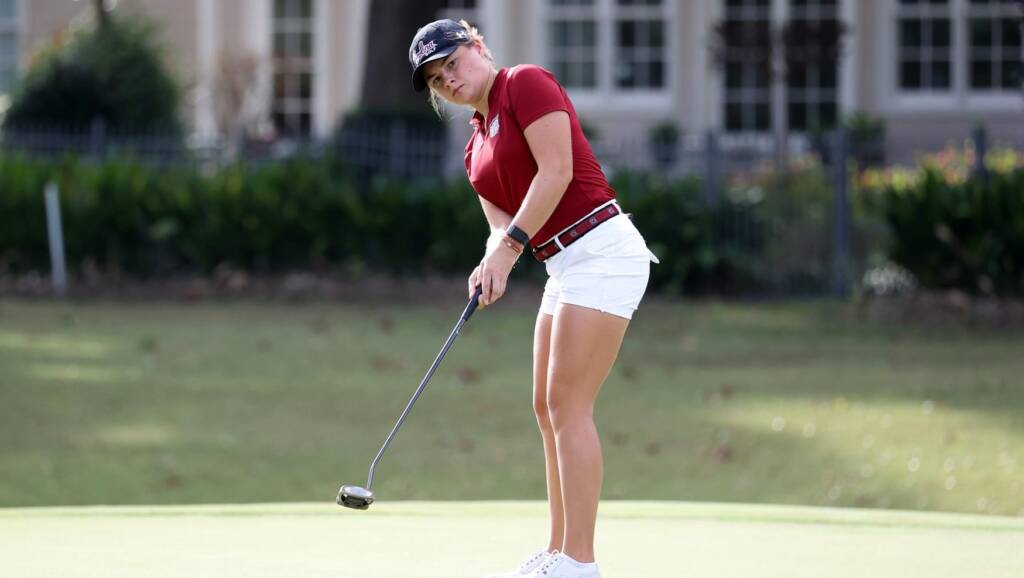 Justine Fournand
"Hannah came in and is currently ranked in the top 10 in the world (amateur rankings)," Anderson said. "She hits it really long and is one of the most extremely talented players, along with Pauline (Roussin-Bouchard) I've seen. She is very organized in her practice and her goals. We're going to continue to guide her, and I think she will continue to be a premier player in the country as long as she is here.
"Louise is a very strong and athletic, and a consistent iron player. She is very coachable and a diligent worker. Sweden has one of the top junior programs in the world, and it's been fun to watch her move up in the Swedish rankings among some of the best players in the world. She's grown a lot in the fall and has been an extremely important contributor. I foresee her really growing a lot while she is here."
As the Gamecocks get set for the spring season to begin, Anderson noted there's excitement and new energy with her team.
"They're excited to be a part of South Carolina golf and want to maintain the success that we've had. We've done a nice job of keeping that competitive culture and have a lot of positive energy going. We've stuck to the structure and foundation of what we do, and it's been a lot of fun.
"This a really fun group to be around, and several in a row have been that way. It speaks to the culture of our program. Everybody has a fun time. The best part about this past fall is not just that we won, but that we had fun winning. That's been the motto of the year, let's have fun competing. It's very special."
 
Hannah Darling