Former Gamecock Coach was a Trailblazer in Many Areas
At different points in her life, Vicki Hamilton was told, "No girls allowed," and that "girls shouldn't sweat." That didn't stop her from making a difference in her career, not only as the head coach for South Carolina's volleyball and softball teams at the dawn of the Title IX laws taking effect, but in a hall of fame career as an Athletics Director in North Carolina.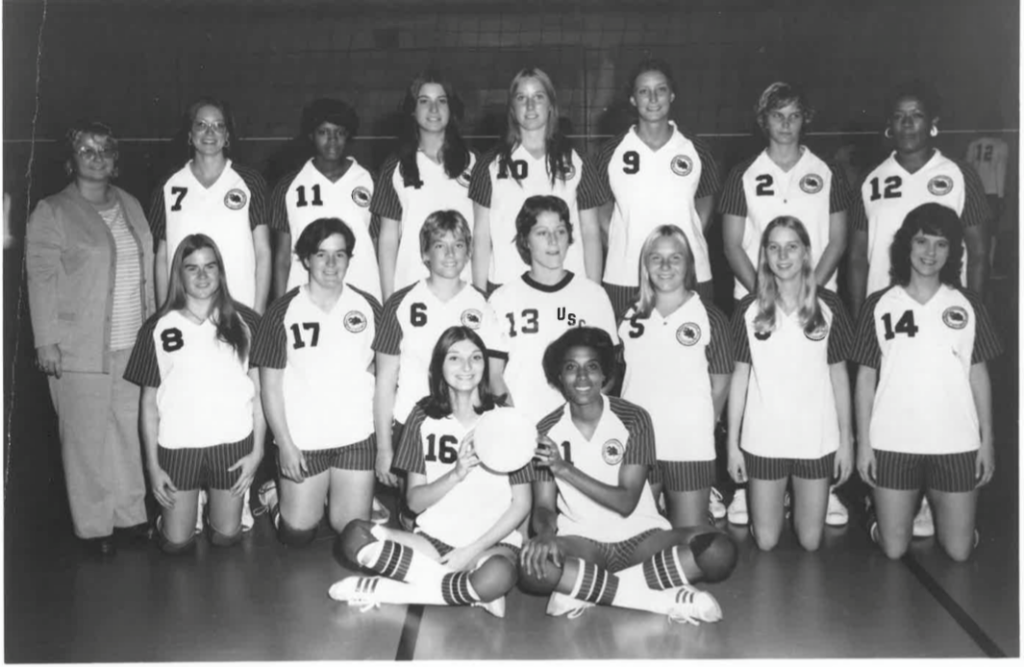 1974 Volleyball Team with Coach Hamilton (standing far left)
"When I was a little girl, my dad was the commissioner of the little league where I grew up (Salisbury, N.C.)" Hamilton said. "I had asked my dad if I could be the bat girl. My dad said if I wanted it, then go after it. I told the coach that I'd like to volunteer to be the bat girl. He said, 'Nope, no girls allowed.' That started my passion for my whole career. Every time I was told, 'no girls allowed,' I kept on chasing dreams."
After completing her undergraduate degree at Appalachian State University, Hamilton was hired as a teacher and coach at Moultrie (Wando) High School, in Mt. Pleasant, S.C. After a two-year stint, Hamilton applied in Charleston, S.C., to fill a high school principalship only to be told she was "too short" to be a principal. Hamilton then accepted a two-year graduate teaching position at Appalachian State University to complete her master's degree. She shared an office with men's basketball coach, Press Maravich (father of NBA player Pete Maravich). As the final semester was winding down, Coach Maravich asked Hamilton what she was going to do after completing her degree. He ended up calling South Carolina Athletics Director Paul Dietzel and arranged an interview in Columbia.
"I went flying down the mountains toward Columbia," Hamilton recalled. "Five miles from campus, I had a flat tire. My interview was in the physical education building. I got there and there was one empty parking space. I never interviewed with the Athletics Department. I met the chairman of the Physical Education Department, and they talked to me about teaching, but not coaching. Women coaches taught half a day of classes at the least before they did their coaching in the afternoon. I go out to my car, and my car had been towed. That was my road to Columbia!"
Things did get better as she was asked to coach volleyball and softball. With Title IX in its infancy, most schools were not totally caught up in terms of having equal experiences for men's and women's athletics teams. She didn't have assistant coaches for either sport.
"I washed the uniforms at home," Hamilton recalled. "I kept the stats, and I drove the vans. I begged for us to be able to use the weight rooms, and we were given the worst weight room times. They interfered with class times. To my knowledge, my colleagues did not have full time coaches (for women) at their schools.
"I thought, what I have gotten myself into, but I loved Carolina. It was a tremendous experience all the way around. After my second year, the administration informed me that volleyball and softball coaching positions would be replaced by graduate assistants. That was OK, I had two-year stint with it, but I would miss the girls."
"During my time as district A.D., a sign hung outside my office that read 'All girls allowed and boys too.' "
Looking back, Hamilton appreciates all that was being done to come into compliance with Title IX, but she also gets frustrated when there are still some roadblocks,50 years later.
"When it started, schools in my opinion, were not quite ready to know what to do with the women," Hamilton said. "They knew they had to do it because there was this law, but they weren't sure how to do it. We were dealing with weight room issues when I was there, and then you look at 2021 and the (NCAA) women's basketball tournament, and they're still having weight room issues. Have we changed? Maybe not so much."



"Some of my best memories are of the coaches that I came into contact with at Carolina. Coach Bobby Richardson called and told me he would volunteer to send some of his baseball players over to help coach the girls in skills development. The experience was an honor.
"One of my most fond memories happened after my second season as head volleyball coach. I was afforded the opportunity to award the first female athletics scholarship (at South Carolina) to Lee Branch."
After being the first varsity coach for Gamecock softball and coaching that team for a year and also coaching the volleyball team for two years, Hamilton wasn't done making a difference. Soon after, she would work camps for Press and Pete Maravich and convinced them to open camps for girls.
"Press and Pete instilled in me that girls are allowed!" Hamilton said.
Hamilton returned to Charlotte, N.C. and began a 13 -year career as a principal of four public schools. Hamilton made history in 1994, when she was named the district's Athletics Director of Charlotte-Mecklenburg Schools, thereby becoming the first woman in North Carolina to head up a district's athletic department.
"The philosophy had been, if you hadn't played football, you couldn't be an A.D., and certainly a woman couldn't," Hamilton said. "Some coaches started a betting pool to see if I would last a year."
Nobody collected on that bet as Hamilton spent 17 years in that position before retiring and was later elected in the North Carolina Athletic Directors Association Hall of Fame for her efforts.
During her tenure in Charlotte as a principal and athletics director, the Charlotte Hornets joined with the WNBA and introduced the Charlotte Sting, which provided workshops for players and coaches in her district and an opportunity to watch a legend.
"I noticed they had a scrappy young lady on the Charlotte Sting," Hamilton said. "I kept thinking of when I was told, 'you're too short to be a principal.' I noticed that she was the leader on the court. She wasn't very tall, but boy is she very powerful. Her name is Dawn Staley."
Now retired, Hamilton is still a big sports fan and loves to see opportunities continue to open for girls and women of all ages.
"What warms my heart is to drive through Charlotte in the fall and see our public athletic fields and see moms and dads watching their girls in little soccer uniforms running down the field," Hamilton said. "And I am sitting there smiling because girls were not allowed to play sports in my hometown.
"During my time as district A.D., a sign hung outside my office that read 'All girls allowed and boys too.'  Persistence continues."